When Darkness Falls Review by Lynn Carroll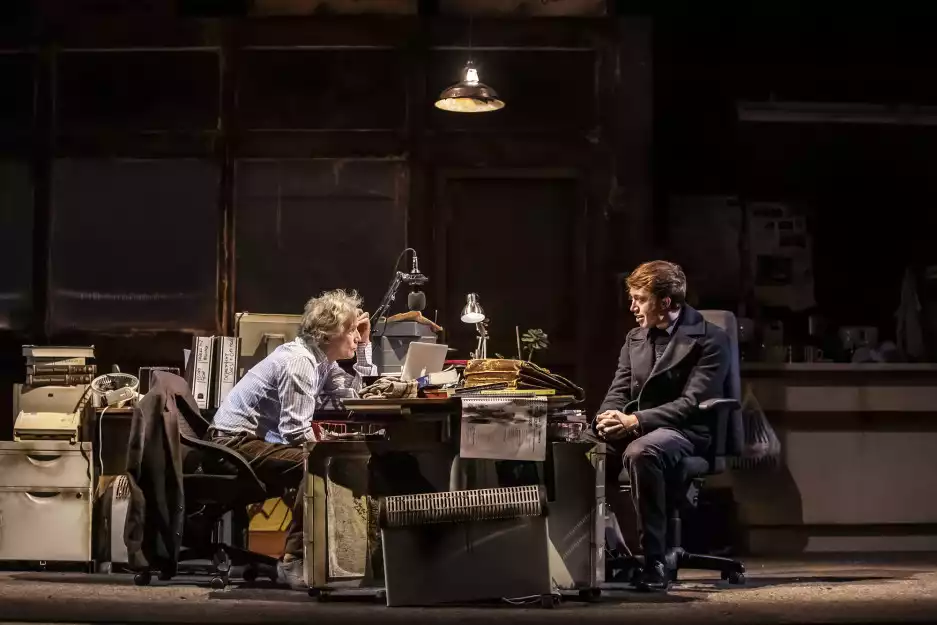 I must admit that I haven't seen a play in a theatre for some time, many musicals but no plays.
So, I was really looking forward to seeing this ghost story starring everyone's favourite real life hero from his Blue Peter days, Peter Duncan.
When reviewing any form of entertainment, it is very difficult to say why you liked, or didn't like something, without giving away too much of the story. If I did that you could just read the review and save yourself the price of a ticket. However, it is not a case of whether I like it or not, but whether you would like it and, let's face it, we all have very different tastes.
I have watched many films where my initial reaction has been to switch off and this is how I felt just a short time into this play. Also by that time I had guessed the outcome. But with maturity comes the ability to watch and wait, use your mind and look deeper into the nuance and meaning behind what a writer is asking you to invest your time in, so I did.
I cannot say that my investment reaped a huge amount of interest but I did eventually get to grips with this duologue (no, it isn't in the dictionary but knowing what a monologue is you will get my meaning). Because at the heart of this ghostly enactment there was a very good story which I believe deserved a far better airing.
That is not to say the actors were lacking in their delivery, although as the story progressed they did seem to show their abilities to much better effect, helped by the fact that the story, by then, seemed to pick up tempo and give us a glimpse of the outcome. Both Peter Duncan and Daniel Rainford have impressive theatre and film experience and definitely held together a play which may have floundered in less experienced hands.
Had these two actors been given the settings, sound and special effects the story deserved I could imagine it being quite an intriguing, satisfying and ghostly experience, lasting well in to bedtime rather than to the theatre exit. However, and maybe I need a hearing test, I found it hard to follow the dialogue, especially when they were seated opposite each other and side on to the audience.
The ghostly effects, happenings and noises, whilst initially making me jump out of my skin, then raised laughter rather than fright and the depressing set made me want to climb on stage and do a Mrs Hinch. At some stage in any show of any genre there has to be a few oooh and aaah moments.
My hat goes off to both actors for memorising so many lines, and not altogether easy ones with so much psycho babble involved. But they do say that about 50% of the spoken word directed at silent listeners is not taken in and therein lays the main problem. Had this been TV I would have pressed pause many times in order to fully understand or hear what was said and because of this my attention kept wandering. Was this lack of intellect on my part? I hope not because I did fully understand this story, knew where it was going and was gratified at how it all came together at the end. It wasn't instant gratification like a feast when hungry, but an after feeling of satisfaction and much food for thought.
Like the courses of a good meal I find I need time between them to digest and think before another appears before me, otherwise the previous course cannot be fully appreciated. But then who needs a feast every time, sometimes all that is required is just one course.
All that said this ghostly, thought provoking story based on true events was very well written, so if you fancy something that goes bump in the night then grab your tickets. The show is running at the Palace Theatre, Southend until Saturday 8th October. https://southendtheatres.org.uk/online/tickets-when-darkness-falls-southend-2022
---
ADD A COMMENT
Note: If comment section is not showing please log in to Facebook in another browser tab and refresh.
Related Items