Aurum Restaurant – Seven Hotel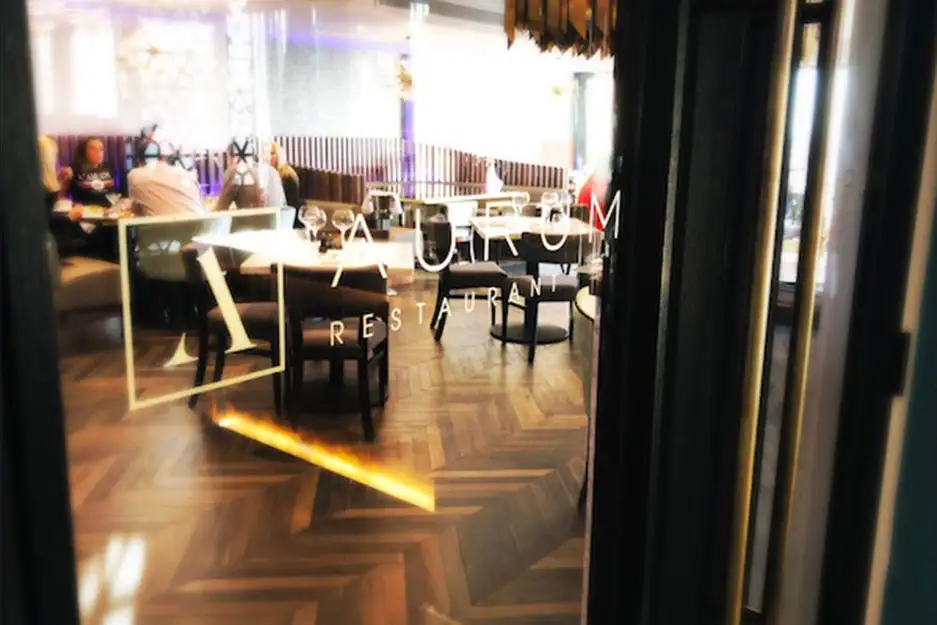 I often wonder what the true definition of 'Fine Dining' is? When someone mentions fine dining, doesn't it always conjure up the same image? Artistic plating, attentive service, crisp white table cloths, elegant surroundings and a wine list that only the very seasoned wine snobs amongst us would understand. Yeah, I think I've hit that pretty much spot on. Just the mention of fine dining can spark fear into some, or eager anticipation in to others. You expect the best. It's gotta be spot on from the moment you walk through the door, to the moment you leave. I've visited 'fine dining' restaurants which do just that. The Roux's Waterside Inn for example; they haven't held 3 Michelin stars for well over 25 years by serving up naff food with bad service; it's as good as it gets! But that term, 'Fine Dining', it bugs me sometimes. Will we look back at this in 20 or so years' time and question what the hell were we thinking? Maybe in a similar way we look back and cringe at 80's 'nouveau cuisine'! Yeah, we all know what to expect when a fine dining restaurant markets itself as this, but couldn't you describe Legend Deli, Henry Burgers, or Oldhams Chip ship as fine dining? The food is damn fine, and it is, ahem, well, dining! I know I know, I'm talking utter nonsense, but can you see what I mean. But, if you open a new restaurant, put yourself up there as 'fine dining', surely, you're asking for trouble, aren't you? You could encourage people to visit just to criticise. In the early days just keep yourself under the radar and don't big yourself up I say!
The 'fine dining' scene appears to be a growing trend locally too. We've had a few new openings just in the past year which prove this. But, there's one that's been in the making for over a year. Yes, that's right, for over a year! Once a rather uninteresting former old folks home, this building has been transformed in to a high-end boutique hotel, with an equally lavish restaurant. Only a few weeks ago the brand new Seven hotel opened its doors. Located by the historic Southend cliff lift, I had been eagerly anticipating this new opening. Not to stay there, although the hotel is rather nice, I wanted to dine there! The Aurum restaurant occupies the ground floor and mirrors the quality and chic feel of this elegant hotel. But, lets broach that somewhat vexed subject of mine, 'fine dining!' Aurum ticks all the boxes; attentive service, plush surroundings, crisp white table cloths together with food that is artistically plated in a modern fashion. So yeah, this is fine dining as I know it. But let's get down to the nitty gritty here, the food. It may look good; but how did it taste?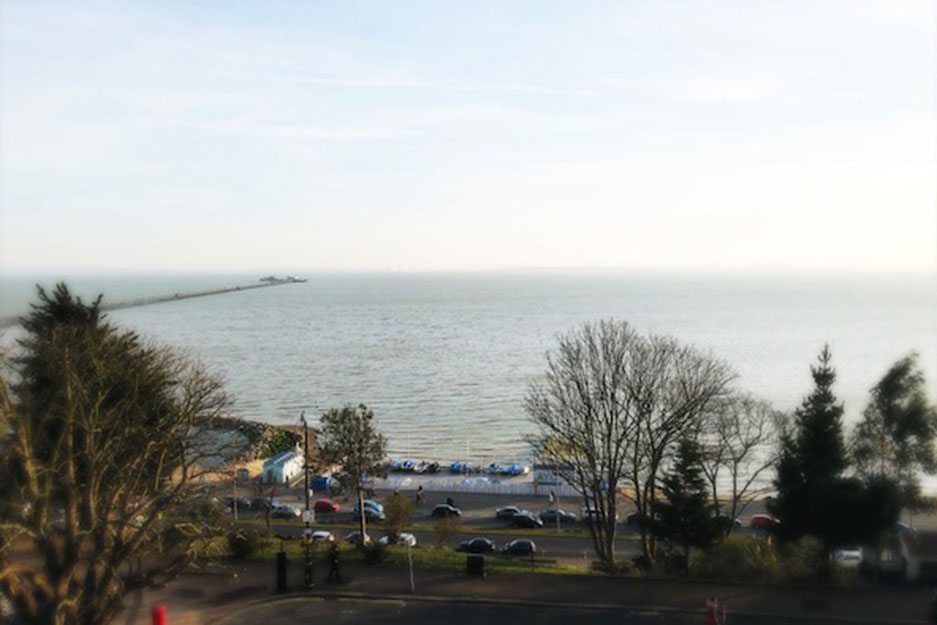 We visited at lunch, and straight away I was impressed; the menu listed three starters, three mains and three puds! Aurum I salute you! Why over complicate things, push yourself too far and mess things up? Just offer three of each course and do it well; that's a clear recipe for success. Ok, some may not see my simplistic way of thinking, and after all I'm making this big deal about fine dining. You may want to choose from 15 starters, 20 mains and 10 sweets? But I would question, how can you do all these well, with fresh ingredients? The simple answer is, you can't. I'm no Chef, not by a long shot, but I'm sure my chef friends would agree, less is more!
To start, we could've chose Essex Buratta (very similar to Italian buffalo mozzarella) with beets and local honey. The beef short rib immediately tugged at my sleeve. But, the London cure smoked salmon won the day. At Aurum they source their very own Scottish salmon and get the good people of Forman's smokehouse to lightly cure and smoke this wonderful fish. Forman's is the oldest and probably the only smokehouse left in London, and what these guys don't know about smoking aint worth knowing! The salmon was not thinly sliced but cut in to oblong cubes, plated along with fennel, lemon and dill; a fresh and vibrant start.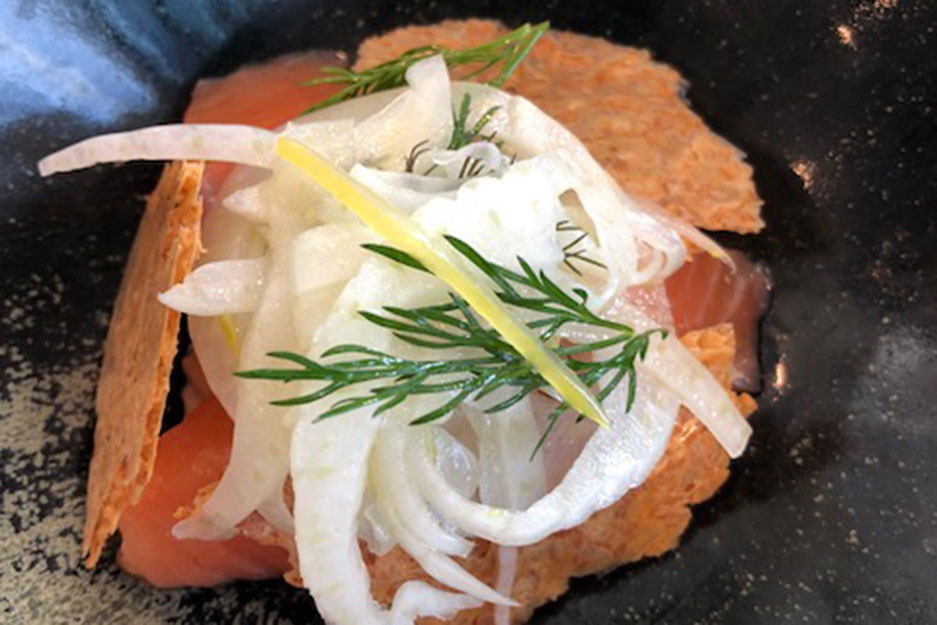 I followed with the Creedy Carver Chicken. Yeah, I thought the same; Creedy Carver?? Well, Creedy Carver is a small farm in Devon where they raise 'proper' free range chicken. This is the real the deal. These chooks have had a life worth living basically. They've grown up not knowing what the inside of a cage looks like; they've been free to scratch around under trees and just do what chickens should do. Ok, they do end up on the plate eventually, but you can rest in the knowledge that was a happy chicken and happy birds just taste better! Served alongside bread sauce, chargrilled leek and kalletes (a cross between kale and sprouts!) the chicken breast was juicy, succulent and just damn tasty (see that, I didn't use the word moist!!). Lou went for the Dingley Dell Pork Belly; she does like a bit of swine you know, and who doesn't! WOWZERS, this was flipping lovely. Eat with a spoon pork belly, crispy crackling, burnt apple, cabbage and spiced lentils, I've got to admit it, I had a tad of food envy! This was serious food. Clearly the pork was on point, but, those spiced lentils blew me away. I would've been happy with a bowl of them and some Indian bread! But what about the beef dripping fries on the side? Another massive thumbs up Aurum. Its attention to detail such as perfect tasty fries which can make or break a dining experience. Yes, you've guessed, I loved em! Thin, crispy, salty and with that all-important beef dripping flavour, a plate of these at the bar with a cold beer would be great in the summer!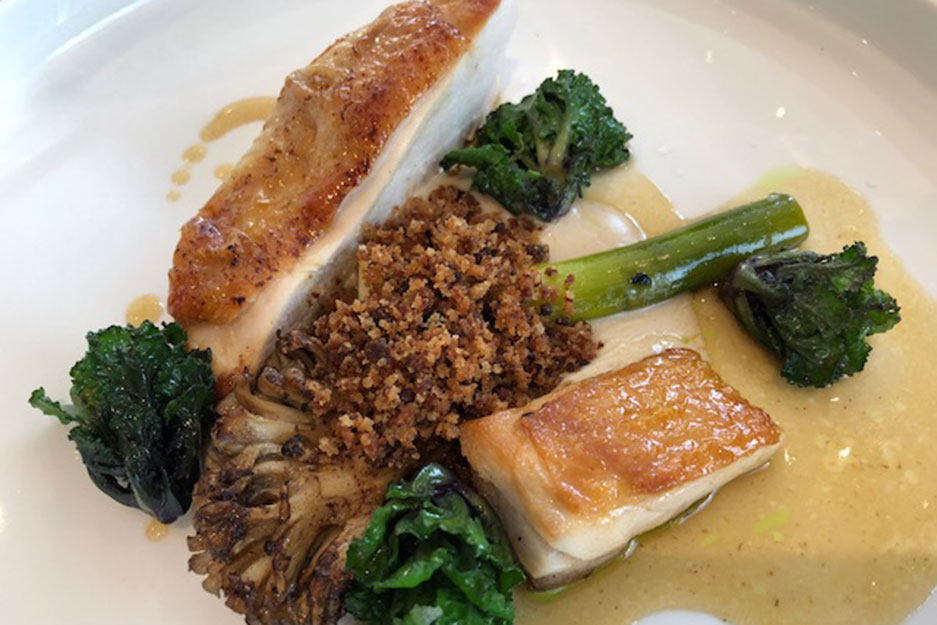 To finish, we ordered a bottle of red and a plate of English cheese. Just gazing out over the estuary, sipping red wine and getting stuck in to some truly delicious English fromage was a perfect end!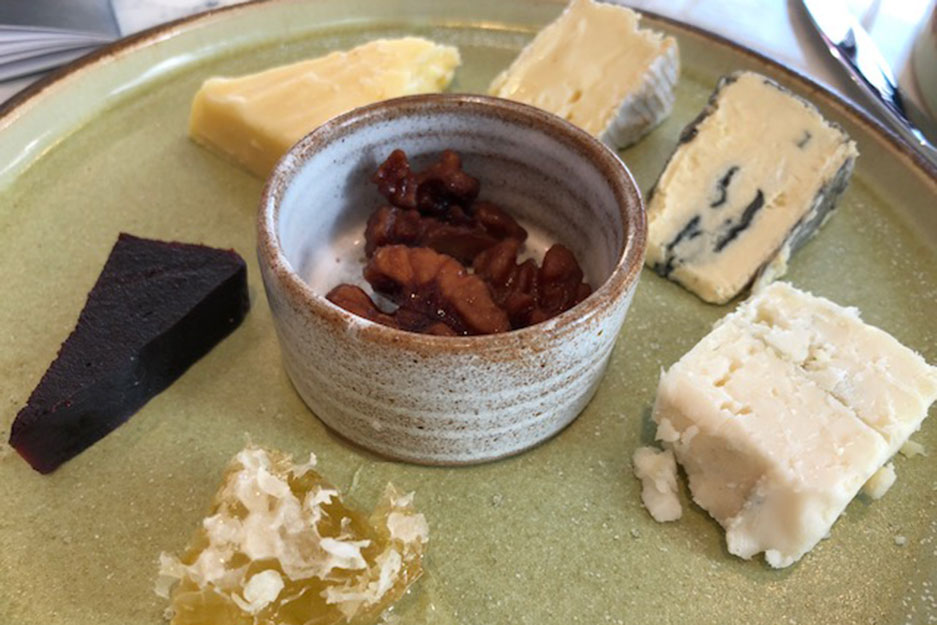 I've got to say, I was a little concerned about Aurum. I've been to so many restaurants who rate themselves as fine dining and just get it wrong, it breaks my foodie heart; I long for them to get it right. So rightly or wrongly I visited Aurum with that at the back of my mind; is this going to be another wannabe just trying too hard and failing? I can safely say, Aurum is quite the opposite. They have hit the fine dining, foodie nail slap bang on the head. Many other restaurants, local and otherwise could learn a great deal from Aurum. I started this review questioning exactly what fine dining is? I guess I've now answered my own question; It's obvious. Fine ingredients, fine service, fine ambience, fine décor, it all marries together to make, well, fine dining; something which is alive and kicking at Aurum. Oh, and we also managed to blag a cheeky look around the hotel; fan bloody tastic!!!!
Lunch Menu – 3 Courses £24
---
ADD A COMMENT
Note: If comment section is not showing please log in to Facebook in another browser tab and refresh.
Related Items