Boundary Roof Top Shoreditch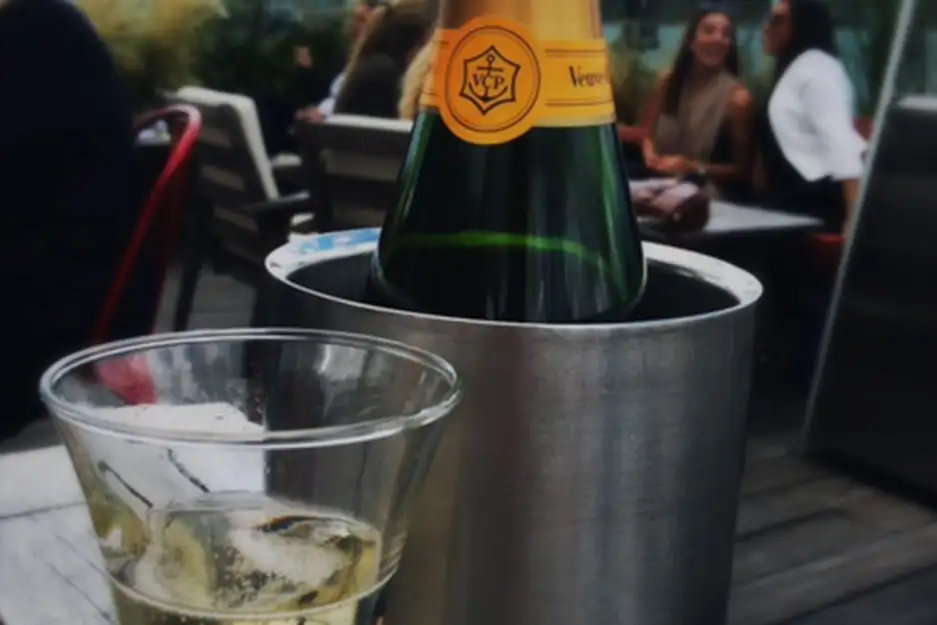 Living by the coast certainly brings alfresco dining to another level. I love it. Something as simple as a picnic on the beach, or a bit of seafood with a pint of ale in Old Leigh, are both the most charming and pleasurable foodie experiences we can enjoy right on our doorstep. But, quite often, as we are locals we don't make the most of it. I'm a perfect example. A few years ago, I bought a baby Weber BBQ. Why? To have more bbq's on the beach; how many have I had so far? One! Every year I say to Lou, we must get to the beach more. An evening with the baby BBQ, a bottle of wine and watching the sunset across the Estuary is something we must experience more, it's quite simply beautiful. But also, just cooking in the garden too. You can't beat firing up the BBQ and grilling up a storm. I never let a week pass me by without at least 2 BBQ's! I knock up everything from a burger to 8 hour pulled pork. Ohh pulled pork! Every year I have an annual celebration of all things pig in my garden. A huge leg of pork spends most of the day slowly cooking. A few friends pop over, and we just drink and chat whilst that leg of pig slowly cooks away. It's just meat, fire and beer, we're talking real cave man shit here! By early evening that pork just falls apart, its perfect!
Anyway, I think we'd all agree, cooking and eating alfresco is one of the joys we sadly don't do enough here in the UK. But when we can, it's a real sense of occasion, and something to be appreciated. And that's exactly what I did last weekend. Its Lou's sisters 30th, so if that's not an excuse to drink champagne in the sun I don't know what is. She'd decided to spend Saturday in London eating and drinking. No complaints from me, that's a perfect Saturday where I come from. But, she wanted to eat alfresco in Shoreditch. Yep, gritty, unruly, hipster central, street food crazy, uber cool, anything goes Shoreditch. She wanted to eat somewhere classy. Somewhere away from the touristy spots. Somewhere not yet adorned with street art. Somewhere high above the roof tops where we can gaze down on daily Shoreditch life, and of course somewhere serving up great food. So, that was the brief. Shoreditch has got to be one of my favourite parts of London. I've wasted many an afternoon and evening there, loosing time whilst revelling in street food, craft beer and salt beef bagels! But where do we go that's a bit classy, outside, and on a roof?? It could only be one place? Boundary.
Boundary is foremost a hotel. But, for those in the know they have a smart roof terrace and equally smart restaurant. So, that hit the brief spot on I thought! It didn't disappoint. Up on the roof we enjoyed champagne and cocktails, with food to share. Anyone who knows me is aware of my love of grazing. Forget ordering a main meal, let's just have some small plates and sharing platters. It's a wonderful way of eating over a bottle or two. We had sharing plates laden with Crudités alongside salty tapenade, anchovies, smoky aubergine caviar, brandade de morue (a Provençal creamy salt cod dish), pesto, plump olives and fougasse bread. The smoked salmon crostini's where both plentiful and just 'bite sized', perfect with the champers. We couldn't pass on the Planche de Charcuterie. A plank weighed down with salami, air dried ham and bresaola. But the rabbit and chorizo terrine was a thing of beauty. I've said this before, add chorizo to anything and it's a winner! Scooped straight out of the jar and on to a piece of bread, that marriage of bunny and chorizo was perfect.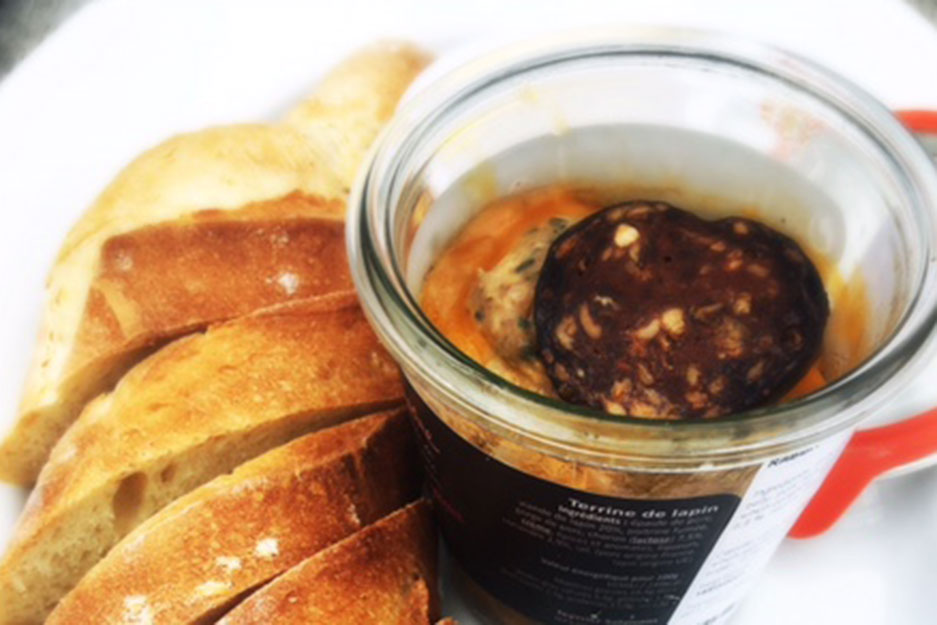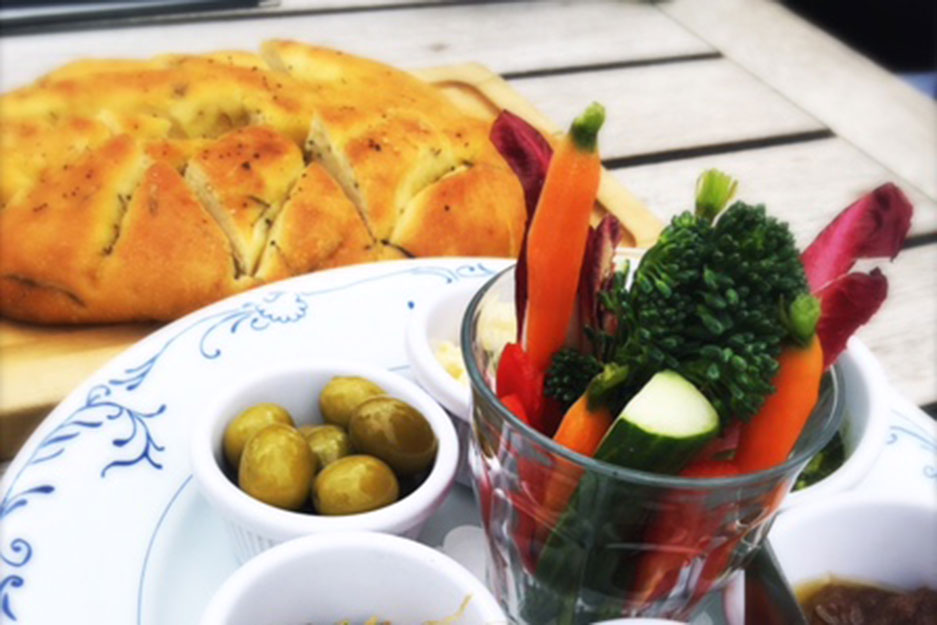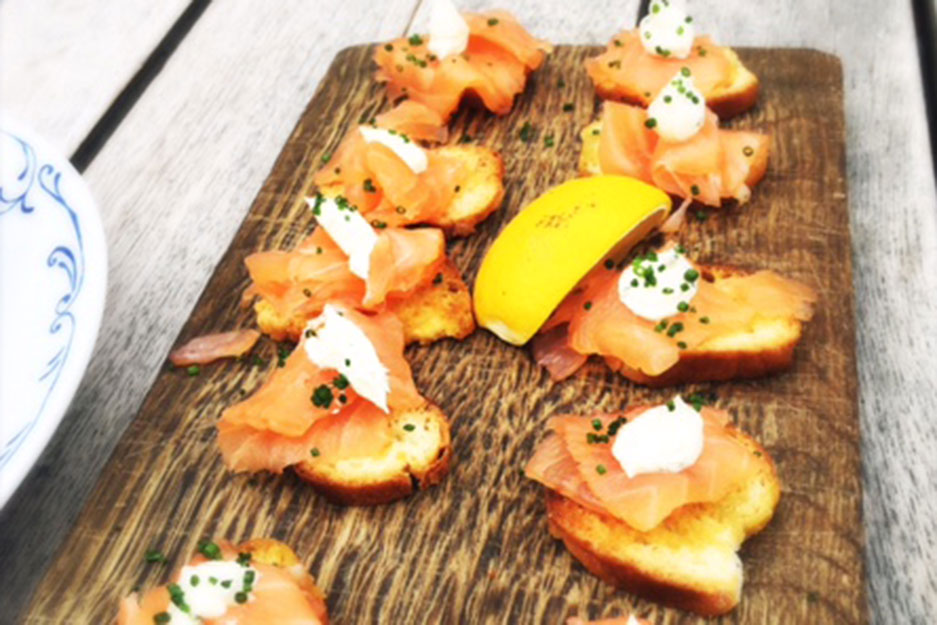 Boundary is a haven away from the hustle and bustle of Shoreditch, its somewhere to kick back, and take it slowly with friends, eating, drinking and chatting. Yes, it made the perfect venue for Lorraine's 30th birthday celebrations. But it would also be equally adequate for a cosy dinner or lunch for 2.
But wait, I'm not finished yet! All this talk of Alfresco dining, and how we don't make the most of the limited British summertime, got me thinking. Yeah London is all well and good, after all, we live in an enviable location. Where else in the UK can you be sunning it on the coast, then just 50 minutes later be in our glorious capital? There's not many places? But where can we eat alfresco closer to home? So, I thought I would list a little top 5 'Foodie Rich' local alfresco venues, and also chuck in 5 London ones for good measure. So here goes:
Local
The Roslin
Probably the premier hotel in the area, the Roslin has a great restaurant, and equally great terrace. What's nice is, although you are outside, the terrace is sheltered from the wind, so almost whatever the weather you won't get cold. Oh, and these guys have just acquired the old Rio Bar. I've high hopes for that one!
Billy Hundreds
I've been here a few times, but not recently, shame on me I know. The location here is the best in Southend. Its right on the beach; need I say more. And, it's all about Tapas, and I love tapas. Also, these guys know fish, so expect some of the freshest in the area. I've gotta get my arse back down here soon. The Sunday evenings here look awesome too, just check out their Facebook page!
The Grove
This little restaurant perched high above, gazes down over the Estuary. Open 7 days a week, they serve up tasty breakfasts, lunch and dinner. Wanna eat outside? Their terrace to the rear has some awesome views. A perfect spot for morning coffee and the papers or an evening of gourmet extravaganza. Oh, and look out for their regular theme nights, and burger Thursday! The Grove is firmly in my sights for 'Battle of The Burgers'!!
The Royal Hotel
A firm favourite of mine, just for a little drink or a bite to eat, it never disappoints. The small veranda to the front is just charming. With its original features, there's nothing better than sitting outside, watching the comings and goings along pier hill. And you can score yourself a bottle of English Fizz too, my favourite! They've also just added a larger seating area, perfect to enjoy those sunny summer afternoons!
Osbornes Old Leigh
Oh, come on, I couldn't leave this one out. I mean, it's what we're nationally famous for. Rick Stein, Jamie Oliver, The Hairy Bikers, they've all filmed down here. This is simplicity at its best. Seafood and ale sitting on the sea wall, that's it. Most Sundays I can be found with a pint of ale in one hand and a tub of jellied eels in the other, outside the Crooked Billet. I could never give this up!
London
Aqua Spirit
Located on Argyll Street, just off Regent Street, you wouldn't know from ground level this is a bar / restaurant. Let alone it has a wonderful alfresco area. But it does. Residing on the top floor, this world class Japanese restaurant, serves up all manner of Japanese gourmet treats, and all to be enjoyed alfresco on the roof!
Bentleys
This Piccadilly institution has got to be one of my favourite London restaurants. I've lost count of how many times I've sat at the bar getting stuck in to glorious seafood. But Bentleys have a large alfresco area to the front. Next time, when the sun is shining, I'm sitting outside to enjoy my half dozen oysters and Stout.
The Ivy Tower Bridge
We all know the Ivy, right? That old celebratory haunt in the middle of theatre land. It doesn't have an alfresco area though. Panic ye not, just get your ass down to their latest opening, located on the Southbank, in the shadows of Tower Bridge. It's the perfect place to sit outside on their terrace, munch on some classic Ivy dishes, with wonderful views of Tower Bridge. It doesn't get much better!
Boundary
Ok, I've already spoken about Boundary earlier in this review, but its good, and certainly in my top 5. When we ate there, it was all about sharing. But if sharing's not your thing, just order off their grill menu, it sounded great. And, if a cigar takes your fancy, they have a cigar menu, with all sorts of Cuban classics!
The River Café
Does this place really need any introduction? Its legendary amongst foodies, and opened by the equally legendary Ruth Rogers and Rose Gray. As the name suggests it's on the river; the Thames to be precise. So, when the sun is shining why not sit outside and enjoy some of the best Italian food in London, this is probably as good as it gets.
---
ADD A COMMENT
Note: If comment section is not showing please log in to Facebook in another browser tab and refresh.
Related Items