#GrabTheJab – new campaign urges young people to get covid jabs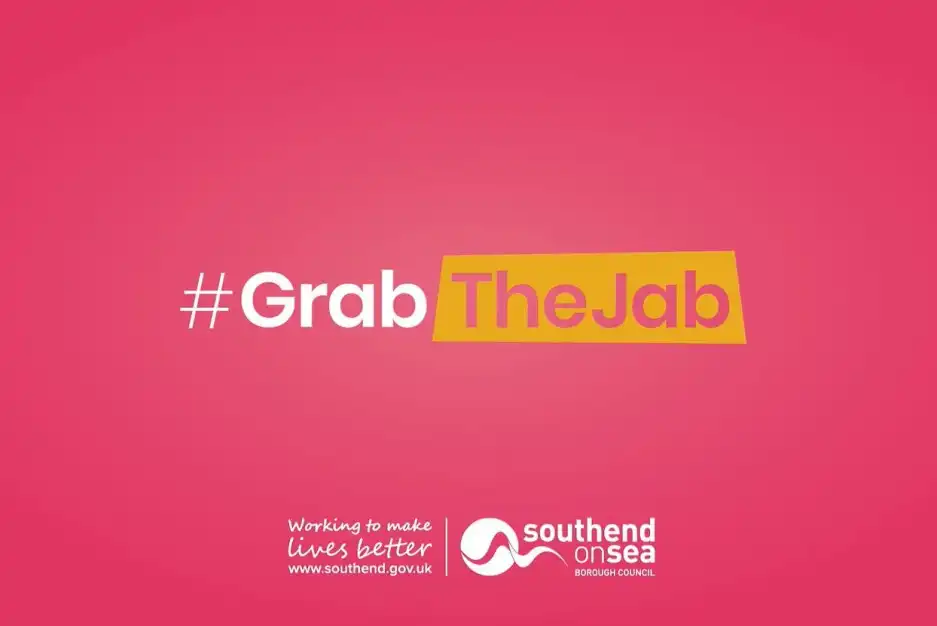 Grab the jab – get back to the things you love safely, is a new local campaign created to encourage young people to get their Covid-19 vaccinations.
The campaign has been developed for younger people (aged 18-30) to help them feel safe and confident as they begin to enjoy activities that have been restricted for a long time in a bid to help prevent the spread of Covid-19.
The campaign, which will run until September, has been developed by Southend-on-Sea Borough Council in partnership with local public health teams, local young people and Storm Creative in Leigh-on-Sea.
It features a series of local young people proudly displaying their vaccinated right arms under the heading I'd give my right arm:
To be dancing at a festival
To be back in a club
To be back at the match
To see my family
To be back on holiday
You can expect to see campaign material on social media and mobile phone ads as well as across the borough on buses, Victoria train station billboards, high street posters, pubs, clubs, phone boxes. A video will also play on rotation via The Forum's big screen video in central Southend.
The campaign was developed in response to local insight that showed young people would be motivated to get vaccinated by positive messages related to getting back to normal, protecting family and friends and doing the things they have been missing. There will be additional focus on geographical areas where take-up is lower.
Krishna Ramkhelawon, director of public health, said: "With the majority of restrictions lifted on activities such as travelling abroad, visiting nightclubs, attending live music and sporting events, there are understandably many who feel nervous and cautious about the unknown impact Covid-19 could have. The virus is still a very real concern so we must continue to be cautious. We want our local young people to know that by having both Covid-19 vaccinations they can enjoy getting back to the activities they have missed with the confidence and knowledge that they are protecting themselves from catching or passing on the virus. It is however imperative that both doses are taken to provide maximum protection. Regular testing, even if you don't have symptoms, can also help control the spread of the virus."
Councillor Cheryl Nevin, cabinet member for adult social care and health integration, added: "It's really important that young people understand clearly the benefits of getting vaccinated and know that they can access it safely and easily. We want them to see, be included in and be part of a positive future and think about the positive impact vaccination has on others."
Local businesses are also supporting the campaign including The Broker Freehouse in Leigh-on-Sea.
Elaine Gloyne, owner of The Broker in Leigh-on-Sea, said: "We are supporting this campaign and will be displaying posters in our premises because it's really important that everyone, young and old, sees the benefits of getting vaccinated and know that they can access it safely and easily and enjoy getting back to all the things that have been off limits due to the pandemic."
Anyone aged 18 or over can now book a vaccination appointment or go to one of Southend's walk-in sites or vaccine centres. Plans are underway to set up more localised vaccine facilities in areas where the need is greatest. Full details will be available on the council's COVID portal.
Search #GrabTheJab
---
ADD A COMMENT
Note: If comment section is not showing please log in to Facebook in another browser tab and refresh.
Related Items