Council returns to RHS Hampton Court with a garden for all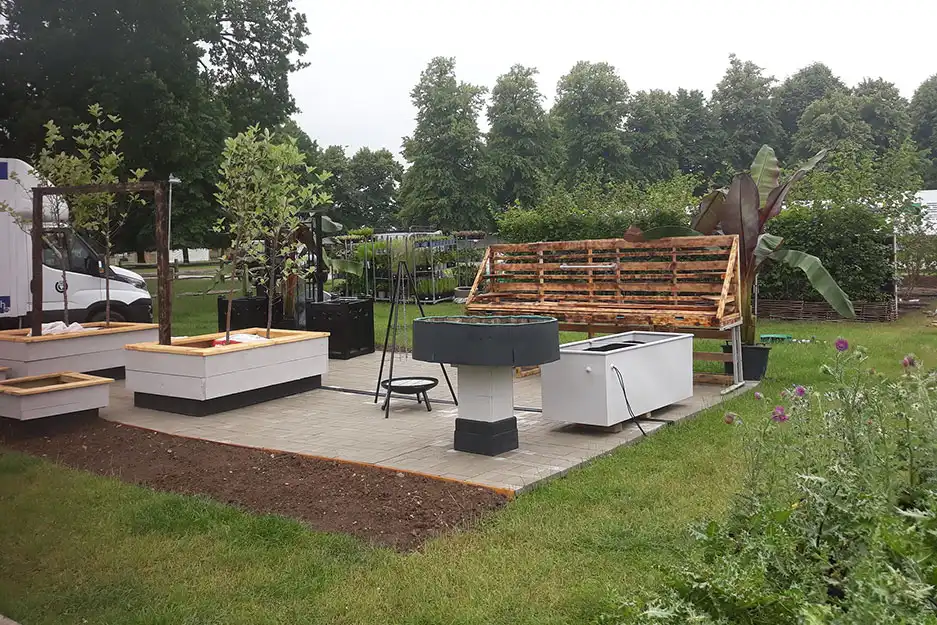 For the twelfth year running, the council will be displaying a garden at the RHS Hampton Court Palace Garden Festival (6 - 11 July), looking to build on previous successes.
This year's garden, known as The Ability Garden, is a garden for all and champions the reality that not all disabilities are visible. Designed to allow everybody to be able to garden, it contains:
movable beds to allow easy access to the beds and garden, as well as better movement around the garden and during gardening
an environmentally sensitive use of hard landscaping, to enable wheelchairs to move easily
The garden also features resilient planting to cope with the demands of a changing climate, a sustainable drainage system, methods of harvesting grey or rainwater, and the use of regulated deficit irrigation or self-watering systems.
These have all been used to allow the gardener to have a more user and climate-friendly approach to gardening, remembering that not all disabilities are visible, but the freedom to garden brings joy and opportunities equally to us all.
The gardens are designed by Tony Wagstaff, Early Help Family Support Practitioner for the council, and they are planted and created by Tony and young people on the youth offending programme as part of their community reparation. While showing drive and passion when delivering the project, they are able to work towards a City and Guilds Level 1 in Practical Horticulture Skills which supports them to get their lives back on track through gardening.
The council has been very successful at RHS Hampton Court Palace Garden Festival (previously known as RHS Hampton Court Palace Flower Show), winning the following awards over the past 12 years:
Four bronze awards
Four silver awards
Two silver-gilt awards
This year the garden has been submitted into the 'People's Choice Award' category with voting opening Tuesday 6 July.
Cllr Laurie Burton, cabinet member for children and learning, said: "Every year for the past 12 years, the council has been proud to submit a garden at the prestigious RHS Hampton Court Palace Garden Festival. As each year goes by, the level of detail and intricacy increases and the message behind the garden becomes stronger.
"By linking together the youth offending team we are able to promote personal wellbeing and are able to highlight the importance gardening can have on physical and mental wellbeing, and also to show that there should be no barriers when it comes to enjoying time in a garden."
The following plants and trees will be on display in the council's garden:
Plants
Lemon Tyme 'X Citirodorus'
Pelargonium 'South American Bronze'
Zantadeschia Aethiopica
Alternathera 'Black Knight'
Golden Helichrysum
Canna Lilies
Decampsia 'Aurea' Golden Grass
Dichondra 'Silver Falls'
Verbena Bonariensis
Pelargonium 'South American Bronze'
Penstemon 'Garnet'
Lemon Tyme 'X Citriodorus'
Tyme 'Bressingham Pink Doeflerl'
Trees
Whitebeam trees – Sorbus Aria Lutescens
The construction of the garden would not have been possible without the help of sponsors Sovereign Play, Buildbase, SCOPE, Breyer Group, Positive Transformation Group and the constant support of Southend-on-Sea Borough Council's Parks Department.
To vote for the council's garden, which is competing nationally at the Hampton Court Palace Garden Festival, please visit the RHS website and search for the Ability Garden. Voting opens Tuesday 6 July.
---
ADD A COMMENT
Note: If comment section is not showing please log in to Facebook in another browser tab and refresh.
Related Items