Foodie Rich - The Estuary @ The Arches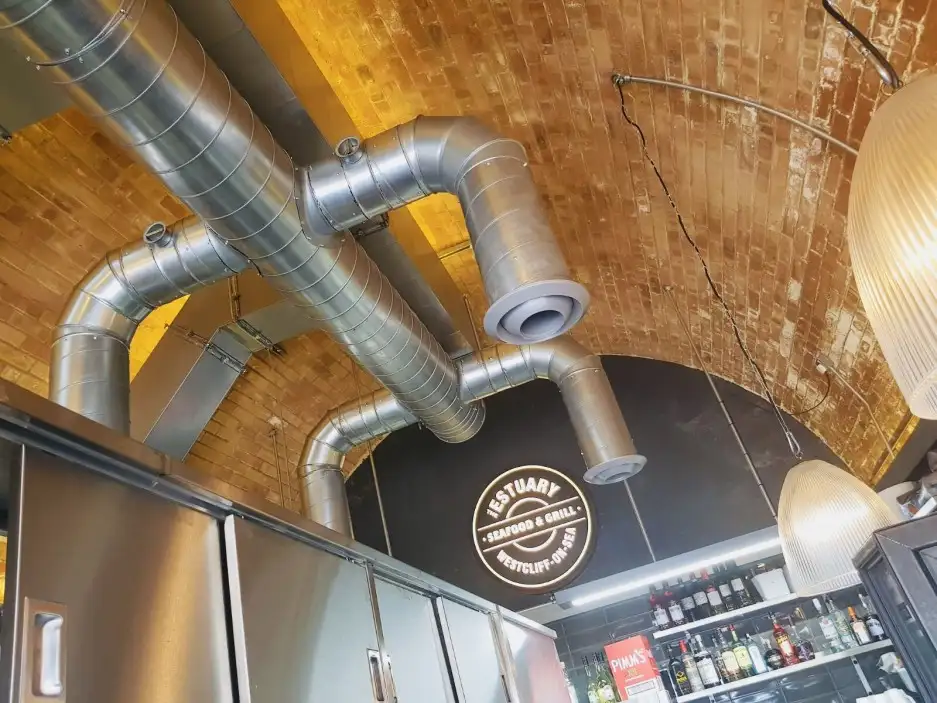 Don't over complicate things. Words I'm certain chef's the world over would agree with. Watch any cooking show, MasterChef for example, they say it time and time again; 'stop trying too hard, let the ingredients do the talking'. Couldn't agree more. Often, the most simplistic food is some of the best. My trip to Italy earlier this year being a good example. The dish of the trip was simple and probably the cheapest we ate. Spaghetti, garlic, good olive oil and a pinch of chilli; that was it! Those pizza's in Naples; mozzarella, tomato and basil that's all you need? I've gotta say, that trip to Italy has left me with fond foodie memories that will last a lifetime.
I long for simple local specialities where ever I travel. Perfect tapas in Spain; 'Pa Amb Tomaqet' in Palma last year was amazing. Chargrilled bread, rubbed with rich and ripe Mediterranean tomatoes, garlic and local olive oil. Finished with a sprinkling of sea salt, if you've never had this give it a go; with a glass of chilled white it makes for perfect summer tapas. Ohhh and the local sardines cooked 'a la Plancha' were next level. Street food in Hong Kong, fish curries in southern India, seafood in Australia, even cured herrings in Amsterdam. They're all simplistic local delicacies, and its where the real food is at.
Not forgetting closer to home too. Jellied eels and a pint whilst sitting on the sea wall in Old Leigh is a simple pleasure I've enjoyed for years and never tire of. A Portuguese custard tart or steak sandwich in cafe O'Portugues on Hamlet Court Road is as good as you'll find in Lisbon. The Papaya salad at Sopa Thai along London road teleports me straight back to those hawker stands in Bangkok. A craft beer and bowl of chilli cheese fries in Henry burgers, fried chicken and a pint of Leigh on Sea breweries Legra in Ugo's are both wonderful. One for the offal lovers; liver and onions at Padrino above the arches in Westcliff. Cooked in the traditional Italian way and finished with vinegar it's simple, cheap and oh so wonderful.
Why am I getting a little over excited about simple food? Well, for the reasons I've already spoken about, it all has its charm, and just blooming lovely! I got thinking about simple foodie wonders during a recent lunch. Last week Lou and I had a few days off work. We didn't go away, we had a staycation, spending time locally and in London. And what a great week it was. One particular lunch time we took a sunny stroll to the Arches in Westcliff and to the Estuary. This little cafe is where it all began. We're all pretty familiar with their domination of Leigh Broadway? Not only do they have a buzzing restaurant but a beautiful deli too. But, the Arches is where it all began. Its where the Estuary restaurant was born.
Now back to all this talk of simplicity. In the fledgling years of 'Foodie Rich' I reviewed Rio. Long gone now, but in that review, I raved about how good their ham egg and chips were, and how the bench mark had been set. Since then I've never really found a ham egg and chips which has come close. It sounds easy doesn't it; ham egg and chips. How difficult can it be? VERY! When creating a simple dish, it's gotta be good. It's like a restaurant who specialises in just one thing. Take Henry Burgers for example. The clue is in the name...Burgers! Imagine if Henry couldn't get that right, there'd be no point, he might as well pack up and go home. The same applies for simple dishes such as ham egg and chips. I want good ham, perfectly fried eggs, and golden crispy chips, that's all. So often am I disappointed. I'd rather some places just didn't bother. Sweaty, slimy, processed ham, snotty eggs and anaemic chips. That's not ham egg and chips, it's just utter crap rushed together with no love, care or thought.
Well, that lunchtime, Lou and I had a hankering for some good old ham, egg & chips. let's risk it at the Estuary. Blessed with a beautifully sunny day on the Thames Riviera, we sat outside to gaze across the twinkling inviting sea. With a little trepidation I ordered the ham egg and chips. Was I doing the right thing? I've been disappointed so many times. I was hoping they'd get this simple dish right. As the waitress approached our table, struggling to carry two heavy plates, I was quietly optimistic. I took a deep breath, crossed my fingers, toes and hoped for the best.
Well! The eggs; they looked good, the chips? Yep, they ticked the box. But the ham! This is what I've been looking for but rarely find. This wasn't that cheap processed, added water, slimy, mystery meat ham, oh no. This was thick cut, damn tasty bloody good ham. And they hadn't skimped on the portion size either, it was huge! I was just after a light lunch, but jeez, this could double up as dinner too!
This dish sits on the Estuary menu described as 'Ham Egg & Chips'. Yes, that's what it is. But surely it needs a far grander introduction? So many other diners may see this and think 'meh'. Like me, they've been let down far too many times before. They'll by pass this simplistic dish and head over to the Fajitas or the Estuary's famous skewers. There's nowt wrong with that. I've eaten both in the past and they've never disappointed. But, I tell ya, their ham egg and chips knocks the socks off any I've had locally; the Estuary have nailed it! My quest to find a good quality example of this most simple English dish is over. I'm certain a large number of restaurants and pubs just throw ham egg and chips on the menu as a bit of an afterthought. They get too tied up in wanting to flower up their menu with curries, stir-fry's, and un-necessary flamboyant 'jus' 'foams' and 'Volute's'. It's just chucked on the menu to satisfy the less 'adventurous' diner. STOP IT! A good plate of ham egg and chips is an all too rare, and glorious find. But one which can be found at the Estuary; good work!


To read all of @ Foodie Rich's previous reviews please click here
---
ADD A COMMENT
Note: If comment section is not showing please log in to Facebook in another browser tab and refresh.
Related Items