Grease is the word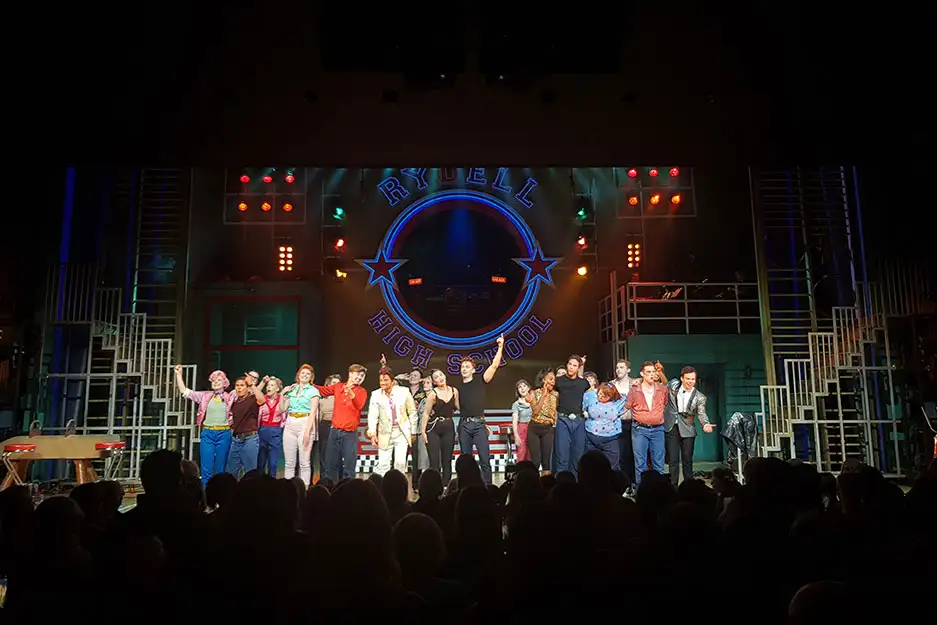 Now, I must just preface this review by saying I'm not a musicals person. I've been to some, kind of enjoyed them, but I'm not the kind of person who loads the Cats soundtrack onto my morning walk-to-work playlist. My view is: why sing the words when you can talk? HOWEVER. As a child and teen I was obsessed with Grease. My sister and I would watch the video over and over. I loved the Pink Ladies, wanted to be as cool as Frenchy, knew I was more of a Eugene. I always fast forwarded the bit when they sang Greased Lightning because it was always a bit laddy and not nearly as good as the dance competition or the funfair finale.
The West End show has come to our very own Cliffs Pavilion and stars - hold on to your knickers - Peter Andre. YES, you heard. I took my sister along because a) we have our aforementioned Grease obsession and b) I'm outing her here, but she went to see him at Zero under 18s club in the actual 90s when he released Mysterious Girl and was, actually, Kind of a Big Deal. It's fair to say we were jazzed.
The show kicked off with the narrator, cheeseball DJ and mega perv Vince Fontaine, who was cleverly suspended above the stage in his radio studio. Martha Kirby's Sandy was a revelation from the off and, ridiculously, this is her professional debut. Looking like a baby Rose Byrne but with the comic facial expressions of Maya Rudolph, she belted out every song like it was a walk in the park. And the chemistry between her and bad boy Danny Zuko, played by Dan Partridge, crackled. Sidebar: I'd forgotten how much of an absolute TOOL Danny Zuko is - he got laughs from the audience in those moments when he's playing what is essentially a dork, trying to be cool.
The cast was actually standout across the board - Rhianne-Louise McCaulsky's Rizzo did a badass 'There Are Worse Things I Could Do' (my fav song from the show) with such emotion that it gave the character depth - you realise she's not just a mean girl, she's lonely and has a heart. Damian Buhagiar's Sonny Latieri was the comic hero of this performance, playing the oversexed teen with great physicality. Louis Gaunt's Kenickie was the dancing star - every scene he was dancing in he absolutely stole, I loved watching him. He was borderline too hot to play Kenickie but that's a debate we can have later.
The moment everyone was waiting for was Peter Andre's appearance as the Teen Angel, for Frenchy's 'Beauty School Drop Out' sequence. We all knew it was coming, but I have to be candid here, when he appeared in a glittered suit and angel wings on that staircase, every woman over forty absolutely lost their sh.... well, you know what I mean. Andre revelled in the sheer campness of this performance, with knowing winks and smiles but actually, the vocal chops to back it up. He held one note for so long that the audience was basically screaming at him, and you could see him absorbing every adoring cheer.
The second half dipped slightly in pace, but they knew just how to pick everyone up with a Grease megamix at the end where everyone was out of their seats, dancing and singing. A note for those who have only seen the film: the chronology and songs ARE different! Those who have seen the stage show before will be well versed in this, but that took me by surprise. There are different notes to the movie. Sandy is more feisty! Patty Simcox is a desirable classmate! There's a song about tattoos! The T-Birds are called something related to burgers!
That all didn't matter (once I got my head round the fact the songs weren't in the same order as I was used to). The show was sheer joy from start to finish. The vocal and dancing abilities of this cast were so impressive. If you love the movie, hate the movie, have never seen it, or aren't even 100% on musicals like me: go and see it. Boris Johnson has just been made Prime Minister for god's sake. Light relief is urgently required. Go and see it - you won't regret it.
---
ADD A COMMENT
Note: If comment section is not showing please log in to Facebook in another browser tab and refresh.
Related Items