New online radio station to launch with virtual party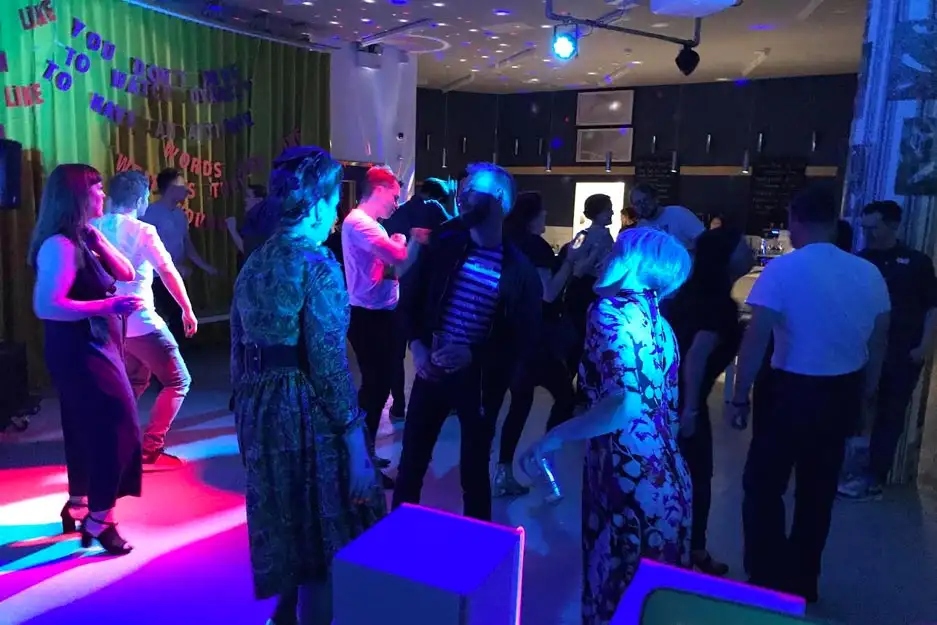 After the success of locally-run club nights, the team behind High Tide Club have launched Southend's premier queer radio station, High Tide & Friends, playing a massive range of music from low-key jams to unabashed pop hits. Leigh-on-sea.com caught up with Ben and Simon from High Tide to see what sparked the idea, and to hear all about their online kitchen disco coming up on 5th September.
Ben and Simon, what prompted you to launch a radio station during lockdown?
We'd been enjoying putting on live events since 2017 - from club nights dedicated to our favourite artists, like Lizzo, Grace Jones and Prince, at Twenty One and discos with drag performers at The Railway, to a raucous Eurovision viewing party in Old Leigh. We had a night dedicated to Nordic pop planned in Southend this year at Craftwerk and a bunch of other ambitious events we were keen to put on, then the pandemic hit. There was a sense of 'what next?' Either mothball High Tide or think of another way to keep going. We did a couple of Lockdown Live Spotify playlists early on and the radio station just evolved from that. There's a thriving DIY broadcasting scene in Southend thanks to Ship Full of Bombs and Ray Radio, which is really inspiring. Plus it was amazing to see others carry on from Craft Drinks delivering cocktails to your door to Create 98 and Secret Art Club switching to Zoom tutorials.
How would you summarise High Tide and Friends to someone who's never heard it before?
We play this n' that, bits and bops, trash and treasure. Everything is underpinned by a queer sensibility. It's like the High Tide night in radio form but it's evolved to welcome other local artsy friends. We're also hoping to offer a platform for other LGBTQ+ people in Southend who love music and want to host their own show, so if that sounds like you, then get in touch.
Who do you look up to as your radio inspo?
Amy Lame's Sunday show on 6 Music is a joy - plenty of French and Euro pop. Katie Puckrick, formerly of The Word, is also on 6 Music (although criminally underused) but, like a supply teacher, drops in for holiday and sickness cover to play everything and anything held together by her whip smart observations. Living legend Sandra Bernhard does a show called Sandyland on Sirius XM and is white hot on her pop culture. Liza Tarbuck on Radio 2 always had a bunch of wonderfully obscure records, which punch well above a 6pm on a Saturday. And then there are podcasts like queer entertainment show Keep It which will discuss everything from Taylor Swift's latest album to the US elections.
Music has an incredible ability to lift the spirits, particularly during difficult times. What are your go-to tracks for lifting the mood?
Where do we start? Sylvester - You Make Me Feel (Mighty Real) is canon. Shirley and Company's Shame, Shame, Shame is impossible not to dance to. The Age of Aquarius by The 5th Dimension is two glorious songs in one and we all need to 'let the sun shine' right now. The theme tune to Laverne and Shirley - if you know, you know. And Miriam Makeba's Pata Pata is three minutes of pure joy.
Your radio station is based around your successful club nights in Southend. Do you see a future for your dance-filled nights in a post-covid world?
Who knows what will happen, the main thing is for people to stay safe. But, before 2020 hit and we all slid into this parallel universe, we hosted a mini High Tide Christmas party at home. We were originally planning a full on High Tide night but it didn't end up happening because of venue issues so we had a knees up in the back parlour at HT Towers with friends. It was a bit like something that might happen in the snug at the Rovers Return - we played everything from Mrs Mills, to The Sweet to The Ramones and danced round the fire, DJing off the cocktail bar. Maybe that's the future - super bespoke, mini events. But it doesn't always have to be a club night. We've thought about doing a showing of queer filmmaker Derek Jarman's classic The Garden, outside in the, well, garden on a big screen serving up Pimms and strong garden themed cocktails.
And finally, where can people find you online and how can they listen to High Tide & Friends?
We're on Spotify and Apple Podcasts, if you search for High Tide & Friends, and when we have a new show available to stream we announce it on our social accounts - @hightideclub on Instagram, @hightideandfriends on Twitter and Facebook.com/hightideclub.
We've also got a virtual launch party coming up on Saturday 5th September with live DJ sets from some of our High Tide & Friends crew, including Jo Overfield (My So-Called Show), and JS Thornton (Longshore Drift). Go to www.mixcloud.com/HighTideClub/ to stream it live on the night from 7pm till late.
---
ADD A COMMENT
Note: If comment section is not showing please log in to Facebook in another browser tab and refresh.
Related Items