Our New LOS Chef, Chris Laurie, Shares With Us His 'Leigh-on-Sea' Chowder Recipe!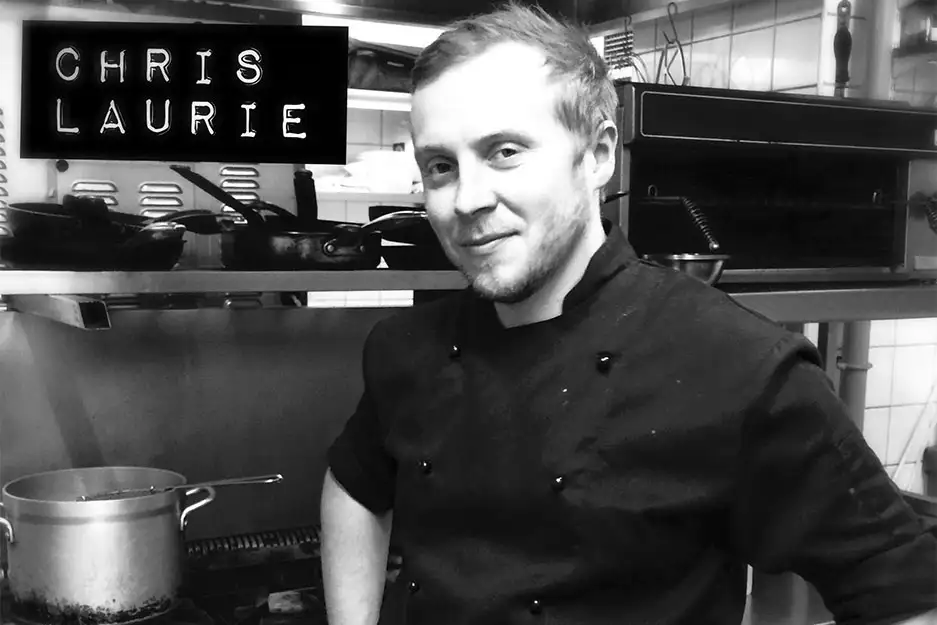 Christopher J Laurie, Head Chef, Pipe Of Port Restaurant, Southend on Sea
Chef Chris Laurie, born on 14th december 1984, is one of 3 brothers and spent his younger years growing up in a small town called Hadleigh in Essex. From a young age Chris was always interested in cooking and spent a lot of time in the kitchen with his mum Sue, who always looked out for her boys with home cooked meals and hearty puddings. Sunday lunch was always a regular in the Laurie household with Chris always on hand to help out, whether it be peeling spuds or pulling out the rhubarb in the garden for the crumble. Cooking was always in his blood with his dad John and uncle Andy in the industry as well as his grandfather who was a chef in the second world war. In fact, it was uncle Andy that gave Chris his big break back in the late 90's with a part time job washing dishes at the Pipe of Port, Southend. It was within the same year he had started a 3 year hospitality & catering course at the South East Essex College in Southend on Sea. In 2005 after climbing the ladder to Sous Chef, Chris felt it was time for a change and continued his trade at the Grove Restaurant, Leigh on Sea where he was trained under a talented chef, Delvin Pitt. From the French classics to Asian and middle eastern cuisine, Chris began to build his repertoire. In 2008 Chris took 8 months out to see the world and experience other cuisines with India his first destination, then on to Thailand and down to Oz. On returning to the UK, Chris continued working in Leigh until the opportunity of a return to where it all began as head chef of the Pipe of Port was too tempting to turn down.

My 'Leigh-on-Sea' chowder with a poached egg, fresh chives & crusty bread
Serves 4
Prep: 15mins
Cook: 25mins
This was one of the first soups I ever made as a young chef and it taught me how to use up anything laying around in the fridge. Full of flavour, creamy and rich this dish is perfect all year round and can be used as a starter or a nice big bowl with bread as main.
All you need is:
1 onion
1 carrot
1 stick celery
1 large potato
200g cooked sweetcorn
1 garlic clove
1 Tbsp plain flour
A splash of white wine
100g chopped smoked bacon ( optional )
500g of mixed fish ( smoked haddock, salmon, cockles, mussels )
300ml double cream
300ml fish stock ( homemade or stock cube )
Fresh chives
4 poached eggs ( 3mins soft boil, 6mins hard boil )
Sea salt and cracked black pepper
Method:
Start by dicing the carrot, onion, celery & potato. Then heat up 1 Tbsp of veg oil in a large pan over a medium heat. Cook out the carrot, onion, celery & potato for about 5mins. Add the garlic and flour and cook out for a further 4mins moving all the time. Add a splash of white wine and reduce for about 2mins to cook out the alcohol.
Now add your fish stock and reduce for about 5mins, then add your cream. When the soup comes to the boil you can leave it chunky or you can blitz till smooth, your choice. Now turn the heat down low to a simmer and add your diced smoked haddock and salmon. The fish should take about 6 mins to cook.
Season your chowder with salt & pepper. Then add your cooked mussels, cockles & sweetcorn to your soup. Check your seasoning.
Finish by pouring it into 4 bowls topped with your poached egg, smoked bacon and chopped chives and serve with crusty bread.
Chef's tip
Why not add grated gruyere cheese or a little paprika to your chowder to enhance the flavour and add a little spice.
Happy cooking
This article is by Head Chef Chris from The Pipe of Port
Twitter @essexcookingman
---
ADD A COMMENT
Note: If comment section is not showing please log in to Facebook in another browser tab and refresh.
Related Items