London Southend Airport takes flight for summer 2023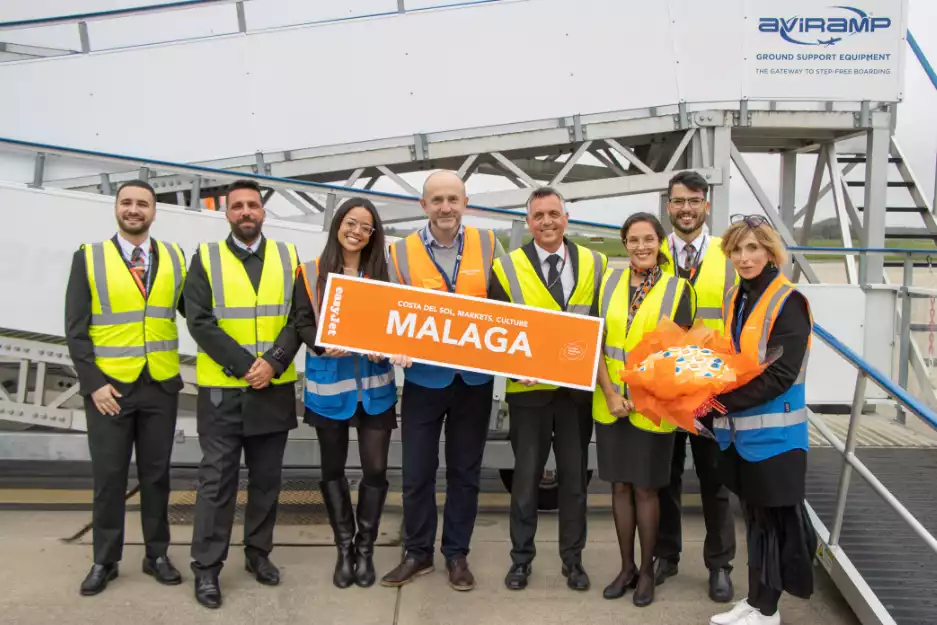 London Southend Airport welcomes the return of summer flying with their first scheduled easyJet flight to Malaga for 2023.
Delighted passengers who chose London's award winning 'quick and easy' passenger terminal experience will from today be heading for summer sun destinations from London Southend Airport.
With tickets on sale to Malaga, Palma de Mallorca, Faro and most recently Amsterdam, which offers connections to over 300 worldwide destinations, the airport is ready to serve its passengers this summer alongside long-term partner easyJet.
The first departing flight of the year was celebrated with complimentary drinks and celebratory cupcakes, served by the team from their brand new SKYCAFÉ in departures, whilst a pop-up selfie spot, The Snug, invited people to #FlyLondonSouthend with a taste of the SKYLIFE Lounge experience.
Local aviation streamer Chris Newell from SDTV went live on the airport's Facebook page to capture the flights' arrival, turnaround and departure this morning, with more than 1,500 viewers tuning in.
John Upton, CEO London Southend Airport, said: "On behalf of myself and the incredible team at London Southend, it is with great pleasure that we are once again able to do what we do best and serve our passengers, alongside our airline partner easyJet. Millions of people living in east London and the east of England need an airport that they can get to quickly and easily – London Southend Airport is just that. Many of this morning's passengers arrived from London and from across Essex and the Southeast by train, demonstrating just how well connected we are.
"People can also travel from London's busiest station, Stratford, in 43 minutes, with further connections to Crossrail from nearby Shenfield. They can then travel through our modern airport terminal, and relax in our departures lounge, starting their well-earned holidays the right way.
"We know that our passengers are our greatest advocates. That's why we are working night and day to secure more destinations and more airline partners. We look forward to providing updates on our progress."
easyJet's UK Country Manager, Ali Gayward, said: "We are delighted to be flying once again from London Southend Airport this summer, providing customers with convenient direct connections to explore or relax in some of Europe's most popular beach destinations.
"We are also pleased to have added Amsterdam as the latest route on sale from the airport with flights departing from 24th May 2023 meaning we can serve our customers from London Southend once again with more choice and great value fares."
The London airport, which can be reached in only 53 minutes from London Liverpool Street, recently announced the addition of Amsterdam to its summer line-up and an extra four flights per week to Faro, increasing the commercial operation by 30% compared to summer 2022.
The introduction of Amsterdam means that passengers from London and Southeast England can connect to more than 300 destinations via Schiphol Airport, increasing London Southend's international accessibility.
Flights are now on sale to Malaga, Palma de Mallorca, Amsterdam and Faro.
---
ADD A COMMENT
Note: If comment section is not showing please log in to Facebook in another browser tab and refresh.
Related Items