Lynn Carroll reviews Chicago at the Cliffs Pavilion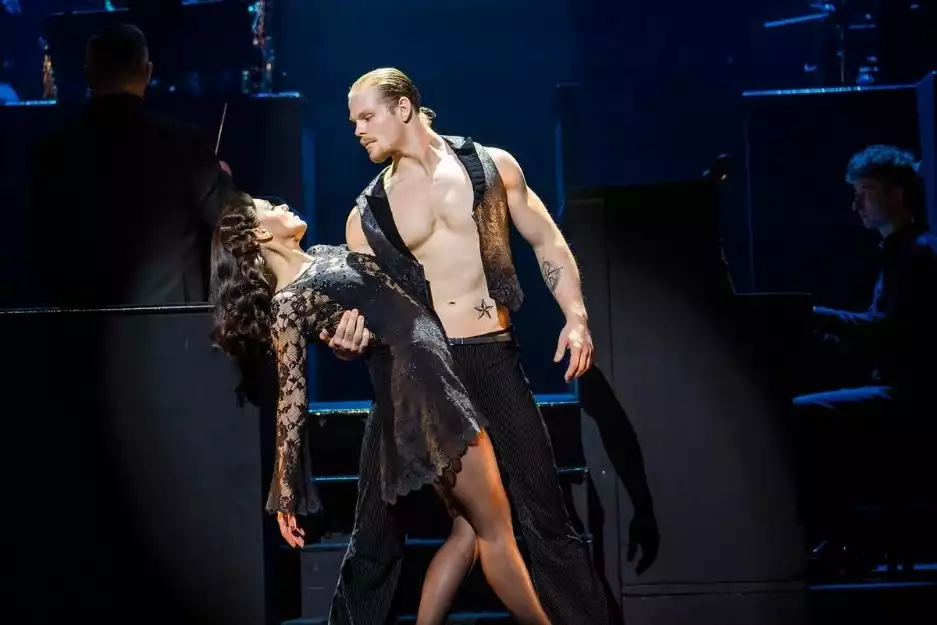 I must admit that when I was asked to accompany my fellow theatre goer to a performance of 'Chicago' my heart sank a little. Of all the shows I would have chosen this would not have been one of them. However, my innate sense of fairness (and being a typical Libran who weighs everything up on the scales of justice) I decided to go along with a mindset determined to give it a fair and unbiased viewing.
I say that because having watched the film version, and not really enjoyed it, I was worried I would be biased and therefore not fair in my appraisal for those who put their heart and soul into the production of stage shows for the public to enjoy.
As we took our seats my companion handed me a slip of paper found inside the programme. Well, that's a good start, I thought, no Russell Watson. But in true theatre style that was soon forgotten when Liam Marcellino stood in and made a fine job of the Billy Flynn role. After singing about money being less important than love of principles (and as an aside the physical kind) he proceeded to prove that he did indeed love money too. The relationship between infamy and actual fame, and the obsession with fame, was unsettlingly relevant.
To be honest Russell Watson's fine operatic voice would have been wasted in this particular role, but a change is as good as a rest, so they say.
Unusually the orchestra was seated upon the stage on tiered platforms and were very much a part of the show, the conductor even contributing as a conduit for the players to voice comments and to add his own introductions and narrative to the proceedings. This of course took up half the stage but as the cast members made use of the orchestra space and mostly remained on stage throughout, this accentuated the jazz/vaudeville atmosphere without the music overwhelming the dialogue. This was very much about the songs and performances and I found the feeling of strangeness, with cast members sitting to each side, gradually dissipated. You hardly noticed them until it was their turn to shine again. And shine they certainly did, although it took some doing to suspend disbelief and appreciate that different locations within the story were all played out on the same set.
Costumes were skimpy and didn't leave much to the imagination but if you like raunchy then you are definitely in for a treat. Add to that the sensual, smouldering and sultry tone of the dance routines (and not just from the ladies) you may have been forgiven for thinking you were glad you left grandma at home, or maybe great grandma these days!
Having said that I could not fault the dance routines: The choreography and its execution was breath taking, from the precise timing to the intricate, angular finger/hand movements or the flick of hair, all added to routines that were hard to find fault with, whether it was your cup of tea or not. And even I have been known to enjoy the odd cup of Earl Grey or Chamomile in place of my usual Yorkshire blend.
I had the opportunity to speak to a couple of very young audience members during the interval and in answer to my query as to their enjoyment of the show, they beamed with approval and excitement. They told me they were dancers themselves and they thought it was amazing. I was left in no doubt as to their impatience to get back to the second half.
Provincial theatre never has, and never will, match up to a West End show and I did find myself yearning for some clever scene changes, colour and glamour. But then I was probably wrong to expect it from a story of murder and prison, even if the killers were young, beautiful and clever as it appears they definitely were in the real life story of 'Chicago'.
Although many unknowns have as much talent as the bigger names in showbiz, it was gratifying to see some familiar faces. Sheila Ferguson proved she still 'had it' as she belted out a solo and I even recognised the hapless Amos (Roxy's husband, played by Jamie Baughan) as a face I knew from his many TV appearances. But of course, if you are a Corrie fan you could not fail to recognise Fay Brookes as Roxy who proved, rather beautifully, that there was far more to her talents. Although her dance routines were not as complicated as those of the other girls in the company, she could certainly hold her own. Her voice too was excellent, who knew? Singing and dancing are not often required in British soaps. Most audience members may not have agreed with me, but she put me in mind of a young Judy Garland, in both stature and the occasional facial expression.
To be true to myself I must confess that I have not been converted and still would not favour this genre of film or stage production. However, if it is your cup of tea I feel sure you will find it a satisfying blend that will give you much pleasure.
---
ADD A COMMENT
Note: If comment section is not showing please log in to Facebook in another browser tab and refresh.
Related Items