Local artist puts Leigh-on-Sea on map with new signage for town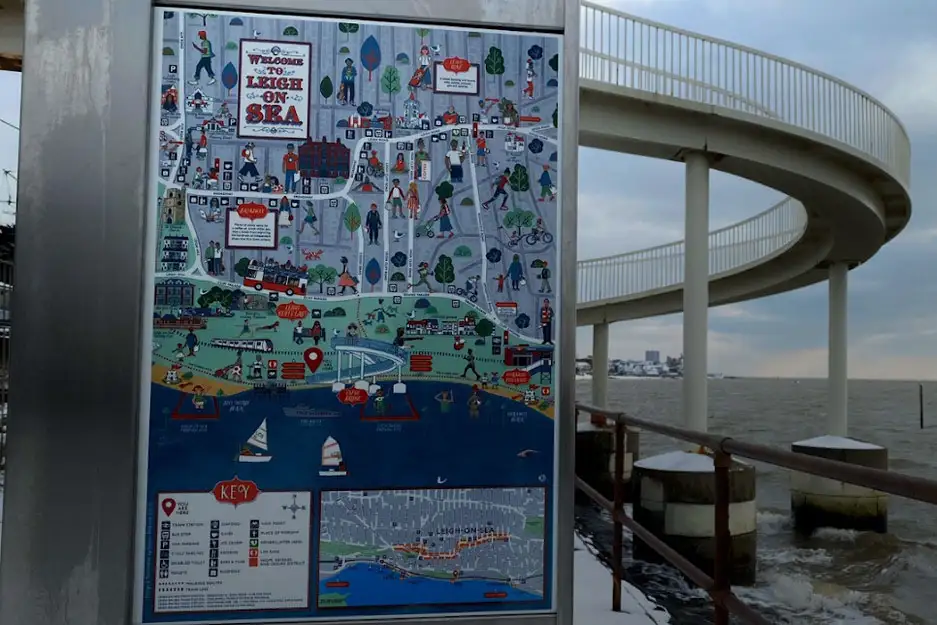 Click HERE to see the map in its entirety.

A unique wayfinding project has been completed in Leigh-on-Sea in a drive to increase the visibility of what is available in the town and remind people to shop local, as the town begins to think about its recovery when Covid restrictions begin to ease.
The Leigh-on-Sea Partnership has worked with local artist Joanne Holbrook, better known as 'Playing with Pens', to create distinctive maps which will be installed at Chalkwell Station, Leigh-on-Sea Station, Broadway, Leigh Road and Gypsy Bridge. There will also be eight finger posts installed around the town to help people discover all Leigh-on-Sea has to offer.
The Leigh-on-Sea Partnership, made up of business representatives from across the area, works with Southend-on-Sea Borough Council to secure funding and support for initiatives that will shape the town and experience for all who use it. The group consults with businesses on the Broadway, Broadway West, Elm Road, Leigh Road, Rectory Grove, London Road and in Old Leigh. In an in-depth survey distributed to businesses in 2019, it identified signage and marketing as one of the areas they felt could be improved. The Leigh-on-Sea Partnership secured funding from Southend-on-Sea Borough Council to create maps and signage that will help visitors navigate more of the town, especially those off the main Broadway, and increase footfall into businesses.
Leigh-on-Sea Partnership member David Elcock commented: 'As soon as you arrive in Leigh-on-Sea, you get a real sense of community. Residents and businesses have come together during lockdown to help each other and we want that to continue, but we also want to welcome more visitors into the town when it's safe to do so. There is something for everyone, from coffee shops, to restaurants, clothes shops to galleries, beaches and parks and we want more people to enjoy it as soon as they're allowed to. Leigh-on-Sea only just begins at Cockle Row and we want people to keep walking and discover more of our brilliant town 365 days of the year.'
The maps are noticeably different to signage seen in neighbouring areas. The move away from the traditional town centre style map was an opportunity for Leigh-on-Sea to bring to life the eclectic community it has become known for. The maps are bursting with people depicting musicians, artists, cyclists, fisherman, independent shopkeepers, families and groups of friends.
Illustrator Joanne, who lives in Leigh-on-Sea with her partner and two sons has a real passion for Leigh-on-Sea and its community, which has inspired some of her most recognisable artwork including her Cockle Row Fisherman. She is a key member of the Leigh Art Trail and is currently writing a children's book based on the area.
Joanne said: 'Leigh-on-Sea is a really special place. I'm constantly inspired by the people, the buildings, the history and this was a great way to celebrate it all. It wasn't hard to put pen to paper to bring to life our town in map form and share all the best bits with visitors. The challenge was deciding what to leave out!'
The project is completed at a time that has seen the town hit by a lack of summer trade followed by a slow Christmas period and then new year lockdown. There are over 500 bricks and mortar small businesses in Leigh-on-Sea and the maps provide a small but significant piece of support during these challenging times.
Helen Symmons, Town Clerk, Leigh-on-Sea Town Council commented: 'Like many towns who rely on a great summer season to support local businesses, it was a challenging 2020. Annual events like the Leigh Folk Festival had to be cancelled and moved online, which impacted footfall into shops, restaurants, cafes and holiday accommodation. Latest figures show tourism is worth over £450 million to the borough of Southend-on-Sea - introducing maps and finger posts across the town is just the first step in helping visitors (as well as local residents!) discover more of Leigh-on-Sea post Covid-19. Our local businesses have done a great job over the last 10 months and taken all government guidelines very seriously in order to keep their staff and customers safe. We can't wait to welcome everyone back to Leigh-on-Sea.
Lisa Blatch, owner of Scape Interiors based on Broadway, Leigh-on-Sea added: 'Running a business in 2020 was not easy. Local businesses missed a lot of summer trade during lockdown and then again in the run up to Christmas. We've had some wonderful support from locals who used our click and collect service last year; but we need to make sure people continue to use local independent businesses, not just for the next few months but for years to come. It really is a case of use it or lose it. The maps will introduce shoppers to somewhere they haven't visited before, remind them of somewhere they haven't been for a while and help keep our lovely Leigh-on-Sea thriving.'
The map project is in its first phase. Leigh-on-Sea Partnership will continue to develop initiatives to help boost local independent businesses based on feedback from visitors, local residents and business owners.
---
ADD A COMMENT
Related Items