Painting the Shed or Summerhouse: Advice from The Beach Buoy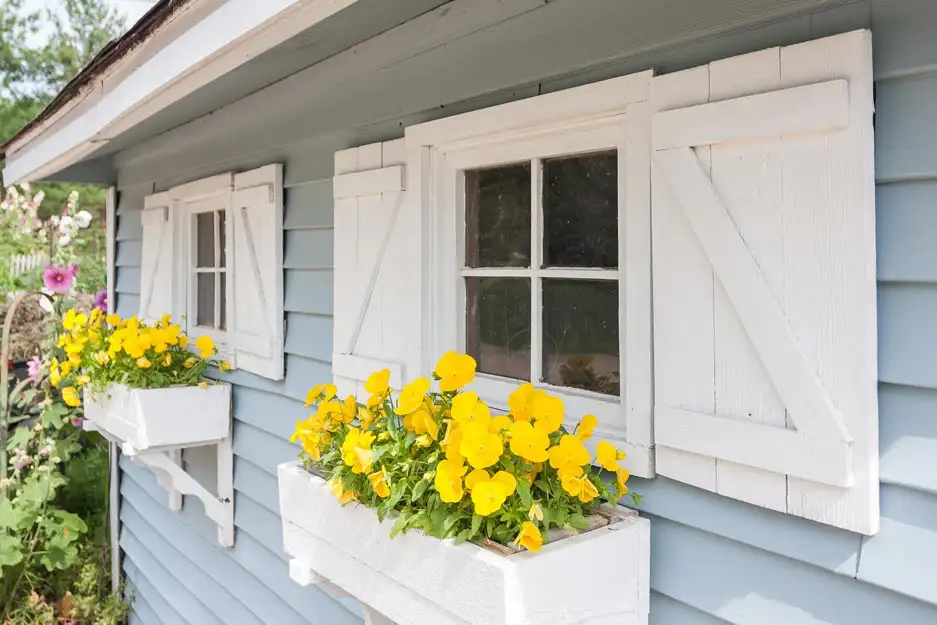 As I write this the mercury is hitting around 33c, the garden looks dry but has (thanks to lockdown) been well kept this year and the roses have never looked so good! My eye gets drawn to the summer house, a 10 year old erected wooden building that has taken many forms. A gym, a games room, a dumping ground… but for the most part it's the workshop. A homage to the man-cave except this one is also a woman-cave, filled to the brim with woodwork, crafts, metal work and the obligatory unused exercise machine which, naturally plays an important role as prop to dust sheets and a couple of old unused hanging baskets.
We painted the summer house when it was installed – well he did, the Beach Buoy – my handyman husband - and at the time the colour we chose was a brownish reddish stain which was trying hard to blend in with the enormous fir trees surrounding it, except it didn't. I hated it. I hated the fact that it took up dominating rights in my garden no matter what the season, and so it had to go, not the summer house/workshop of course, but the colour. We were edging into the third week of lockdown, and now just had to be the perfect time to get the painting done, the weather was playing ball and honestly, if I couldn't get my handyman husband to do it now I never would! So after far too many hours looking at Pinterest, a baker's dozen of testing colours, I found my dream colour. For most people they would say it's a pale beige, I would say it's a soft mushroom, but Cuprinol call it Muted Clay. So this now adorns my wooden walls and Pale Jasmine (also by Cuprinol) has been swept across the frames, and for once I can look past the roses and gaze lovingly at this beautiful summer house come workshop at least till it needs another update!
Next up, the roof needs a re-felt, time to make the Beach Buoy another coffee….
If you are going to give your own shed or summerhouse a new look, my top tips are as follows:
Clean the area – Do this especially if it's a bit of an old shed. Cobwebs, old leaves etc are not a good look covered in paint.
Seal the cracks – Check for small holes and cracks and seal them properly before painting. You can use caulk for this, but make sure you read the back and wait the drying times before you paint over it.
Primer & Paint – You really should use a good primer first, it helps preserve your shed/summerhouse but also the paint goes on easier. However for the lazy bones or less patient amongst us Ronseal do a good paint and primer in one.
Tape the frames – Everyone knows you have got to do this, but boy it's boring! However, if you want a professional finish without paying the professional then you have to spend the time to get this important step done. Extra tip for you. If your roll of decorators tape is a little tacky and coming off the roll in pieces, pop it in the microwave for definitely no more than 10 secs and the tape should come off nicely!
Don't take the tape off till the paints completely dry - Tell me something I don't know you cry, but you would be surprised how many peeps just rip it off and ruin the look and all the hard work lost! Allow at least 24 hours and use a sharp precision knife to run down the tape in one long continuous motion and peel away at a 45 degree angle – don't pull it, it will flake!
Stir the paint – Okay so I know you do this, but if you don't you will get patchy paint. But, the best stirrer is a stick (save you some bucks) and if you take the time to pop a few holes in your stirring stick, it aerates the paint and acts like a whisk – Voila!
Thanks to Nicola for writing this article. If you would like to hire The Beach Buoy for some work then email them at info@beachbuoy.co.uk or call them on 07368 586 468
---
This article features the following businesses: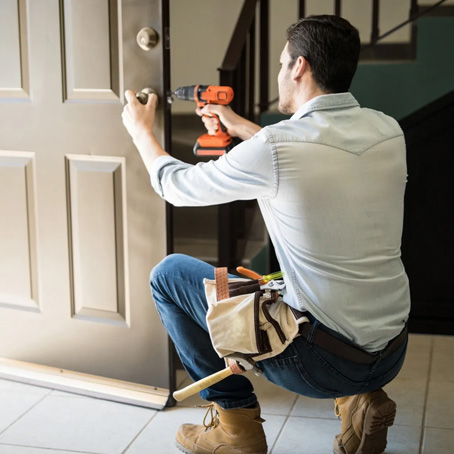 The Beach Buoy: Maintenance, Repair & Handyman Services
A Local Handyman based in Southend-on-Sea providing you with a range of services in Essex and the City of London.
MORE
---
ADD A COMMENT
Note: If comment section is not showing please log in to Facebook in another browser tab and refresh.
Related Items