Review: Fat Friends the musical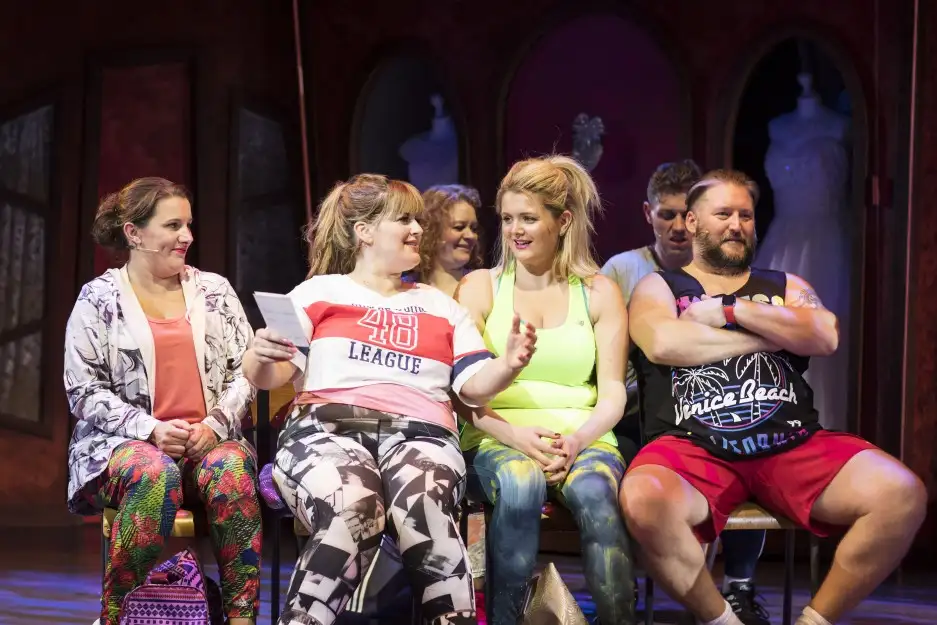 If you're familiar with red days and green days, weigh-ins and meal replacement shakes, or people telling you to "just drink a glass of water if you feel hungry", there will be wry nods aplenty for you at Fat Friends the Musical, which is showing this week at the Cliffs Pavilion.
Written by Kay Mellor and based on her ITV series (which may have been responsible for the dawn of James Corden, but we can't blame Kay) in the early 2000s, it has been given a Yo Sushi, Twitter and internet troll-referencing update for 2018 following a close-knit group of friends at a slimming club in small-town Yorkshire.
I will hold my hands up and say I'm not the biggest musical fan in the world; but I like to remain open minded and also CURLY FROM CORRIE was in it! I grew up watching him and Racquel (played by the total queen, Sarah Lancashire) so I jumped at the chance to go and see this show.
The storyline is based around a young woman not being able to fit into her dream wedding dress, and upon meeting a slimming programme's unscrupulous founder (played by the standout Natasha Hamilton from Atomic Kitten), is offered to have her wedding paid for if she becomes the face of the slimming campaign, and loses enough weight to fit into the dress.
The woman's parents own a chip shop, so have their own struggles with weight, and the slimming group rally round Kelly (played brilliantly by Jodie Prenger: think a Northern Rebel Wilson) to help her reach her goal.
The story is warm, and the characters well drawn; my favourite bits were the dialogue between them. If I'm perfectly honest, there were a few too many musical numbers for me: some songs ran straight into others, and I found myself longing for more of that amusing Northern dialogue. BUT - you know I'm not a musical gal.
If I'm really picking holes, the show is not a diverse one - it's built around a white, straight group of people whose common goals are weddings and babies, and I do think in 2018 these types of shows have a responsibility to show a more diverse group of people. However it is incredibly important to see people of varying shapes and sizes on stage. West End shows are usually full of size 10s and below, and the message of this show does celebrate that you should love who you are. You can't argue with that! There was also a filler subplot of the local slimming club's highly strung leader being in love with the very sweet vicar, which I found detracted from the main story - but their chemistry was excellent.
The heart of this show is the warmth between the characters, and the sheer powerhouse vocals from the entire cast. Kelly's mum was played by an understudy (instead of X Factor star Sam Bailey) whose vocals - notably in the final number - were awe-inspiring, and I found myself with goosebumps during an 80s-power-ballad-esque song by Kelly's sad, potentially jilted groom.
As I mentioned before, the standout performance was from Natasha Hamilton, who oozed faux niceties as the shrewd businesswoman who had falsely launched the slimming programme, and played the role of the pantomime baddie perfectly. She had the sinewy silhouette of a Pixar villain, and had excellent comic timing.
For a fun night out that addresses weight, first love, being skint, family, diet myths and the demise of fish and chip shops with the advent of Nando's, go and see Fat Friends the Musical. I can guarantee you'll leave with a smile on your face.
Fat Friend's is currently showing at The Cliffs Pavilion. Book your tickets
here
---
ADD A COMMENT
Note: If comment section is not showing please log in to Facebook in another browser tab and refresh.
Related Items