Review: School of Rock at the Cliffs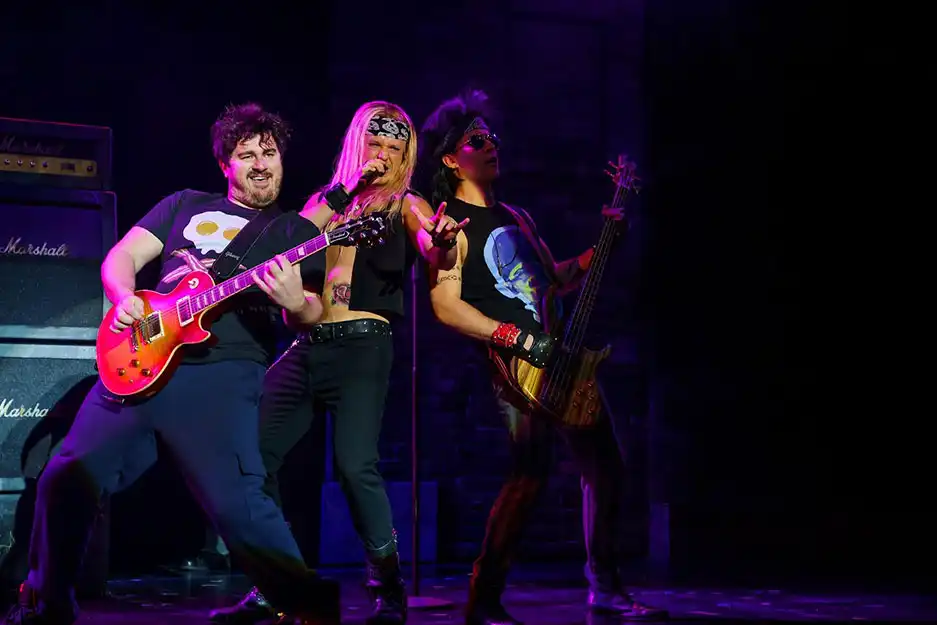 Thanks to Nina Jervis from www.ninathewriter.com for this review.

Here's the thing. Not being a particular fan of rock music or Jack Black, I haven't seen the original 2003 comedy film School of Rock.
So when I was asked to review the stage show, I'll admit that I was expecting to endure rather than enjoy it.
But the fact that I left the Cliffs Pavilion with a huge smile on my face (and a sore throat from cheering the hyper-talented cast) is testament to the show's addictively fun and feelgood energy, which fizzes from start to finish.
The story will of course be familiar to anyone who's seen the film. After annoying the other members with his zany on-stage antics, deadbeat rocker Dewey Finn is thrown out of his band. To help him pay the rent, he poses as a substitute teacher at an elite prep school (as you do!)
In the guise of his best friend, Ned Schneebly – who is actually a teacher – Dewey proceeds to transform his buttoned-up, classical-music-playing students into a hellraising rock group, so they can compete in a Battle of the Bands.
Andrew Lloyd Webber spent seven years negotiating for the rights to adapt the film into a musical. He's clearly taken the project seriously; roping in Julian 'Downton Abbey' Fellowes for the book, and three-time Tony nominee Glenn Slater for the lyrics.
A recorded message from Lloyd Webber at the start of the show also informed us that the kids play their instruments live, which highlighted their utterly jaw-dropping talents.
I genuinely felt I was watching future big-name stars on that stage – particularly Hanley Webb as the guitar-toting songwriter Zack, and Souparnika Nair, who as the shy student Tomika, gave an acapella rendition of Amazing Grace that blew the audience away.
Though the show's stand-out vocal performance came from Rebecca Lock, as the school's initially uptight, Stevie-Nicks-loving headmistress, Rosalie Mullins. She somehow made switching from crystal-pure soprano to rocking out with the rest of the cast seem like a breeze.
Meanwhile, Jake Sharp's talented, high-energy performance gives Dewey Finn a warm and loveable quality, and there's plenty of physical comedy that the kids in the audience will love (a memorable moment is Dewey and Ned – superbly played by Matthew Rowland – indulging in a synchronised game of Guitar Hero).
I'll be honest: when I think 'Stick it to the Man' I don't immediately picture Andrew Lloyd Webber and Julian Fellowes, but the songs all worked very well with the story being told. One stand-out was 'If Only You Would Listen', a moving song in which the kids try to make their distracted parents understand their own, independent, dreams.
(Another stand-out was 'Where Did the Rock Go?', in which Rosalie laments her lost chances in life… but that could also have been because the song's title conjured amusing thoughts of Dwayne Johnson's mid-life crisis).
The show's rousing, roof-raising climax was, by now, predictably spectacular – and no, I'm not going to spoil the fun and reveal if School of Rock won the Battle of the Bands!
For me, what made this such an uplifting show was that the entire cast performed as though they're a bunch of best friends, who thoroughly enjoy rocking out on stage together.
This feeling was compounded by the warm-hearted curtain call, in which the kids were mentioned by name, as in a genuine band performance. This meant we had the chance to cheer them all individually; something they thoroughly deserved.
However, this could be taken as a warning… since you may well leave the theatre with a sore throat, too!
---
ADD A COMMENT
Note: If comment section is not showing please log in to Facebook in another browser tab and refresh.
Related Items