Review: The Habit of Art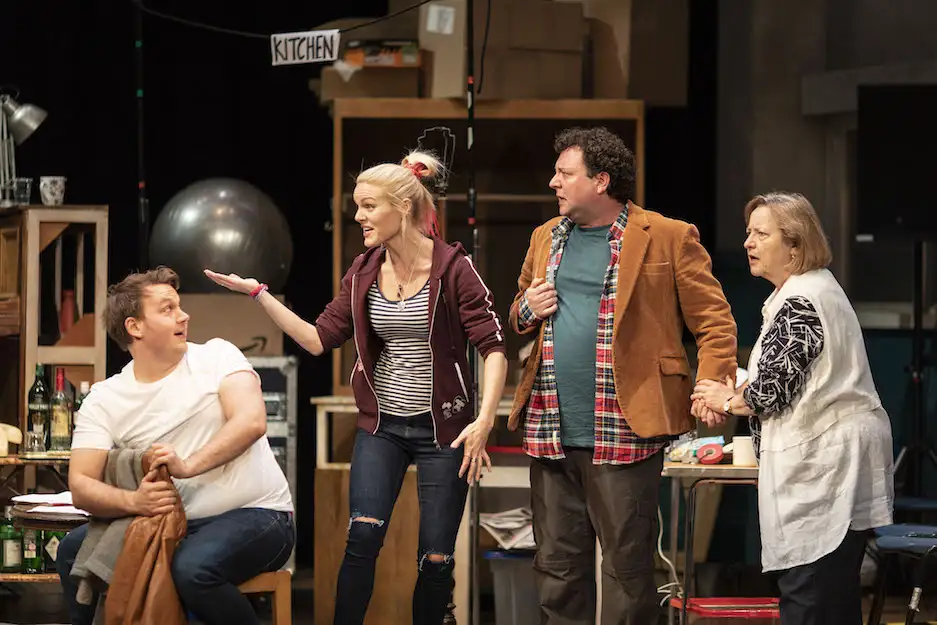 Alan Bennett's 'The Habit of Art' is currently running at The Palace Theatre until Saturday 24th November. There is much talk of gay love, sex and penises, which appear to have proven too much for some of audience members who stomped out more or less after the line "I'm going to suck you off". This only served to make it all the more amusing for me. Nothing like some combative theatre to liven up a Monday evening!

I am a big fan of Bennett's The History Boys and this play has a similar vibe. He is renowned for fabulously written, intricate plays, sometimes a bit too clever for me to follow completely. Yet, his witty and engaging scripts are always fabulously entertaining.
This is a play within a play. Initially we are in a rehearsal room where a theatre company are staging a new work called Caliban's Day. The Director is absent, two actors are missing and now the weary playwright has turned up to add some unwelcome comments.
At the helm is Fitz, played by Matthew Kelly, a jaded actor who needs a few too many prompts to remember his lines. Henry, played by David Yelland, sits quietly at the back watching it all unfurl.
One minute in rehearsal, the next in the play itself, they seamlessly move into the fictitious world where the poet, WH Auden meets the composer Benjamin Britten. Throw in a rent boy, two cleaners and journalist, Caliban, we are all set for a funny and poignant tale.
Matthew Kelly is divine as Fitz / Auden with David Yelland wonderfully enigmatic and fragile as both Henry / Britten. However, the supporting cast really give the play the balance and wit. Veronica Roberts holds the play and actors together, as the stage-manager. Frequently chipping in with "you're just brilliant, darling!", she perfectly captures the frailty of an actor's ego. Especially with poor Donald, (John Wark) whose vulnerability is particularly raw. Benjamin Chandler plays the compliant Tim with endearing subtlety, transforming brilliantly into the jittery sex worker Stuart.
Directed by Philip Franks, it stays true to the text, cleverly transporting the audience from cluttered rehearsal room to University college room. Exploring friendship, rivalry and heartache this multi layered piece examines the joy, pain and emotional cost of creativity.
Classy theatre from a top notch cast, it's a real treasure!

The Habit of Art is showing at The Palace Theatre until Saturday 24th November. To book your tickest, please click here


---
ADD A COMMENT
Note: If comment section is not showing please log in to Facebook in another browser tab and refresh.
Related Items