The Best Exotic Marigold Hotel Review by Nina Jervis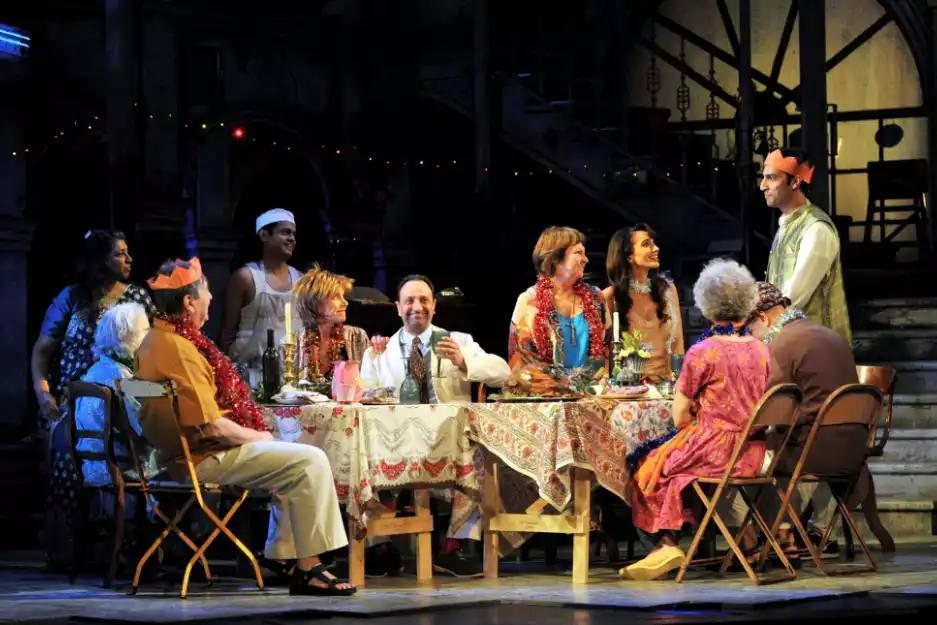 Thanks to Nina Jervis from www.ninathewriter.com for this review.

Ah, The Best Exotic Marigold Hotel.
I saw the film when it was released in 2011. When I think about it now, I'm reminded of Maya Angelou's famous quote: "…people won't remember what you said or did, but how you made them feel". I don't remember much of what happened in that film, but I do remember a lively feeling of warmth and hope.
The stage show tells the same story, which is based on Deborah Moggach's novel These Foolish Things. We meet a group of British elders as they arrive in India, all ready to start their new lives. Owners Mrs. Kapoor and her eager-to-please son, Sonny, have promoted their beloved hotel as a luxurious retirement residence. This isn't exactly true, but as the group settles in each of them is charmed and challenged in different ways.
The show's cast is accomplished and well-known. My friend and companion Matt and I are both avid 80's sitcom fans, which means we're very familiar with the likes of Belinda Lang (2point4 children), Tessa Peake-Jones (Only Fools and Horses) and Paul Nicholas (Just Good Friends).
So we knew the script would be in safe and capable hands, and it was. For us, the standout turn was Marlene Sidaway as the straight-talking ex-cleaner Muriel, who unexpectedly befriends an "untouchable" member of the hotel's cleaning staff and is later welcomed into his family home.
Meanwhile, Mrs. Kapoor and Sonny, played by Rekha John-Cheriyan and Nishad More respectively, were charming and instantly likable – I wanted to move into their hotel myself!
Mrs. Kapoor's traditional, ever-changing outfits were absolutely gorgeous, and the hotel set was strikingly beautiful; all sun-dappled columns and shadowy corners. The music, composed by Kuljit Bhamra MBE, was eclectic and evocative; perfectly matched to the ebb and flow of the story.
Unfortunately, a lot of key developments have to take place away from the hotel set (see: Muriel being invited into a local's home), so the audience is left to hear about them when the characters return. The dialogue has to do a lot of heavy lifting, and there's no real sense of the vibrant, colourful, and fascinating country that India is. This leaves us with a group of older Brits doing a lot of talking about the ups and downs of age and loss, but without the compelling visual juxtaposition of cultures that the film brought. The result is sweet and gentle, but also a little repetitive and lacklustre, and the show felt longer than it actually was.
The momentum picked up when we reached the finale, and the entire cast performed a fun and engaging Bollywood-style dance routine. But I was left with a lingering feeling that re-watching the film might have been a more satisfying option.
The show is at the Cliffs Pavilion, Southend until Saturday 6th May.
---
ADD A COMMENT
Note: If comment section is not showing please log in to Facebook in another browser tab and refresh.
Related Items