The Brilliant Blood Brothers review by Lynn Carroll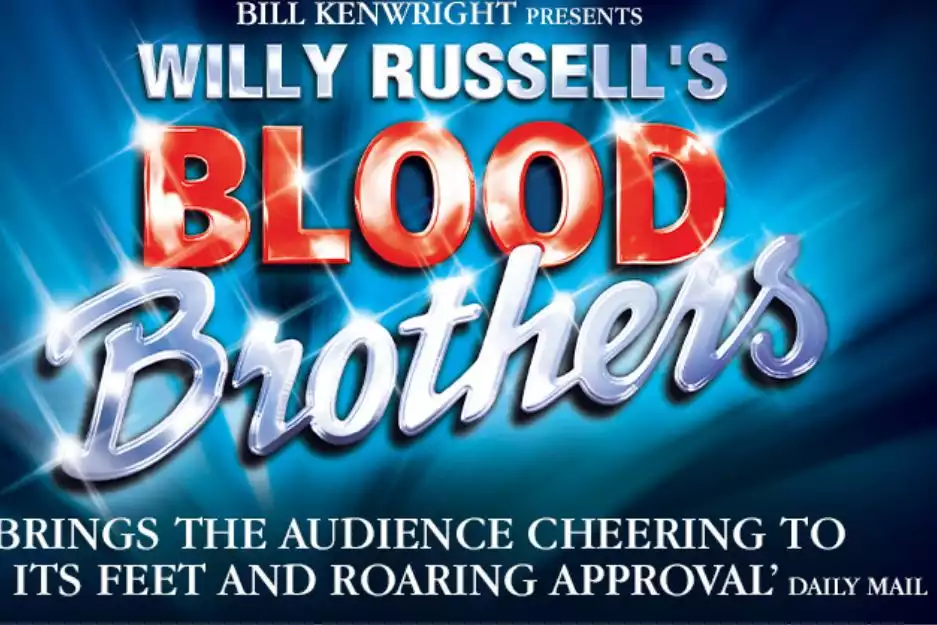 There can't be many people who haven't heard of Willy Russell's musical, Blood Brothers. So yes, I had heard of it, even had a few people give me a rough sense of what it was about, but I have to say it had never appealed to me. Certainly not enough to make a trip to London or elsewhere to see it as I am basically a door to door person who one might describe as lazy when it comes to travelling.
However, we have an excellent pair of theatres in this area and popping along for a night's entertainment is certainly within my capability, although it is hard to get out of the door on these cold and icy evenings.
Having said that, I was glad I made the effort. Not only did I get to sew together all the threads of information about the show I had gleaned over the years, but seeing it as a whole I could appreciate the production and what countless theatre goers had seen in it.
Anyone who has read previous reviews I have written will know that I have great trouble in suspending my disbelief when it comes to the on stage sets. To elaborate: I find it very difficult to watch interaction on stage where we are asked to imagine two or more scenarios being played out in the same place on the same set. I am an avid TV and film viewer and therefore have been spoilt by entertainment that can easily cut from one scene to another showing the story in a correct setting without others shifting props or pretending to be in another place at the same time!
This is, of course, entirely my own problem so I would not dream of reviewing any stage play or musical based on my inability to set this aside. I fully understand that theatre is an entirely different genre viewed in an entirely different way. So, let's get down to it. I cannot heap enough praise on the cast for their efforts on opening night. The character of Mrs Johnstone was played to perfection and in my humble opinion Ms Evans stole the show with her talent, not only did she sing beautifully but the raw emotion she showed was palpable and highly believable.
Praise must also go to the actors who played the twins in this sad story of two babies separated at birth. Along with the other adult cast members who played children from the age of 7 to adulthood their portrayals were totally believable and humorous. A serious subject but, as in real life, there were many funny and light hearted moments along the way.
Not sure if Mr Russell, when writing this musical, was trying to get across the unfairness of life for some compared to others, but it is a problem as old as time. Whilst it is right to highlight this unfairness between rich and poor I doubt very much that mankind will ever resolve the issue. But if works like this serve to move people to a greater understanding of the human condition and what they, as caring beings, can do to understand and alleviate it, then it is certainly a job well done.
If you have never seen Blood Brothers, or even if you have, I would certainly encourage you go along and enjoy an evening at the theatre watching this first class production. Do hurry though as the show ends its run at the Cliffs Pavilion on the 21st January.
---
ADD A COMMENT
Note: If comment section is not showing please log in to Facebook in another browser tab and refresh.
Related Items