The Mughal Dynasty blogs on Indian Wedding Food.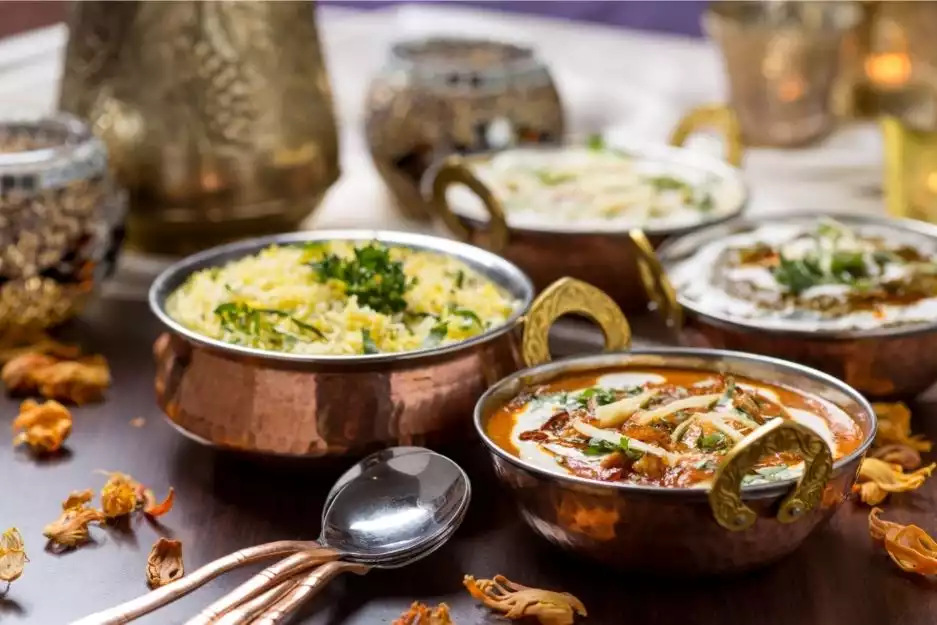 Traditional Indian wedding food to get you in the mood this Valentine's Day.
For many of us, food is our love language, and India is no exception. Indian weddings are incredible affairs, from the lavish celebrations to the sumptuous décor, but traditional Indian wedding food is a huge part of them too.
With food often the focus, decadence is key to celebrate the love of the newly married couple. So what sorts of romantic treats are on offer at Indian weddings? Soup to start!
A tradition at most weddings, soup as a starter often involves peas and spicing such as fennel and garlic. A nice mild start to the meal.
Bel puri
A gorgeous street food snack, puffed rice is paired with lip-smacking tamarind and vegetables, often spicy and very moreish.
Butter chicken
This is an extremely popular dish. Sumptuous and creamy, butter chicken is a showstopper for the taste buds. Perfectly paired with Indian breads to really get every last morsel of that delicious buttery sauce.
Paneer dishes
Rich dishes involving the flavour-absorbing paneer cheese are very popular at Indian weddings. Shahi paneer or paneer tikka are beautifully spiced, and paneer lends itself to soaking up the spicing and flavour of many marinades.
Aloo tikki
Potato patties served with delicious chutney accompaniments. Not just any potato patties however, these fried treats are often spiced with ginger, garam masala, fresh chillies and coriander.
Litti chokha
Stuffed dough balls like these are often found at Indian weddings. Rich with ghee and roasted tomatoes and potato, these morsels will have the wedding guests going back for more.
Jalebi
Chickpea paste is made into spirals and deep fried, then soaked in sugar syrup. A perfect sweet and crispy treat to round off the savoury meal and begin the desserts.
Gulab jamun
Moreish little milk puddings dipped in rose syrup? Ẃhat could be more romantic to finish such a decadent meal?
If you're feeling hungry after reading about all these delicious foods, make sure you book a table with your loved one on Valentine's Day! You will always receive a warm welcome at the Mughal Dynasty.
---
ADD A COMMENT
Note: If comment section is not showing please log in to Facebook in another browser tab and refresh.
Related Items