The Old Leigh Shanty Weekend: 19th to 21st May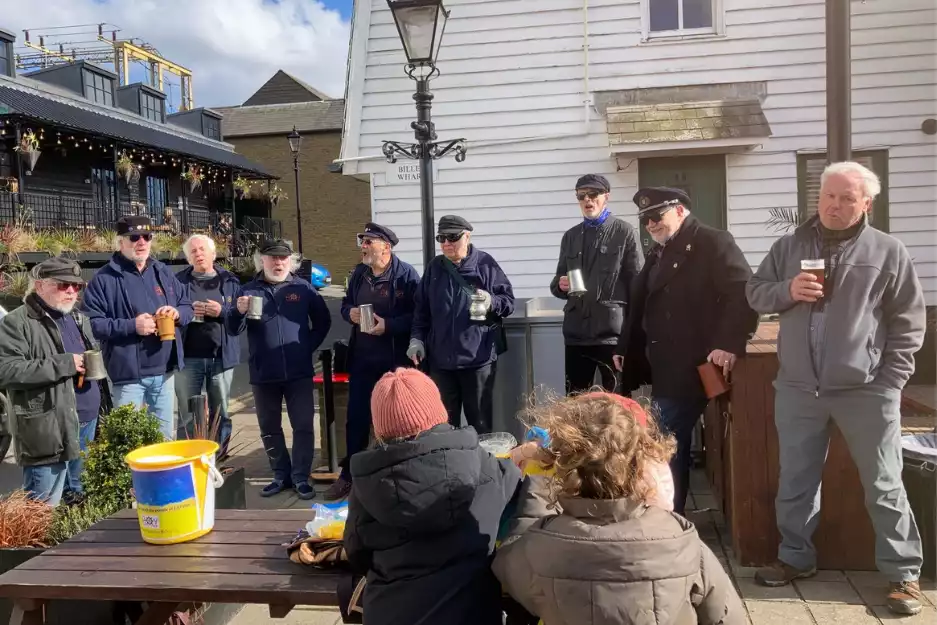 Members of the Hoy at Anchor Folk Club and Leigh on Sea Lions Club are organising a free community weekend of sea shanties, folk music, song and dance in the atmospheric setting of Old Leigh Town.
Starting Friday 19 May evening from 7pm and then Saturday and Sunday from 12pm.
There will be performances by shanty crews from as far afield as Felixstowe, Kent, Stony Stratford and Milton Keynes as well as local pirate bands, celebrated folk artistes and dancers.
The entertainment will take place at venues throughout the atmospheric Old Town of Leigh thanks to the management and staff of The Crooked Billet, No 1 Cockleshed, The Peter Boat, Sara's Tea Gardens, The Boatyard Restaurant, Billet Wharf, The Old Smack and The Mayflower.
There will also be a dedicated shanty stage on Strand Wharf alongside a real ale bar serving a selection of local brews designed to lubricate a shanty-man's vocal chords.
No admission will be charged to the public and all the performers are giving their services free of charge. Over the weekend, members of the Leigh on Sea Lions Club will be arranging a charity collection in aid of the Southend RNLI and Leigh on Sea Endeavour Trust.
At the time of writing, the following shanty crews and folk artistes have agreed to participate : The Hoy Shanty Crew, The Silver Darlings, The Hoolies, The Motley Crew, Impressed, The Hogeye Men, Mains'l Haul Shanty, The Brave Marauders, Freddie's Barnet, The Felix Stowaways, Captain Morgan's Rum Do, Cockleshell Clog, Arfur Do &the Toe Rags, Emerald Hill, Grand Reunion, Mucky Dennis & The Grifters, Fran Foote & Belinda Kempster, Random Folk, The Ondines, PDQ., Goodnight Crow, Kiti Theobald, The Umbrella Factory, Hard to Handle, The Mudlarks & The Feelgood Choir.
The weekend's festivities start on Friday evening with a Folk Singaround run by Kiti Theobald at the Crooked Billet.
---
ADD A COMMENT
Note: If comment section is not showing please log in to Facebook in another browser tab and refresh.
Related Items