The Royal Hotel – Afternoon Tea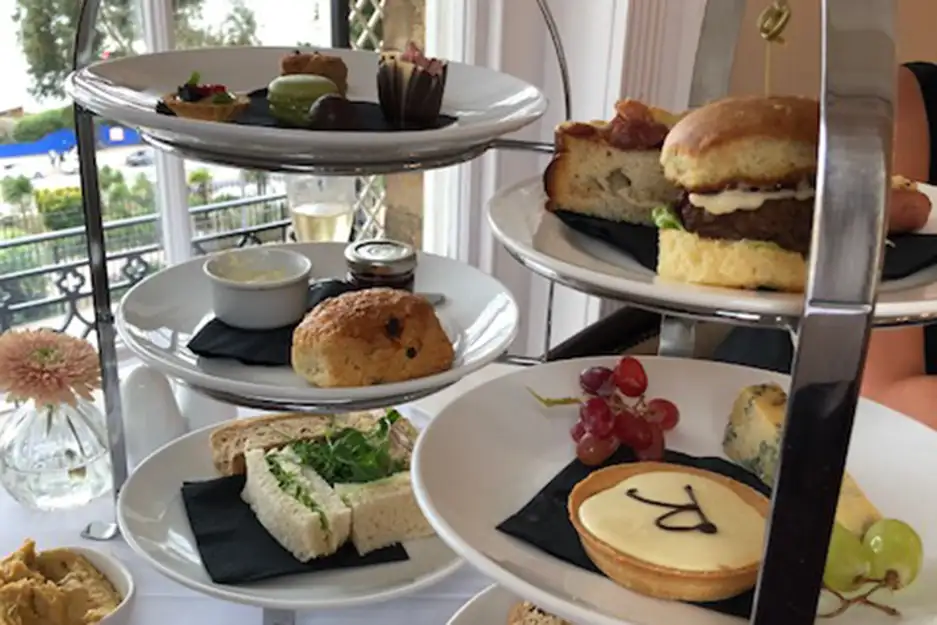 Last week I made a big deal about iconic restaurants. Those legendary eateries which have stood the test of time, and keep doing what they do, without being influenced by the latest trends or fancy fads. Well, after writing that it got me thinking. Yes, we have iconic restaurants, but what about those which reside in iconic buildings? For example, In London Aqua have a restaurant in the Shard, probably London's most prominent land mark. Claude Bosi has recently taken charge of the pass at Bibendum Restaurant. The former UK headquarters of Michelin, now turned two star restaurant. You don't get much more iconic than that in the culinary world. In case you didn't know, Bibendum is the name of the Michelin man! We can't not mention the Ritz Restaurant? This Michelin starred fine dining establishment sits inside the most iconic hotel in the UK, if not the world. The list is endless, I could go on! But what about locally? I honestly couldn't think of anywhere? Correct me if am wrong but I don't think there is anywhere? But then the obvious hit me! The Royal Hotel in Southend! Now that's gotta be the most iconic building in the area?
The Royal Hotel doesn't really need much introduction. Since its refurb back in 2015, I, like many of you, have indulged in a few cocktails at the bar. Maybe had a snack in the lounge, or a full blown gastronomic adventure upstairs in the glamorous ball room restaurant. Yep, The Royal is a true iconic land mark of Southend. Dating back to 1791, this beautiful former hotel has seen all manner of royalty and aristocracy walk through its doors. Although now fully refurbished, The Royal keeps true to its regal roots. With stunning views across our very own Thames Riviera, this has got to be the classiest bar and restaurant in the area.
I've eaten here a few times before. last Christmas Lou and I had dinner here with friends, and I bloody loved it. Food, service and ambience, it was all pretty much spot on. Not only are they serving up lunch and dinner, they are now becoming renowned for afternoon tea. Do you know, I've never had a traditional afternoon tea! Yeah, I know, where the hell have I been living! Really though, I'm not a bone china tea cup and cucumber sandwich kind of a guy; It's all a bit poncey! Cucumber sandwiches? Tell me, what is good about a cucumber sandwich? Chuck a bit of ham in, or maybe egg and I'm all over it, but just cucumber?? Call me what you want, but I don't get it! Added to which, afternoon tea is often a bit of a sweet affair. All that tea, cake and pastry, it's not really my thing, maybe I'm not classy enough to understand it! So, you can imagine, when Lou suggested we go for an afternoon of sophistication at the Royal I wasn't filled with excitement. An afternoon of tea and cake? I was a little dubious. But, after researching this a little more, I found out the Royal do things a little differently. They have a Gents Afternoon Tea! Now that's a game changer…..BRING IT ON! I need to get myself involved with some of that!
The Royal is a charming and elegant place. This iconic building gazes down over the estuary, just as it has done for over 200 years, and looks as good as it did back in the day. Our table undoubtedly the best in the house, was positioned next to a large sash window, where we could watch the comings and goings along pier hill and beyond. I had no idea what to expect with the gent's afternoon tea. Lou, being a lady, opted for the traditional tea. With such a refined afternoon ahead of us, and this being afternoon tea, you'd expect us to drink, erm tea I suppose? Nah, forget that! I'm sure the tea would be very good, no Tetley's or PG tips, the Royal serve up proper tea, but I'm not a tea person. There's something else they serve in the Royal, which you'll struggle to find elsewhere. Something which I thought would be an even better accompaniment to our afternoon tea; English Fizz. Yep, our very own effervescence which rivals that of any good French champagne house. You can't get more English than that can you? To begin the gent's tea, a plate arrived at the table. A kind of starter of hummus with warm pitta, crispy onion bhajis, olives and a homemade sausage roll! Wey hey, now this is really up my alley! This is what blokes like to eat right? Lou got stuck in too! That sausage roll though! Oh boy, it's what a sausage roll should be. Flaky pastry encasing wonderfully herby sausage meat it was superb; they'd make a great bar snack (nudge nudge Royal management!!).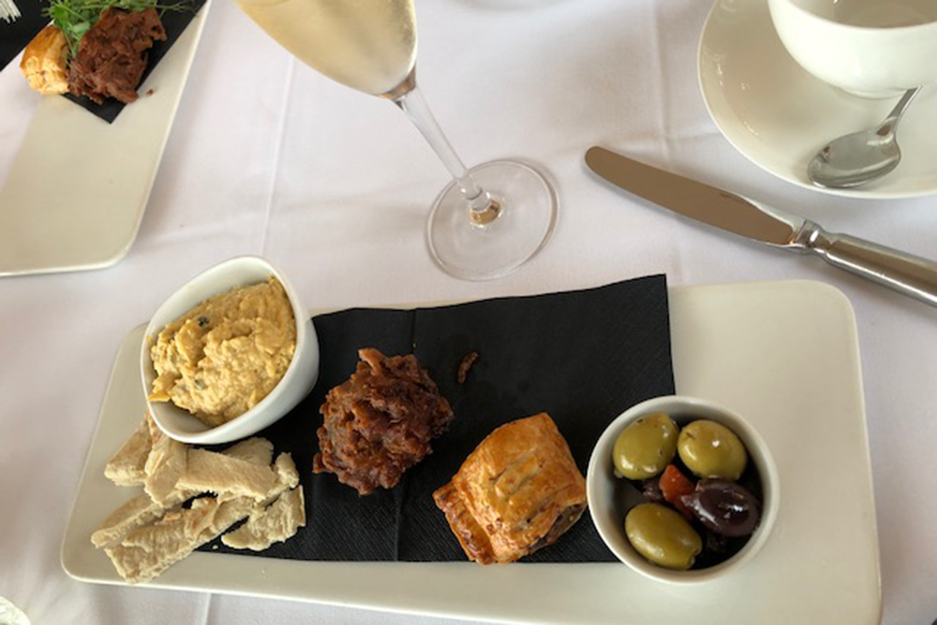 Next up the main event. The traditional tea, served on a three tier stand, looked picture perfect. Starting from the bottom tier we had a selection of sandwiches. Cheese and cucumber, egg, ham and mustard and salmon. Each one carefully cut in to dainty sized pieces, very nice they were too (note: cheese and cucumber, it's a thumbs up from me!) Moving up, a homemade scone with clotted cream and Tiptree jam (keeping it local, nice touch!) And finally, to the top, a selection of small pastries, cakes and a macaroon. In short, I was impressed. Yes, I did get stuck in to the cakes, and thoroughly enjoyed them!
The food kept coming with the arrival of the gent's tea. Served on a similar three tier stand, from bottom to top we had a cheese and pickle sandwich, and who doesn't like cheese and pickle! This was accompanied by a salt beef and horseradish sandwich. Both were cut in to more 'manly' like triangles, and tasted great; no nonsense stuff! Now, I'm gonna skip up to the top layer, only reason; a mini burger was perched up there! Well I say mini, it wasn't that small! I love a burger, so without hesitation I sunk my face in to it. Wow, it was bloody good. I passed it over to Lou to take a bite. She too couldn't believe how this bite size burger could pack so much flavour. Next to the burger we had pulled pork rarebit, and a mini sausage and mash! How do they do that? Just take a small sausage, split it down the middle and pipe in some mashed spuds, and there you have it, bite sized sausage and mash! Oh, and on the middle tier was a hunk of stilton, and a millionaire's shortbread. Now I'm not a massive sweet fan. Hence the reason a gent's afternoon tea appealed. But, the millionaire's shortbread was a triumph. After all those 'manly' savoury delights, this sweet and rich indulgent shortbread was a welcome treat.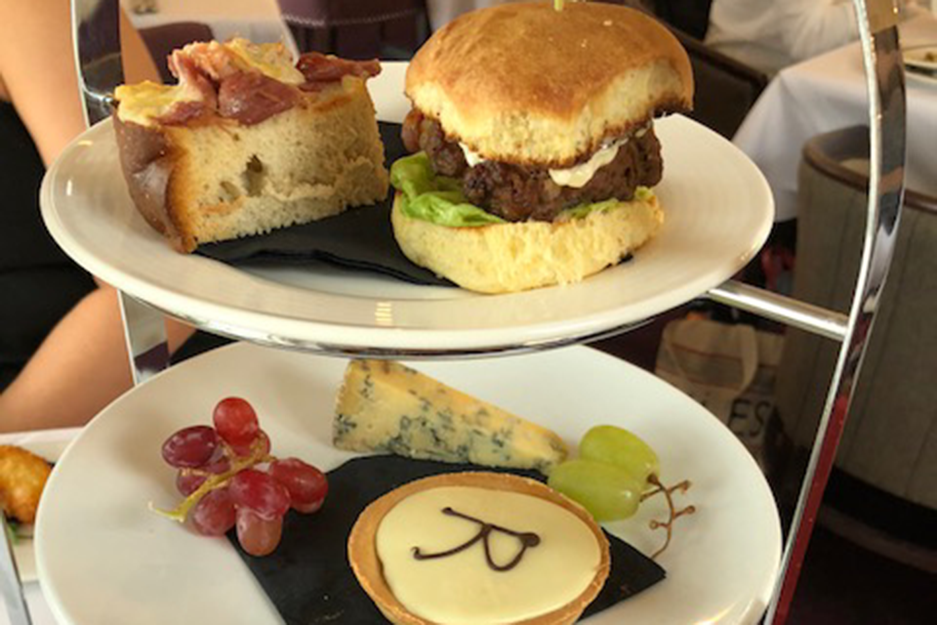 Well there you go, my first ever review of an afternoon tea, and you know what, it won't be my last. This sort of thing used to be confined to swanky hotels, but not anymore. There seems to have been a trend towards this over recent years; your spoilt for choice now. So, to keep ahead of the crowd, and stand out you've got to do something a little different. That's exactly what they've done at the Royal. Who else locally is serving up a gent's afternoon tea? Nobody. The traditional tea is excellent, we both thoroughly enjoyed it, but the gent's version was just a little different and quirky. It actually appealed to both of us! Oh, and just to ad, if you fancy a cigar and whisky after your gentleman's tea you can. Yep, the Royal have a fine selection of whiskies and a humidor packed full of Cuba's finest!
I spend a fair bit of time in the Royal, mainly having a few cheeky ones at the bar, but that afternoon tea has changed me, I would have it again. It made for a lovely afternoon spent nibbling sweet and savoury delights, whilst slurping fizz and chatting to Lou in opulent surroundings. But before I do indulge, I am getting back to the Royal to give that full size burger a go. If it's as good as the 'scaled down' afternoon tea version, it will be a burgerlicious delight not to be missed!
---
ADD A COMMENT
Note: If comment section is not showing please log in to Facebook in another browser tab and refresh.
Related Items