The Soothing Of The Sea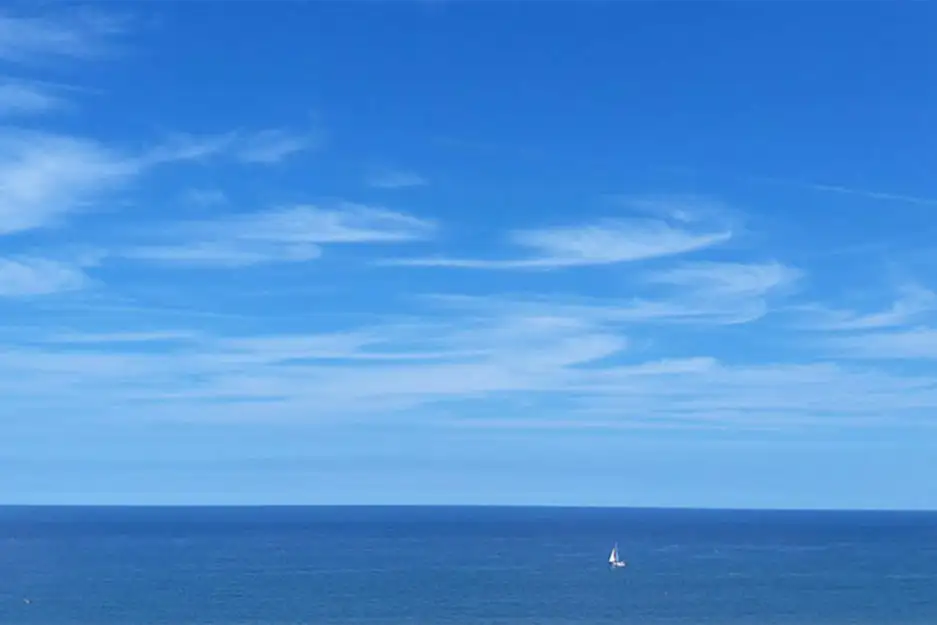 The soothing of the sea
I went on holibobs last week. I basically cheated on Leigh-on-Sea by visiting ANOTHER groovy seaside town. Sorry! I went to Cromer, in Norfolk, and I fell in love with it.
I know it sounds weird, and I'll apologise in advance to anyone land-locked who is reading this, but I always feel it's a 'proper' holiday if it's by the sea. It must be because of my childhood, when my parents took me and my sister on brilliant seaside camping holidays to Lyme Regis, St Ives, Swanage, Perranporth etc etc. You get the idea.
I got the train from Chelmsford to Cromer and it zipped along in about 2 hours, only marred by the family with seven, SEVEN ill-behaved children all going on holiday too. They screamed, shouted, cried, jumped on seats, and went "Mum. Mum. Mum. MUM, MUM, MUUUM, MUUUMMMMM" for the whole journey. Mum wasn't listening; she had perfected zoning them out, choosing to carry the smallest sibling - an actually very quiet and sweet baby - up and down the carriage, occasionally stopping to open REALLY smelly packets of crisps for the rabble. Don't get me wrong, I'm not anti-kids, but blimmin' hell, these lot were noisy. It was ok - I plugged in my earphones and listened to French pop like the poser I am.
We arrived in Cromer to hot sun, an absurdly bright blue sky with whisper-light brushstroke clouds, and a lone sailboat on a bright blue sea (pictured above, taken while laden with my rucksack). Sorry, I thought, am I really in Norfolk? Nothing against Norfolk, but I do always associate British holidays with the sound of rain on a tent roof. NOT SO! We schlepped through the town to our caravan park - 3 acres of static caravans atop a cliff. It was perfection.
The week was spent popping into gift shops, looking at the sea, and walking along the coast path, stopping for "pit stops" - a cup of tea here, a half of ale there, and even swimming in the brilliant, crash-y, foam-y surf. Regular readers, you KNOW I love a sea swim and this was the real deal. Soft white sand, burbling, frothy tide, swishing in and out and socking me in the face and making me laugh out loud. By the time the evenings rolled around, we sat on the pier drinking Disaronno watching surfers - yes, the waves are that big.
By night, we went to sleep in our caravan to the sound of the sea. It was like a live version of a cassette tape me and my sister bought in a hippy shop in the 90s, just the sound of waves. I probably bought it at the same time I got my Ban The Bomb necklace and handfuls of Parma Violet scented joss sticks.
In short, Cromer was the ultimate in relaxation. And the sea was a massive part of it; with boats, surfers, peaceful, gliding wind turbines just off the coast, and proper big, booming waves at high tide. Of course, coming home wasn't a massive hardship because of the coast I live by. I came home and went for a drink at the Crooked Billet and watched the seagulls swooping around the cockleboats and I realised how much the sea means to me, wherever I am.
My top 5 things to do in Cromer
Eat at No. 1 fish and chip shop. The crab burger! Spongebob style!
Walk through West Runton to the woolly mammoth site and stop for tea at the Corner House
Swim from the beach to the East of the pier
Keep an eye out for the goats that live precariously on the cliff
Eat again at Shelley's Pie and Mash shop. Gluten free pies and vegan pies available too :)
---
ADD A COMMENT
Related Items