The Foodie Rich Travel Guide 'Amsterdam'
The Foodie Rich Travel Guide - 'Amsterdam'
Yeah I know what you're thinking; the websites called 'Leigh-on-sea.com', he should be reviewing the wonderful food that can be had a little closer to home. But Amsterdam couldn't be much closer. Just 45 minutes in the company of EasyJet is all it takes; you'll find yourself touching down in one Europe's largest travel hubs! That's quicker than hopping on the c2c to Fenchurch Street. So yep, Amsterdam is pretty local!
I've visited Amsterdam a number of times, and whenever I mention to friends or colleagues, I'm popping to 'the dam' for a weekend, I get that look; that look of knowing. That look which kinda says 'yeah, we know what you'll be getting up to'. Yes! A coffee shop in Amsterdam is a pretty different experience to that in the UK. I think we all know what I'm taking about? Or how about the famous red light district? Not for me thanks, far too seedy! Both of those aside, Amsterdam is one heck of a cosmopolitan and beautiful city. Alongside London, its certainly one of my all time favourites.
Well, last weekend, with our good friends Guy and Sarah in tow, Lou and I headed off for a weekend in the 'Dam'. I thought it would be good fun to share some of the experience with you guys, a kinda Foodie Rich 'rough guide' to Amsterdam. Don't expect any museum suggestions or canal trips, that's not my style. This is my guide to some of my favourite foodie haunts in the city, oh and not forgetting a beer or two!
Sorry just before I start, I must just mention the Airport. If you haven't flown from Southend you're missing out. Armed with just my trusty carry on case, we all navigated our way through security, and were sipping our first prefight Guinness in less than 20minutes from walking in to the terminal. Southend is an award winning Airport, beating the likes of City, Stansted and Heathrow. Rightly so, it's bloody marvellous! Well, here goes, my little Amsterdam guide (Foodie Rich style!)
Chips (or Frites in Amsterdam)
Strange way to begin; chips are chips right? Wrong! The Frite (or chip) is as Dutch as clogs or tulips, they love a chip. Also known as 'Friet', 'Frites', 'Patat' or 'Vlaamse frieten'. The 'McDonald's' like chain; 'Chipsy King', serves up a perfectly acceptable cone of Dutch frites with saus. What's saus? We've all seen Pulp Fiction haven't we? Yep it's true, the locals do love a dollop or two of mayonnaise. In Holland they call mayonnaise 'frites saus'. I'd bypass Chipsy King though and head straight to my favourite; a hole in wall chip joint called Vlaams Friethuis Vleminckx (don't ask me to pronounce that one!). Grab yourself a cone of chips, choose from one of the 35 different sauces (yes 35 no less!), for me it's just gotta be mayonnaise or curry saus. Rather than standing in street filling your face with 'frites' grab yourself a beer from the bar opposite, these guys are quite happy for you to enjoy your chips in the bar! Perfect!
Dutch Herring (or Haring)
Now Herring is a true Dutch delicacy. Being a massive seafood fan, this is a must everyday I'm in Amsterdam. This may look similar to the common roll mop herring, but it's far from that. This lightly cured, sashimi like, fresh herring is best enjoyed from one of the many herring street vendors. These guys are all over Amsterdam. Simply Topped with fresh onion and pickles, or in a bread roll, it's a fish lover's perfect snack. Also give the smoked eel a try, it's gotta be some of the best smoked eel I've ever had. This is street food, Amsterdam style!

Dutch Snacks
I love a bit of snacking when enjoying a beer, and clearly the Dutch do too! Most bars serve up an array of deep fried, incredibly un-healthy beige snacks! Sounds really unappetising, and I dread to think what these bite size beer companions are made of. But they're delicious with a beer! Bitterballen is the Dutch classic. A crunchy deep fried ball, filled with a kinda meat ragout. Apparently these are made from either beef or veal. I say apparently as the contents of Bitterballen represents no meat I've ever seen. But they taste great! Just think minced beef Findus crispy pancakes and you're almost there. Frickandel? Again, deep-fried, this mystery meat sausage should not taste as good as it does. How about a Kaassoufflé? A bread crumbed deep fried gooey cheese parcel; cheesy delicious! All are really, really, REALLY unhealthy, but there's no denying it; Dam tasty
Febo Self Service Snack Machine
Got the munchies? No problem; let the Febo vending machines come to your aid. These serve up all your Dutch favourites I mentioned above (Frickandel, Kaassoufflé etc) and can be enjoyed without any interaction with another human being. Ideal whatever your condition!! Just choose, dig out a couple of Euros, insert, and enjoy. Clearly aimed at late night revellers, these vending areas are open until 4am at weekends, and can be found all over Amsterdam.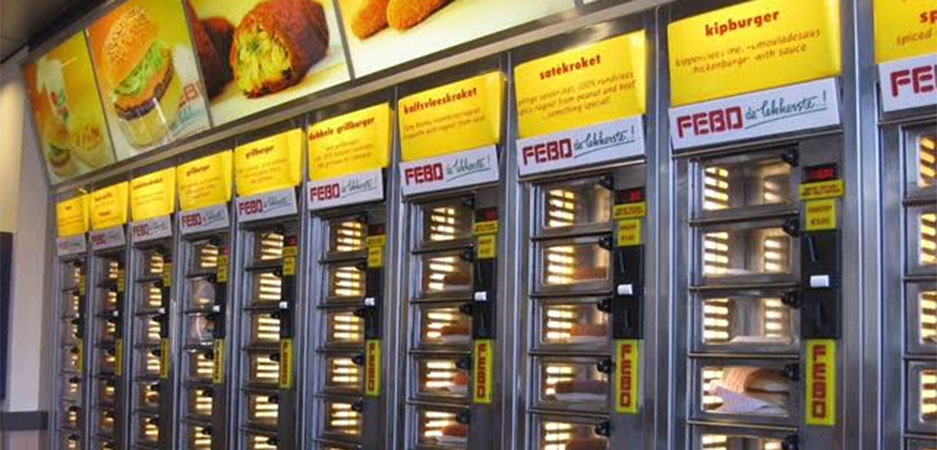 Haesje Claes
I just had to include this place; a smart looking traditional Dutch restaurant, but Old Skool to the max. It's been in existence since 1520 so they know their stuff! Stamppotten is the order of the day here. A filling plate of mashed potatoes, sausage, bacon and a huge meatball; its delicious. Try to save room for apple pie though. Another traditional Dutch dish found all over Amsterdam, with one of the best found here. Topped with a dollop of cream it's bloody good.
Café Klos
Ribs, ribs, ribs and err? Ribs! Do you like ribs? I do! Give Café Klos a go. It gets busy, but no problem. Put your name on the waiting list, and head off to their very own waiting room; it's my kinda waiting room; a pub! The pub opposite to be precise. When ready, your friendly waiter will pop over to the 'waiting room' and let you know. Just order the ribs and chicken platter, dive in and get messy, it's what eating 'Dam' fine ribs is all about! Only problem here, you may have to wait in the pub for a good hour, so there's every danger you could be a little tipsy (as I was!) by the time your tables ready. Heed my advice people!
Indonesian Food
As we have curry houses the Dutch have Indonesians. Popping to an Indonesian is a must when in Amsterdam. You've got to order a Rijsttafel; which is roughly translated to Rice Table. You will be presented with a table full of small dishes designed around sharing, everybody gets to try everything. I love this style of eating! With dishes such as beef rendang and pork sate it's a wonderfully social way of eating.
Coffee Shops
Surely any visit to Amsterdam would have you intrigued about the coffee shops; after all they are unlike anything you will find anywhere in the world, totally unique to Amsterdam. All I'll say, if puffing a little 'erb is your thing; avoid the large neon lit touristy coffee shops such as The Bulldog. They're generally full of stag and hen party's indulging a little too much on beer and hash, a lethal combination. Believe me, I've seen the aftermath with my own eyes; not pretty. I would suggest wandering around some of the quieter parts of town, such as the quant, and typically Dutch De 9 Straatjes district (9 Streets). You'll find a smarter, almost more sophisticated coffee shop, attracting a more refined crowd. I'd also suggest 'The Old Church' coffee shop near Rembrandt Square or Barneys in the north of the city both appeared rather nice and stag do free! Simply find a seat, grab a menu and select your preferred style of weed, no different to ordering a drink really! Struggling to take your pick? Just ask the friendly staff, they're on hand to guide you along the way! Then, all aboard your very own Amsterdam magical mystery tour, you'll be giggling all the way! If smoking is not your thing, why not enjoy some of the tasty cakes or brownies on offer! Sit back and enjoy my friends, you won't want to do anything else!
Beer!
I love beer! You're never too far from a bar serving up some fine brews from Europe and beyond. Café Gollem is one of my favourites. A tiny 'Brown' pub (a brown pub is what the Dutch call a traditional pub) in the De 9 Straatjes area. They serve up some very curios beer. On the advise of the barman, I enjoyed a superb local triple IPA called Emelisse; at 10% it hit the spot! Arendsnest is another great bar stocked to the rafters with all sorts of unique beer. If you're more of an American beer fan, pop over to the beer temple. The clue is in the name, these guys have the largest beer selection I've ever seen! It's not just American beer, they've got some great brews from all over the world; I could spend hours in here! Fancy a visit to a windmill? You're in Holland after all. How about a Windmill that's a brewery and a bar? Well Brouwerij'T Ij (that's the brewery by the way!) have done just that! A short tram ride out to the east of town and you can indulge in some great beer. Clearly this will appeal to Windmill fanciers and craft beer enthusiasts alike!

Well there you go, just a little taster of my Dutch weekender. I could talk for hours about the food and drink of beautiful Amsterdam. We all know what Amsterdam is most famous for, but brush aside the red light district and its liberal approach to recreational drugs, and you'll find an uber cool, beautiful city, untouched by skyscrapers and high rise developments. It's up there in my top 10 world destinations. So, if you're looking for a relaxed weekend full of wonderful food, culture, and history, hop on Easyjet from Southend; quite simply, you'll love it.

To read all of Rich's previous reviews please click the link https://www.leigh-on-sea.com/tag/listing/blog/restaurant-review


---
ADD A COMMENT
Related Items