A Royal Sunday Lunch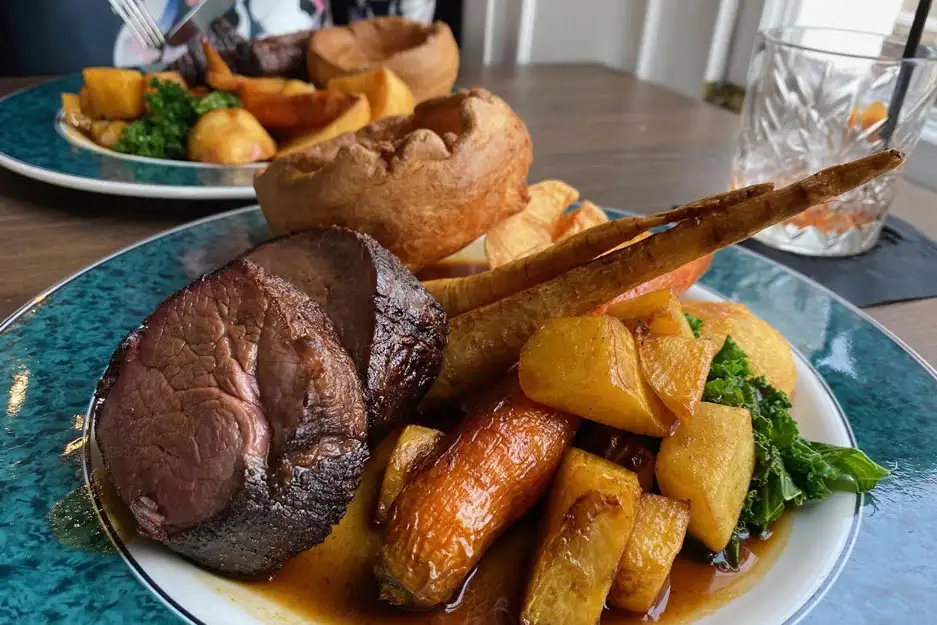 As we are all well aware the Coronavirus has changed the way we shop, travel, work and play. Prior to March no one could have predicted that the supermarket shelves would be emptied and the beloved toilet roll would be in very short supply. These changes have made us all more aware of not only our personal hygiene but the hygiene of the places we also visit, especially the places where we eat and drink. Lockdown also gave so many people time to reflect on their eating habits with many more people cooking at home with fresh produce.
So when Leigh-on-sea.com was invited to review Sunday Lunch at the Royal Hotel we were delighted. From experience we knew they only use the freshest ingredients for their dishes and their menu is changing constantly to reflect the seasonal produce available for the time of year.
Some of you may or may not know that the Royal Hotel in Southend is named after its past Royal connections and it is said that Southend may have never become such a popular town without it. The hotel owes a lot to the royal patronage of Princess Caroline of Brunswick who, became the wife of the Prince Regent, and of course that famous ball and dinner party held in its grand first floor ballroom by Lady Hamilton in honour of Admiral Nelson who unfortunately died soon after at the battle of Trafalgar.
Like so many other old Georgian buildings the Royal Hotel had become a shadow of its former self before the current owners transformed it back to its original splendour. The first floor ballroom with its majestic Georgian windows, ornate cornice work and wonderful vista over the Thames estuary. The ground floor beautifully transformed into a brasserie lounge with an outside terrace.
Whether it is because of the autumnal weather or the fact that Sunday lunch gives us all that warm feeling of homely comforts in these uncertain times, here at Leigh-on-sea.com we have had lots of requests to recommend the best venues to go for lunch on Sunday. I think the Royal Hotel should certainly be at the top of everyone's list.
We started our lunch with cocktails the "Porn Star Martini" was luxuriant and smooth and the negroni was made to perfection. We were made so welcome and the surroundings were so comfortable that the previous hectic week we had had in the office just melted away. For our starters we chose the Skate Cheek Scampi, Fried capers and Tartare sauce and Smoked Duck Sausage Roll with Spicy tomato sauce. Both were excellent: the skate was cooked to perfection and the duck was absolutely delicious.
For our main course we chose the Roast Beef (although the menu is extremely varied catering for all tastes). And what a meal! The beef was succulent and tender, seared with a herb crust and the whole plate was a feast for the eyes with crispy roast potatoes, Yorkshire pudding and a selection of seasonal honey roasted vegetables. We did think we could not possibly finish such a large helping but found ourselves unable to resist the wonderful flavours and so cleared our plates. I must also mention that this was all washed down with a splendid glass of chilled smooth chardonnay which was outstanding.
When the dessert menu arrived we were sure we could not eat another thing but the choice of dishes changed our mind quite quickly. The vanilla crème brûlée, one of my personal favourites, was extraordinary, made with fresh vanilla pods and served with homemade shortbread. The baked chocolate tart with vanilla ice-cream was a dream, the pastry was certainly home-made and the chocolate was a chocoholic's dream come true.
You may well ask now about the service we received and the hygiene measures in place; I can assure you that all were faultless. The staff went out of their way to make every diner welcome and tables were sanitised after every sitting with hand gels on entering and leaving.
We had a wonderful lunch made even more special by the attentive staff and glorious surroundings, I would highly recommend.
---
This article features the following businesses: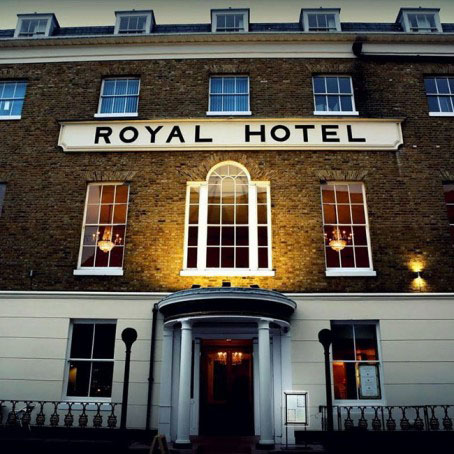 The Royal Hotel
The Royal Hotel, one of Southend-on-Sea's most famous historical buildings.
MORE
---
ADD A COMMENT
Note: If comment section is not showing please log in to Facebook in another browser tab and refresh.
Related Items