Leigh-on-sea's Shops And Businesses Take Part In The Fiver Fest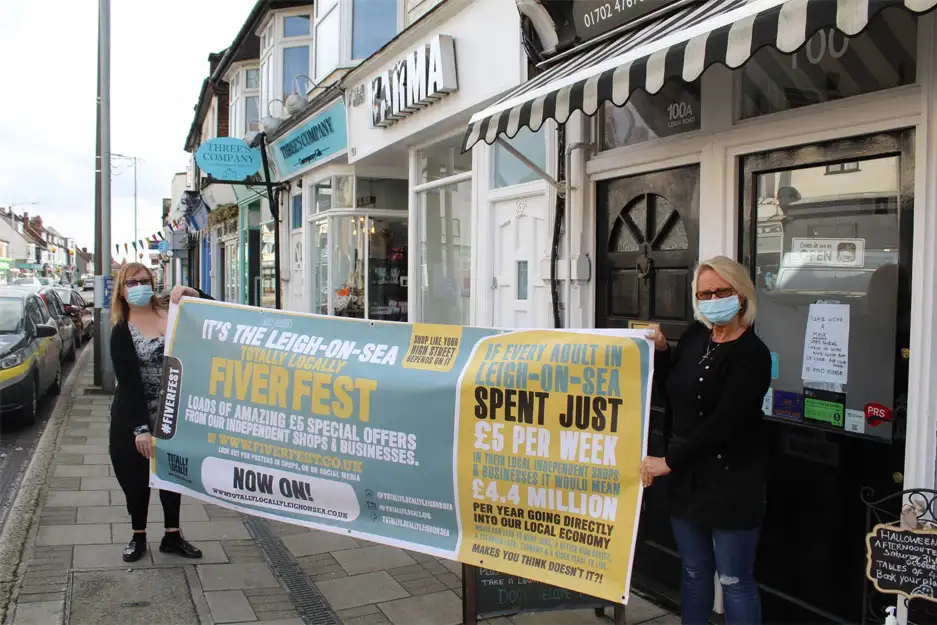 Leigh-on-Sea is currently taking part of the totally locally national Fiver Fest 10 – 24 October.
Thousands of independent businesses are coming together to highlight their contribution to the Great British high street and Leigh-on-Sea is taking part.
To show the importance of supporting our high streets, Leigh-on-Sea is joining with over 100 Independent High Streets across the UK, to put on very special £5 offers across two weeks in October, in the TOTALLY LOCALLY FIVER FEST.
David Elcock said "Fiver Fest is now a big part of our promotions for Leigh-on-Sea. The independent shops and businesses are what makes our town special and unique. We appreciate it when our community support us, so these offers are to say thank you for that support, and to show just what great value our local businesses are."
FIVER FEST is a free to join campaign, devised and run by Totally Locally, a grass roots High Street organisation that has been helping businesses and High Streets to help themselves since 2010 with incredible results.
This Fiver Fest, Totally Locally is partnering with Visa to encourage even more small business owners to sign up to this celebration of independent high streets. Together, they are also calling on consumers to divert £5 of their weekly spend to support the small businesses in their communities.
Fiver Fest is based around the now famous Totally Locally £5 message:
"If every adult in Leigh-on-Sea spent just £5 per week in their local independent shops and businesses, it would mean £4.4 million per year going directly into our local economy. Which can lead to more jobs, a better high street, a stronger economy & a nicer place to live. Makes you think doesn't it?!"
Spending just £5 a week in Leigh-on-Sea makes a big difference to our independent shopping districts along the Leigh Road, Broadway, Old Leigh, Rectory Grove, Elm Road and London Road, the "Fiver Fest" promotes this message.
Fiver Fest has been running successfully in individual towns in the UK and abroad over the past 7 years, but in 2019 the team at Totally locally brought together towns across the country in on big Fiver Fest celebration. 43 towns joined in and he result was phenomenal with reports of new customers, people rediscovering shops they hadn't been into in years and huge sales of £5 offers. Over then two consecutive Fiver Fests, the number of towns taking part has now reached over 100.
Fiver Fest Offers have been imaginative and varied; from £5 massages, to a £5 local meat packs, £5 best-selling book offers to £5 lunch deals and even axe-throwing for £5.
"We know Fiver Fest isn't going to change the world", said Chris Sands of Totally Locally, "But small changes in spending habits can really make a difference to our high streets. Just by diverting £5 of our weekly spend to local independents we give them a fighting chance to thrive. It's a conversation worth having!".
It is for this reason, that the fourth National Fiver Fest is taking place. This time it's even more important than ever after how our world has changed during 2020. YouGov research has shown that 59% of shoppers have used more local shops to support them during lockdown.
To find the amazing £5 Fiver Fest bargains from Leigh-on-Sea's independent business please visit www.totallylocallyleighonsea.co.uk
Over 28 local independent Leigh-on-Sea businesses are taking part and here's a list of the offers available:
br>
Three's Company
96 Leigh Road SS1 9BU www.threescompany96.co.uk Totally gorgeous Shaker Maker for your smoothies, milkshakes, protein shakes and more, for £5 (rrp. £9.95)
br>
Kersch & Hills
www.fb.com/Kersch-Hills-CandlesHome-Fragrances-101016861493864 Hand made vegan-friendly wax melts for £5
br>
Tea & Tiffin
100 Leigh Road SS9 1BU www.fb.com/teatiffin £5 for hot homemade soup and fresh-cut bread
br>
Hoppily
1221 London Road SS9 3JB www.shop.hoppily.co.uk 3 craft beers for a fiver! Crazy offer while stocks last only!
CJ Vinten Goldsmiths
85 Leigh Road SS9 1JN www.cjvinten.co.uk Three items of jewellery cleaned for £5
Scent
1709 London Road SS9 2SH www.scentleighonsea.co.uk Come see our houseplants, dried bouquets and concrete gifts, perfect for stocking fillers for £5
Mrs Barnes' Bakery
22-24 Elm Road SS9 1SN www.mrsbarnesbakery.co.uk 2 Blondies for £5
Truleigh Scrumptious
95-97 Broadway West SS9 2BU www.truleighscrumptious.com A TruLeigh Scrumptious CREAM TEA for one for only £5
Peak Prizes
www.peakprizes.co.uk 1x £6 ticket to win a £240 Garrards brunch in Leigh-on-Sea AND 1x £1.25 ticket to win a Google Nest bundle both for £5 with code 'NESTBRUNCH5' upon checkout
Bubbles Pet Care
1111-1115 London Road SS9 3JL www.fb.com/bubblespetcare Three packs of natures menu treats (dog or cat) for £5
Cookies and Cones
105 Broadway SS9 1PG www.cookiesandcones.co.uk Standard waffle with 1 topping, 1 sauce and 1 scoop of ice cream for £5
110Yards
7 Broadway West SS9 2BZ www.fb.com/110yards Grab your 'Get S**T Done' Manifesto pad & organise life for £5
Hayes & Holt
36 Broadway SS9 1AJ www.instagram.com/hayes_holt Fruit and Veg Box for £5
Wild Health
212 Leigh Road SS9 1BS www.wildhealthshop.com 2 Superfood Lattes £5
Strictly Smartz
1a Elm Road SS9 1SW www.strictlysmartz.com All new classes starting 17th - October 24th - £5!
Store Thirty3
33 Elm Road www.fb.com/storethirty3 Socks for £5
Rockamilly Ltd
3 Broadway SS9 1PA www.rockamilly.com 2 pin badges for £5
The Fairtrade Gift Box
www.thefairtradegiftbox.co.uk Eco friendly Jute bags for £5, ideal for shopping to avoid the plastic, or putting gifts in for Christmas instead of wrapping with paper. Choice of designs.
Cake Club - Sling Library
www.instagram.com/lizzie.cakeclub Book a place on one of our workshops for only £5! Applies to all online sling and sleep workshops (usually between £10-18 per family). You can also book a 1:1 sling consultation for only £5 and add on sling hire for an additional £5.
Toppers and Toast
202 Leigh Road SS9 1BS www.fb.com/toppersandtoast 3 stack banana & biscoff pancake stack only £5
Scape Interiors
79 Broadway SS9 1PE www.scapeinteriors.co.uk Printed Cotton Scarves in a variety of colours and prints (in-store only)
Pilates Plus+
Fishermen's Chapel and Chalkwell beach www.fb.com/pilatesplusessex First class for a Fiver (£5)
As You Wish Balloons and Events
www.asyouwishballoons.co.uk Choice of personalised bauble or personalised elf bottle or personalised balloon fro £5
LICK
54-56 Elm Road www.fb.com/heylickthis 2 milkshakes £5
Shmootees
1395 London Road SS9 2SA www.shmootees.co.uk 2 regular milkshakes, smoothies or sundaes for £5!
Leigh Bistro
123 Broadway SS9 1PG www.leighbistro.co.uk Any starter up to a maximum value of £8 from the menu for £5!
West's Seafood Ltd
Prawn or Crayfish Cocktail or Seafood Trying Tray for £5! No 3 Cockle Shed, Cockle Row SS9 2ER www.westsseafoods.com
Plant Powered Protein
6 Plant Powered Energy Balls for £5! www.instagram.com/plant_poweredprotein
For further information please see
www.totallylocally.org
and
www.fiverfest.co.uk
---
ADD A COMMENT
Note: If comment section is not showing please log in to Facebook in another browser tab and refresh.
Related Items