Battle of the Burgers Round 6: The Railway Veggie Burger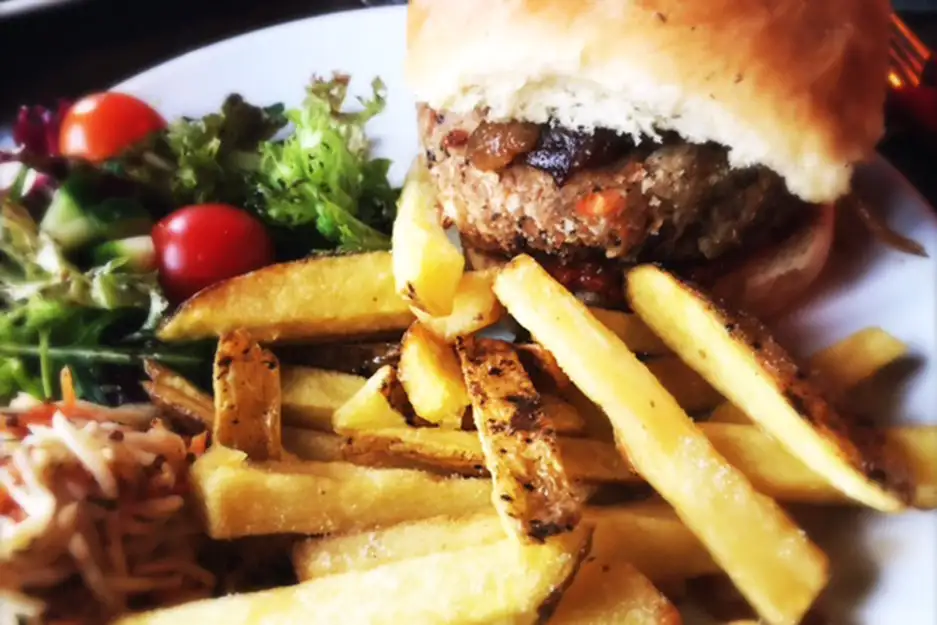 I'm not going to lie, I wasn't looking forward to this, but in the interests of 'Battle of The Burgers' it had to be done. I can't be selfish, it's not all about me me me! I'm sure there's a whole load of veggies and vegans out there who are disgusted at my behaviour over the past few weeks. It's just been a full on meat fest! But I know, all that meat it can't be good for me, can it? Not to mention all those poor animals. One minute they were grazing in a field minding their own business, and then the next, sandwiched between a brioche bun with cheese, bacon, Mayo and pickles. Those poor moo cows and piggy wigs..... oh but come on, it does taste damn good! But hey it's time to take a break from eating innocent fluffy animals and munch on a bit of greenery. Ohhh, but why can't I go back to Henrys or Legend Deli, they're awesome. Or maybe the Pipe, simplicity at its best. What about those ribs at Mangetout....mmmm ribs!! But no, I'm being dragged kicking and screaming to a place of no meat. It's a place of tofu, lentils and pulses. This week, Lou and I headed down to the Railway pub in Southend.
It takes a great deal of courage for a full on carnivore to eat in a place such as this, with its menu full of veggie and vegan dishes. To be honest, I wasn't expecting a great lunch. How the hell was I going to cope with this? I was half tempted to smuggle in some crispy bacon, or maybe nip around to Legend Deli to grab some takeaway fried chook! But no, if I was going to do this it had to be done properly, absolutely no meat. So as an honorary vegan, I perused the menu at the railway, and it sounded alright! There's curries, pizza's, even vegan fish and chips! Not sure how they do that one, yeah, vegan fish and chips? But, first impressions of the menu were good. Of course I was here for the burger. So without further ado, I ordered up the 'Crass' burger and a pint of ale. Not sure why it's called the 'Crass' burger, essentially it's a bean burger. Just before I go on, I need to point out, don't go to the Railway expecting crisp white table cloths and silver service, that's not what they're about. It's pretty frayed around the edges, but that's just the whole charm about the place, its gloriously and unashamedly 'alternative'.
When the burger arrived at the table, I was surprised. There was a wow moment! This couldn't be further from those awful looking, cardboardy, excuses for veggie burgers you may find in the freezer aisle at Sainsbury's (or any supermarket for that matter) this looked great. It tasted great too! Packed full of beans, and other herbs and spices, I was impressed. If we had a league table of veggie burgers, this would be up there, I wasn't missing meat at all here. The chips too! Oh boy, just simple homemade skin on chips! I know I waffle on about this a lot, but why oh why don't more restaurants make chips from real potatoes, they taste better. Homemade slaw completed this plate, which I seriously couldn't fault at all. But, If I had to be critical, maybe the texture of the burger itself was a little soft, there was no crunch. But in saying that, this was soon rectified with the addition of that marvellous slaw. This was a good burger, and although I am no expert on veggie burgers, this is the standard to which all future veggie burgers will now be measured. The Crass burger is a wonderous combination of bean and bun; the bar had been raised high. I shouldn't sound at all surprised as to the quality of this burger. Any chef worth his salt should be able to knock up creative veggie food, and that's exactly what they're doing at the Railway. This burger wasn't trying to masquerade as something else, it was a fine veggie delight, which just happened to contain no meat. I've travelled a bit in India, and these guys are top of the pile when it comes to veggie food, it's so damn delicious. I remember eating a complete meal which didn't have any meat, now that's unheard of for me! But it didn't need any meat, and the same can be said for the Railways Crass burger, I thoroughly enjoyed it. So I can do it, I can enjoy a meal without meat!
Who'd of thought eh, me praising a veggie burger! Yeah, me The self-confessed carnivore eating a burger with not even a hint of meat and loving it! Be you a full time veggie, or meat lover like me, I would encourage you to pop by the Railway and give their burger a go, its bloody good. So to end, would I go again? Hell yeah, I wanna give one of their curries a go, or maybe a pizza!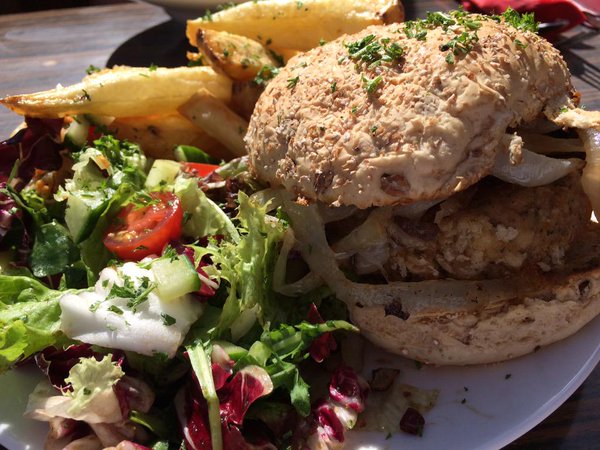 To read all of @FoodieRich's previous restaurant reviews, please click here https://www.leigh-on-sea.com/blog/tag/restaurant-review.html
---
ADD A COMMENT
Note: If comment section is not showing please log in to Facebook in another browser tab and refresh.
Related Items