Battle of The Burgers "Round One"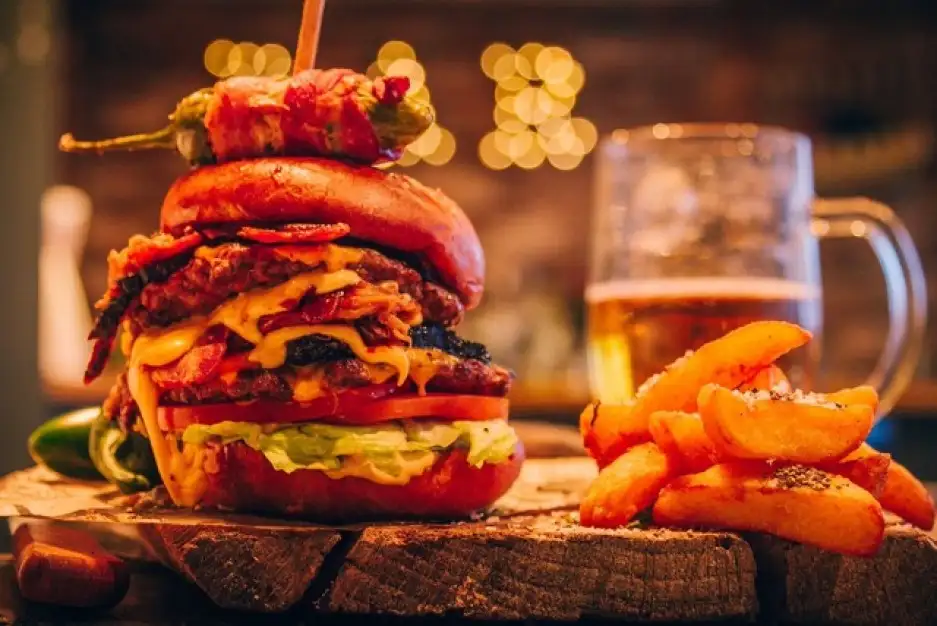 Battle of The Burgers 'Round One"
I'm pretty certain we all love a burger? That simple marriage of meat and bun is a thing of beauty! Add a few little extra's in to the mix and it's taken to another level. For me, just a bit of crispy bacon and good cheese is enough to send me in to a burger frenzy! The humble burger has been on trend for a quite a few years now. Burger joints have cropped up all over the place serving up ever creative meat and bun combinations. Even fine dining restaurants have taken the plunge and included burgers on their menu's. Take the Ivy for example; they've had the famous Ivy burger on their menu for an age. But has the burger had its day? As we know food moves in trends, so what's next? Fried chicken maybe? Could there be an onslaught of bearded hipsters opening up trendy new fried chicken joints? I reckon so! Good southern fried chicken is a far cry from the crap found in those over lit, late night dives serving up greasy, soggy, 'so called' fried chicken. So it's high time some savvy independents jumped on this, to save us from the 'Colonel' and his 'Finger Licking' merry men. The humble cheese toastie is also showing potential! Oh boy, a good cheese toastie is comfort food at its best. Already a growing trend in London, the simple toastie has been elevated to the height of gourmet 'coolness'. It's the food to be seen eating. Take 'The Cheese Truck', they've been perfecting toasties since 2013! As the name suggests, it's just a simple truck doing the rounds at all the best foodie spots in London. Their method is simple, just melt all sorts of wondrous cheesy delights in to artisan sour dough and you can't go wrong. Trust me, the cheese toastie is in the midst of a revolution; time to dust down your Brevilles people!
However, this blog isn't about the food trends for 2017. It's the here and now, and those tasty burgers. Have they had their day? Possibly? Another foodie craze, be it fried chicken or cheese toasties, will soon be the new on trend food, but until then, the Burger is still up there in my opinion. Let's not dwell too much on food fashion, I just wanna wallow in the joy of tucking in to a damn fine juicy burger. There are countless numbers of bars and restaurants serving up gourmet burgers. With that in mind I thought it would be fun to write a series entitled 'Battle of The Burgers'. I couldn't cover this in one blog, so it needs to be done as a series; it's going to take time, this journey could possibly take the rest of the year; but what a year that'll be! So, without further ado, let's bring in the first contender in my new 'Battle of The Burgers' series. Ladies and gentlemen can I introduce; Mangetout…..Let's Get Ready To Rumble!!
I doubt they really need an introduction. However, if you didn't know, these guys have been building burgers for quite a few years now, and it would appear they've done very well indeed. They started off small, and have grown at quite a pace, now residing in the old Churchill's building in Southend. The décor here is as you'd expect in a good burger joint, cow hide and leather is all over the place, giving Mangetout a bit of a carnivore feel! Before we'd arrived I checked out their website. Immediately my computer screen was filled with a behemoth of burger, a glistening tower of meat, cheese and bacon. I challenge each and every one of you to look at this and not start to salivate. We'd got off to a good start even before walking through the door!
The menu reads as a celebration of all things bovine. Glorious burgers as you'd expect, but there's other carnivore classics, such as ribs, steaks and chicken wings etc. We just had to give the smoked brisket ends a go, just as a little appetiser. These were bloody amazing! I could've devoured a huge bowl, a perfect start to the anticipated burger onslaught. I'm a burger purist to be honest, just a perfectly cooked patty, cheese and bacon in a brioche bun is enough for me. However, here at Mangetout they've let their imaginations run wild; but they do need to reign it in a bit, why? A donut burger? Yep, you heard me right, a frigging donut. This is downright burger abuse? I can only describe this as a bastardised burger. Who actually thinks a donut is a good alternative to the classic bun? I'm sorry mangetout, this is up there with my other food demon; Hawaiian pizza's; I question why? pineapple on a pizza is un necessary. Whoever thought of this car crash creation should be brought to justice for crimes against food. It has no place on a pizza, and the same goes for a donut burger, it's just wrong! But saying that, am I in the minority? After all they must sell them as they're on the menu, clearly there's a market for such a thing! So, if sandwiching a perfectly good burger between a Krispy Kreme is your thing, feel free to get stuck in!
Rant over, I decided on the 'Almighty'. It sounded more of a challenge than a light lunch! Double patty's, smoked brisket, pulled pork, bacon and secret sauce! Oh, and not forgetting the addition of a bacon wrapped, cheese stuffed jalapeno. Ordering a gargantuous pile of meat such as this is totally out of character for me. I said it earlier, I consider myself a burger purist, but, I've got to get in to the spirit of 'Battle of The Burgers' so, the Almighty it had to be. Well, this burger was exactly as described, it was 'Almighty'. How was I going to get my chops around this one, I needed to dislocate my jaw! For me, the highlight of this was the burger itself. Yeah all the additions were wonderful, but the burger was delicious and cooked to a tee, just slightly pink. This burger is a beast, and has to be dissected if you've any chance of scaling this mountain of meat. You could argue this goes against the whole idea of a burger? However, half the fun of eating at a burger joint, like Mangetout, is that sense of excitement when the food arrives at the table. For a moment all those around stop to take a look at this mammoth beast sitting in front of you. It's a wow moment. So although a smaller more compact burger is practical, the 'Almighty' brings a little theatre and fun to your dining experience.
Well, I reckon we'd got off to a good start in this series. Mangetout had done us proud, I was stuffed! The burger was good, if I had to be critical, apart from a donut burger (don't get me started again!) it would be the chips. First of all, I hardly touched them; only because the burger was enough on its own! But they're chunky chips. I think burgers need skinny fries don't they? I like a chunky chip, but not with a burger. But, I'm not letting that put me off, I would definitely go back, the burgers are too good to let a humble chip put me off. Well done Mangetout, you're certainly serving up some tasty burgers, and what a great way to kick off 'Battle of The Burgers'. The other contenders will have to go a long way to beat you. So, I'm now off to work up another appetite and get down to the next contender, watch this space for some more burger action!
Fancy giving the Almighty a try for yourself? You can find Mangetout at Tylers Avenue, Southend or call them on 01702 468646
---
ADD A COMMENT
Note: If comment section is not showing please log in to Facebook in another browser tab and refresh.
Related Items