Book flights on Southend Airports new website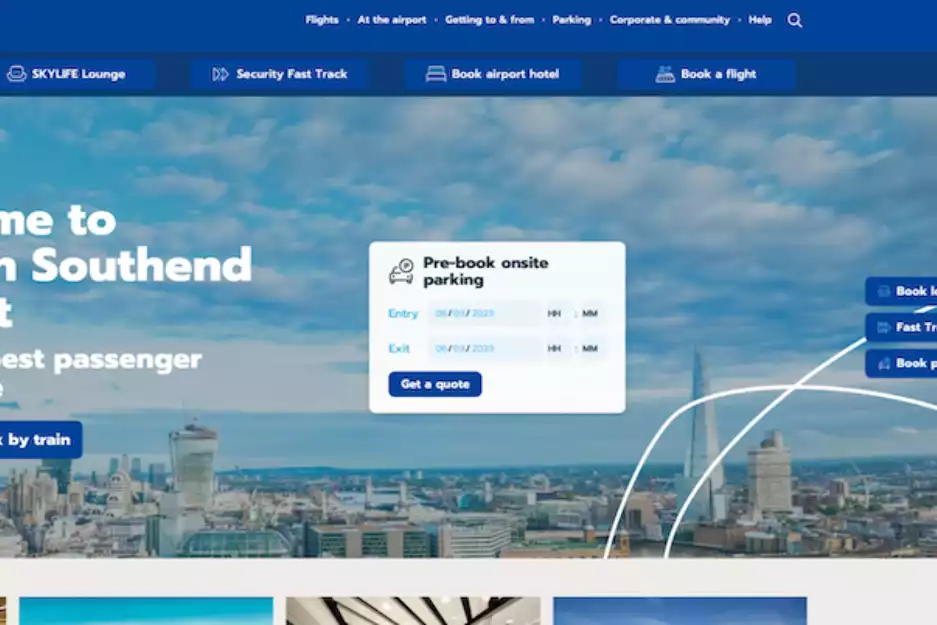 London Southend Airport is readying for a restart of commercial flying on March 29 with its partner easyJet, but that's not the only exciting news this month. They've also today launched a brand-new website which includes one-click product booking and a super helpful range of travel guidance, covering everything from flight schedules, rail to London maps and an aviation enthusiast's favourite: a timeline of the airport's rich history.
In partnership with digital marketing agency Base Creative, London Southend set out to give their passengers a far simpler, seamless digital experience whilst enhancing their own presence online. The result – a complete website makeover which focuses on a quick and easy user experience.
The home page features essential travel information, destination inspiration and on-site flight and holiday booking facilities.
The intuitive website design works cohesively to support user navigation and assist with immediate access to the airports on-site amenities, such as Parking, Security Fast Track, or access to the SKYLIFE Lounge.
London Southend Airport is keen to hear feedback on the new design via their Contact Us page.
CEO John Upton said: "I'm delighted to be able to share our new website, built for our passengers and focused on making their London Southend journey even easier. Our dedicated marketing and communications team have worked tirelessly alongside Base Creative to produce a technological, customer-centric hub that is incredibly easy to use - the teams have gone above and beyond to bring our digital goals to life.
"With helpful content site-wide and products just one click away, we now have a great foundation that will continually evolve, reshaping based on how our passengers engage with the site.
"My personal favourite is the Trains page – helping our passengers choose a quick and sustainable journey to London Southend, at just 43 minutes from London Stratford, London's busiest train station, and 53 minutes from London Liverpool Street; the page clarifies that 'we're much closer than you think'."
Iain Scott, CEO, Base Creative, said: "We are thrilled to have partnered with London Southend Airport to create a website that puts the needs of their passengers first. Our goal was to provide a seamless user experience that allows passengers to quickly and easily engage with the products and information they need. With the new website, passengers can easily access essential pre-flight information and advice, book their travel products quickly, and plan their journey to the airport. I am confident that the new website will enhance the overall travel experience for passengers."
It comes after London Southend recently announced a fourth destination for their summer schedule with airline partner easyJet, Amsterdam. Flights to Amsterdam will commence on Wednesday, May 24 with the official restart of commercial activity on Wednesday, March 29.
https://southendairport.com/
---
ADD A COMMENT
Note: If comment section is not showing please log in to Facebook in another browser tab and refresh.
Related Items