Cocktail Of The Month - Aladdin's Cave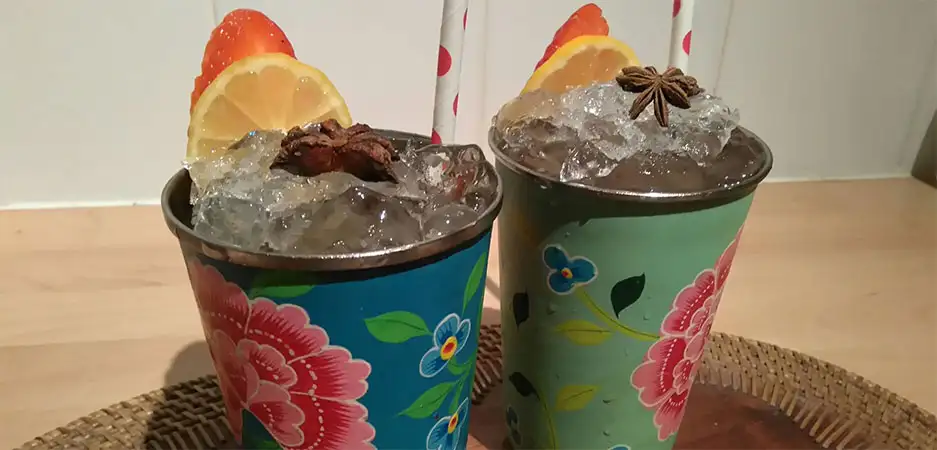 Cocktail Of The Month - Aladdin's Cave
This month, I've been playing around with a few herbal teas and found that they go great in cocktails! The floral notes of Jasmine Tea in particular lend well to the botanical qualities of gin, it's a delicate & refreshing combo! Try something a little bit different & give it a go!
You'll need:
30ml Gin (I used Tanqueray, but Hendricks would also work really well!)
15ml Grapefruit Liqueur
15ml St Germain (Elderflower Liqueur)
70ml Jasmine Tea (brewed earlier & left to cool)
1 Strawberry (sliced)
2 Star Anise
A splash of sugar syrup
3 lemon wedges (squeezed)
Ice
Garnish - Crushed ice, Strawberry Slice and Star Anise
Method:
Fill your glass with ice & add ingredients.
Stir with a bar spoon.
Garnish with crushed ice, strawberry & star anise.
This recipe is by Dave at The Craft Drinks Company! To see all Dave's previous cocktails please click the link
https://www.leigh-on-sea.com/tag/listing/blog/cocktail-of-the-week


Having a party? Fancy a pop up cocktail bar to make your event 'the' event that all your friends talk about? Call Dave on 07415 638 825
---
ADD A COMMENT
Related Items