Cocktail of the month - Blood Orange Mojito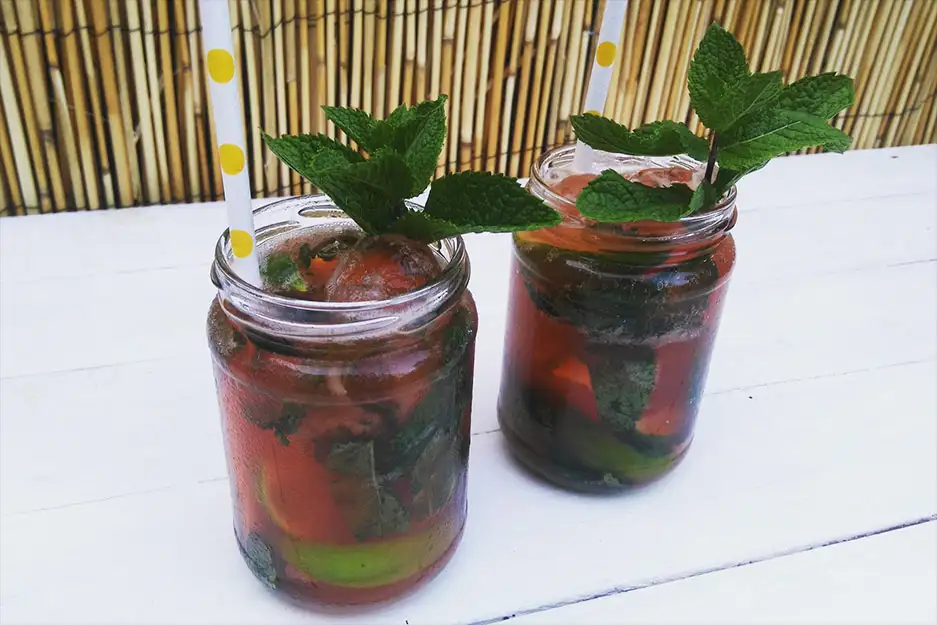 Cocktail of the month - Blood Orange Mojito
This month I've taken a little twist on one of the all time great cocktails, the Mojito! The addition of Blood Orange makes it even more thirst quenching and if you happen to have Grapefruit Bitters, it rounds off the drink nicely with a refreshing and bitter edge.
You'll need:
30ml White Rum
20ml Aperol
A small handful of mint leaves
4 lime wedges
A splash of sugar syrup (if you don't have syrup then 2 teaspoons of raw sugar will do)
A dash of Grapefruit Bitters
San Pellegrino Aranciata Rossa (Blood Orange)
An empty Jam Jar
The Method:
In your jam jar, add the mint and squeeze in the limes. Give them a bash with a muddler. (If you don't have a muddler, the end of a rolling pin works nicely)
TIP: Don't bash the mint too hard as it becomes too bitter, instead, bruise the mint to release the flavours and aroma.
Fill with ice then pour in the Rum, Aperol, Sugar Syrup and Bitters.
Pop the lid on and shake hard!
Top up with the San Pell, garnish with a mint sprig, pop in a straw and enjoy!
This recipe is by Dave at The Craft Drinks Company! See all Dave's previous cocktails here.
Having a party? Fancy a pop up cocktail bar to make your event 'the' event that all your friends talk about? Call Dave on 07415 638 825
---
ADD A COMMENT
Related Items