Foodie Rich: Battle of The Burgers – Round 2: The Pipe of Port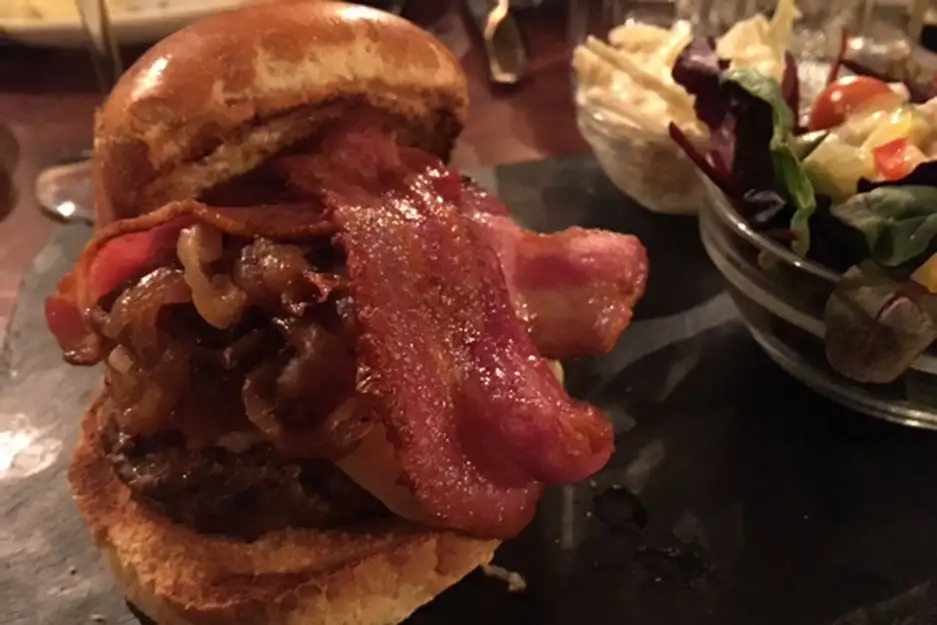 The main reason I wanted to write a series about the wonderful world of burgers, was not only to review those obvious burger joints, but to find those eateries you wouldn't normally go to for a burger. Take our first contender for example, Mangetout. You'd only go there for a serious meat chow down; burgers, ribs, dogs they've got it all. I mean, you wouldn't go there expecting a 'fine dining' gourmet extravaganza, with dickie bowed waiters and crisp white linen table cloths, would you? it's not what they're about. However, this week I've eaten a serious burger in a restaurant you wouldn't first associate with such a treat, it's not what they're famed for. Most, and me included, know them better for good wine, good pies, and good times! I've had all three here on many occasions! Since a change in ownership a few years ago, this little hidden gem has been very carefully modernised, without losing any of its unique character, which I love. So, where am I talking about this week? Ladies and gentlemen, please be upstanding for our next contender in 'Battle of the Burgers'…. The Pipe of Port! Yep the good old Pipe
I'm pretty certain most of us know the Pipe? That cosy, Dickensian, traditional no nonsense English restaurant, has been serving up classic grub since the seventies. Surely this has got to be one of the most established restaurants in Southend, if not Essex. This snug and quant eatery is a firm favourite of mine. It's been my 'go to' restaurant for years, they never fail me. I mean, what's not to like, when each time I visit, I am served non pretentious tasty food, coupled with a wine list which rivals that of a Michelin starred establishment. Oh, and don't forget the beer! They've got a great selection of craft beer on offer, and I love a craft beer! Often I visit just for a beer and a chat at the bar. That's right, if you're just after a drink, pop down and get stuck in to a few glasses! But back to the burger. As I said at the beginning of this write up, as wonderful and charming as the Pipe is, you wouldn't think to go there for a burger? But, that's what 'Battle of The Burgers' is all about, I want to unearth those hidden gems, and throw in a few little curve balls along the way. That's exactly what we have here, a true hidden 'Burger' gem!
I have eaten the 'Pipe' burger on many occasions. Normally after a mornings shopping in Southend, I find myself popping down to my faithful friend for a boozy lunch. The Pipe is a little oasis of calm, taking you away from the hustle and bustle of the high street. Its somewhere to just kick back and relax. Their burger has been on the lunch menu for quite a while now, and I reckon will soon become a Pipe classic. It's one for the burger purist's amongst us, and that's me! Remember last week I had a little rant about 'Bastardised Burgers' and 'Burger Abuse'? That was after I witnessed Mangetout sandwiching a perfectly good burger between a donut! What's that all about? Even now, a week after the event, it still sends a shiver down my spine, I just don't think it is necessary.
No danger of that here. Just a burger, your choice of cheese, a brioche bun, onion chutney and optional bacon; simple. The burger here is 100% homemade. A simple combination of 50% fillet steak, 50% sirloin steak with a little onion, garlic and seasoning, that's it! This amalgamation of meat and seasoning comes together to make a very tasty burger indeed. Just served on a slate, with a little salad and homemade slaw its simplicity at its best. Cooked just slightly pink, this is one juicy burger indeed. No fries though? The burger is served without any potato. But I don't think you don't need it, the burger is substantial enough to satisfy in my view. But, if you do want an accompaniment, just order some sauté potatoes on the side. But the Pipe isn't just about the food. The good people in this cracker of a restaurant are big on wine. They don't just chuck a few bottles on the list and hope for the best. Oh no, these guys are educated in wine. They travel the world, slurping and swilling their way around countless vineyards to bring home some great bottles for our enjoyment. Gosh it's a tough job working at the Pipe I'm sure! So with that in mind, why not try and pair a wine with your burger? For me, just a good beer is perfect with a burger. But, I urge you to challenge their resident wine expert, Paul (@essexwineman on Twitter) he's Essex's answer to Oz Clarke! This enthusiastic sommelier is on hand to find the perfect glass of vino to compliment your burger.
So the Pipe, who'd of thought it. I, like most of us, associate this lovely candle lit Dickensian cellar restaurant with glorious pies, and delicious traditional English food. And rightly so, it's something they do so well and have done for years. But a contender in my 'Battle of The Burgers' series? Am I serious? in a word YES, their burger is a simple classic, just as a good burger should be, I love it. If you're after a burger concoction with all sorts of weird and wonderful ingredients, you'd better go somewhere else, the Pipe isn't for you. But, if you're in Southend and hankering after a no nonsense gourmet burger made from quality meat, head on down to the Pipe for a taste of the real deal. Oh and maybe a glass or two of something nice. Its time now for me to solider on and hunt down the next worthy contender in 'Battle of the Burgers'!
---
ADD A COMMENT
Note: If comment section is not showing please log in to Facebook in another browser tab and refresh.
Related Items