Foodie Rich: Battle of The Burgers – Round 3: Legend Deli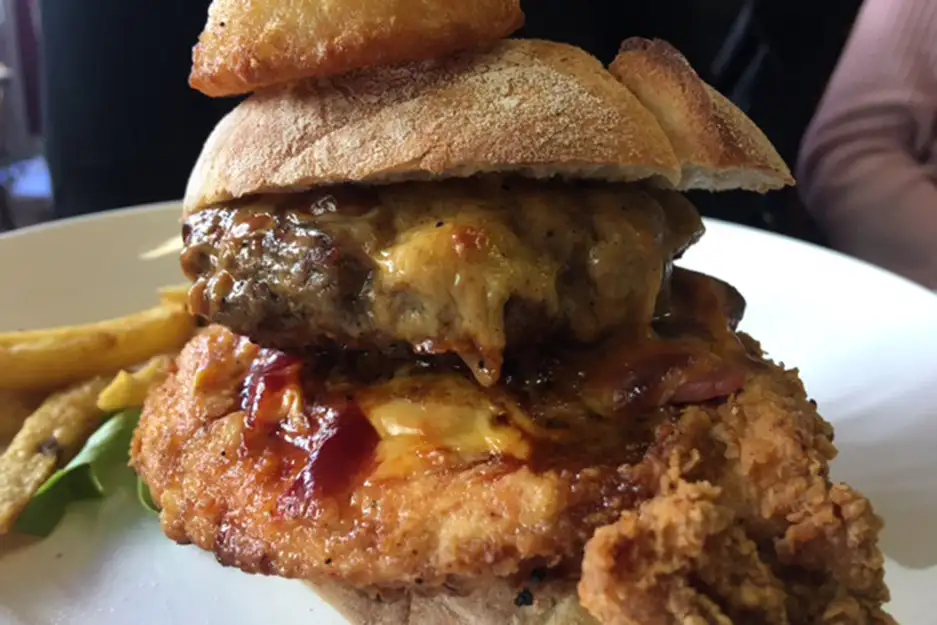 I'm not gonna beat around the bush this week. Normally, to begin my reviews, I find myself waffling on about this and that, and to be honest, it's just unnecessary foodie blog garnish. There's nothing worse than unnecessary garnish. Gosh that's another bugbear of mine, garnish! Why do so many restaurants insist on chucking a few wilted salad leaves on the side of your plate. If it doesn't bring anything of interest to the dish, leave it off! I mean do your eyes ever light up at the sight of an undressed, dry, 'alleged' side salad with your steak, it's pointless! Almost as pointless as me waffling on again, it's un-necessary garnish; I need to just shut up and get on with it. So here goes, it's round three in Battle of The Burgers, and this week, with no added garnish, its Legend Deli.
Garnish isn't what Legend Deli is about. You won't find a meagre excuse of a side salad with your burger, oh no, it's somewhere to get down and dirty with some serious food. Chef Jay has got to be one of the best in the business. The owner and demon head chef of this small restaurant, Jay seems to work all hours, serving street food inspired creations with flavour; and I mean serious flavour! I'm going to digress slightly here, alongside some awesomely delicious burgers, at Legend Deli you can score some serious class A fried chicken! You may remember I said this last year, 'proper' fried chicken is the next big thing. Believe me, it's gonna be everywhere, it will be the new on trend food. In true Legend Deli style, they are leading the way, and have been frying chicken long before anyone else. Saying that, where else in southend is frying their own chicken, nowhere! And don't compare this to KFC, it couldn't be farther from the colonels greasy, soggy purported fried chicken. Legend deli are serving up the real deal, and it is good, very good. So as you'd expect, a chicken burger here is something of epic proportions, I can guarantee it's like nothing you'd taste anywhere else. Don't fancy a chicken burger? Not a problem, just order a side of buttermilk chicken tenders. As with all the fried chicken, these smaller chicken goujons are marinated in buttermilk and fried to perfection, keeping the chicken juicy and the coating crispy. Sorry to keep banging on about this fried chook but it's really, really good. I urge you, if you decide to hit up Legend Deli on the back of my burger review, PLEASE give the fried chicken a go, you have my word its fooking awesome!
So, what did we eat? At legend deli they are pretty inventive with their burgers. No bastardised burgers here, just delicious combinations elevating the simple burger to a true gourmet experience. After a little taster of that glorious fried chicken, I got stuck in to a 'Beefy Reuben Burger'! This is a bit of a hybrid. Have you ever had a Reuben Sandwich? A bit of a New York classic, this doorstep sandwich traditionally has corned beef, pickles, cheese and Russian dressing (a bit like Marie Rose sauce, you know mayo and ketchup!). Well, here at Legend Deli they've taken inspiration from this legendary sandwich and made it in to a burger! Together with one of their generous homemade steak burgers, they've added salt beef, pickles, cheese, mustard, and their very own house sauce. I was lost for words; how can I describe this burger? Oh boy, not only was the burger cooked wonderfully, the salt beef was piled high making this a meaty marvel! There was no polite way to eat this, I just took a deep breath, picked up this monster and sunk my face in to this pile of meat, pickles and cheese. I didn't care that I resembled a toddler eating spaghetti bolognaise, I was elbow deep in burger goodness. Nothing else mattered in the world, for that moment, it was just man and burger in perfect harmony! Could this be the one? Could this be the burger I have been searching for? Yep, it was bloody delicious! Lou went for the 'Turf & Turf' burger. What a stonker! Not only do you get one of Legend Deli's superb steak burgers, but a whole breast of their soon to be legendary fried chicken. Alongside the cheese, bacon and homemade sauce this was one hell of a burger. Lou struggled to tackle this beast. Contrary to belief, she's only got a small mouth, it's true she has! So, eating a burger the size of this gargantuous mountain of meat is no easy task, but she did well, polishing off every last morsel. I did manage to steal a bite. Just superb, that fried chicken is a thing of beauty! The chips here are good too! Just simple homemade, skin on seasoned chips; no mass produced factory reformed potato here folks. Just proper chips from real spuds. Why do so many restaurants get this wrong? Surely it makes financial sense to make your own??
Well, that's that, round three in my Battle of The Burgers series, and it's getting better and better! I'm no stranger to the delights of Legend Deli, I've been eating here for ages, and I've never been disappointed. It's a real foodie destination, not only to eat wonderful food, but to chat about it too. Jay and Jo who run this absolute cracker of a restaurant are passionate about food. A visit is never complete without a chat with this likeminded couple, to enthuse about food and discuss the next big thing! If Legend Deli were a band, they'd be Oasis or The Libertines. In true rock and roll style, these guys are sticking their fingers up to the large food chains and just doing their own thing. And I'll eat to that! They are a down to earth, no frills, no 'Garnish' restaurant, serving ever creative food like no other in southend. I can't get enough, so much so, after visiting to write this review, Lou and I headed back the following weekend for our fix of chicken and burgers!
Their whole food vibe fits the area too, as they are situated in Market Place, which is Southends Shoreditch quarter! If you've never been, and you consider yourself a true foodie, get yourself down and give one of their burgers a go. But please make a reservation, it gets busy for a reason! Oh, and its BYOB (Bring Your Own Booze), now that just makes it even better!
---
ADD A COMMENT
Note: If comment section is not showing please log in to Facebook in another browser tab and refresh.
Related Items