Foodie Rich: Battle of The Burgers – Round 4: Bourgee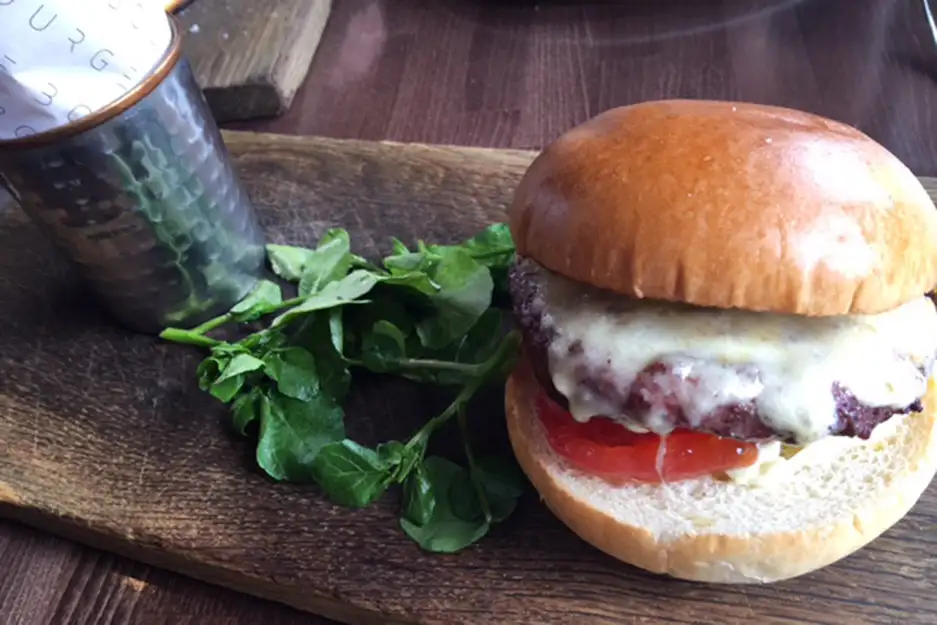 Sorry about last week; I had to hit the pause button. All this burger eating was getting a little too much. As lovely as it is, eating my way around the best burger joints in the area, I'd had enough. The novelty was wearing a little thin, and my waist line was increasing! I needed to take some time out to rest and recoup! Well, after a week off, and a bit of clean eating I'm ready to get back in the saddle and continue my quest to hunt down more epic burgers! So who's the next contender in 'Battle of The Burgers'? Its the glamourous and glitzy Bourgee no less!
Yep, Bourgee, not the first place you think of for burgers. Juicy steaks and succulent lobster yes, but burgers no. However, that's the whole point here, I'm trying to hunt down those lesser known burgers! Bourgee keep their burger simple. Just a burger, caramelised onions, Monterey Jack cheese and mayo. They also add garlic butter; garlic butter? Yeah, I wasn't too sure about that either. But I suppose why not? You don't think twice about a flavoured butter with a steak, so why not a burger? I've long been a fan of Bourgee. We've eaten here on numerous occasions, and I love the way these guys celebrate all that is wonderful about steaks! The staff explain to you with great enthusiasm each cut of steak, and the best way for it to be cooked. Not forgetting other dishes I've eaten here, such as fish pie; oh boy, that was wonderful! Huge chunks of fish, with a generous amount of lobster, this was 'next level' fish pie! With all those fond foodie memories, I had high hopes for the Bourgee burger.
To put it quite simply it was a burger. As you'd expect I suppose. It was perfect in all proportions. Just enough burger to brioche bun ratio. Nice sweet onions, together with the cheese, mayo and garlic butter, it made for a rich and juicy burger. So as I said, it was a burger, and a pretty tasty one at that. But I wanted more. Yes, it was a burger, so no real complaints, but where was the excitement? Where was the theatre? Where was the fanfare as the celebrated famous 'Bourgee Burger' arrived at the table? There were no 'Wows', there was no laughter and discussion as we surveyed the burger, contemplating how we were going to tackle this glistening tower of meat and bun. There was no look of embarrassment as juice, sauce and cheese dribbled from my chin, on to my hands, then finally ruining my clean shirt. Yes, I wanted to be elbow deep in glorious burger goodness, but I wasn't. There were no jealous on lookers wishing they had ordered the burger. Yes, the Bourgee burger wasn't bad, it hit the spot, but it was just a burger, and that was it. I shouldn't sound disappointed, as they served a burger, as I'd asked, but a restaurant such as Bourgee, who tick all the boxes in my view, should've served a real gourmet burger, one to be remembered; however, it fell short. I so wanted this burger to be awesome, but it was just ok.
Take their tomahawk steak for example. Now they've got this spot on. This beast certainly has the wow factor. Ordering any steak at Bourgee is entertainment. I mentioned earlier your waiter or waitress will bring each cut to your table, and explain with great flair and enthusiasm, which each steak was, and how they would recommend you have it cooked. Once you've decided, a wooden box arrives. Upon opening this mystery box, you'll find steak knives, it's time for you to 'Choose Your Weapon'! After much anticipation, your perfectly cooked tomahawk steak is paraded from the kitchen to your table. This beast of a steak has been carved away from the bone, but that Jurassic size bone is presented on the board for you to chew around, so as not leave any of that delicious meat behind. This steak is reminiscent of the sort of thing you'd see in a Flintstones cartoon! As this huge steak is proudly marched through the busy restaurant, you see other diners eyes light up! When it finally arrives at your table you start to mutter and murmur, your salivating already, everybody is a gasped. You hear comments of 'Wow' and 'OMG'! Its theatre, it's a sense of occasion, this is like nothing else you've had anywhere. My point here being, if you can get that reaction from a steak, why not a burger? The Bourgee burger needs to be elevated and celebrated. It really needs to become a Bourgee classic.
Please don't get me wrong here, just because the Bourgee burger didn't really step up to the mark, it bears no reflection on just how wonderful this restaurant is. The service here is spot on. The drinks are fantastic, they have wonderful English fizz on offer, and I love a bit of English fizz. The surroundings are pure luxury. If you're looking to celebrate a special occasion in a lavish setting, it would be perfect. So to summarise, would I go back to Bourgee? Damn right I would. Would I order the burger? Probably not, it's not cheap either at £15. Stick to the steaks here, they're wonderful!
---
ADD A COMMENT
Note: If comment section is not showing please log in to Facebook in another browser tab and refresh.
Related Items