Lynn Carroll reviews The Play That Goes Wrong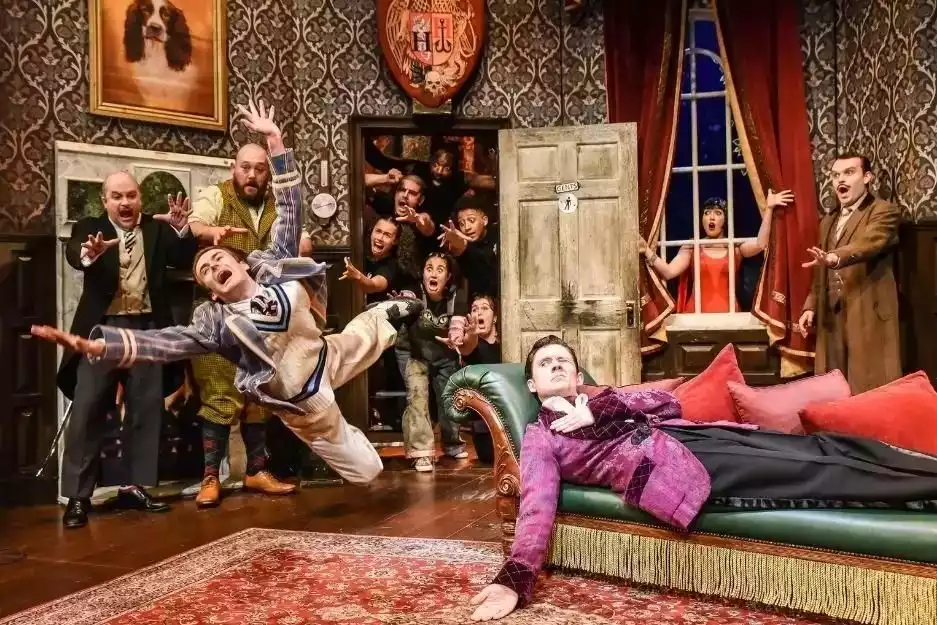 You know what it's like, you're ill all weekend (not Covid thank goodness) and to make it worse it is Bank Holiday weekend. You struggle to get up Tuesday morning but you can't very well call in sick because you have already told the boss you need an early finish because you are going to the theatre that night. Cheated? Yep, that's the word that springs to mind!
After your early finish you grab a nap and try to think of ways to get out of going out, nothing springs to mind and letting people down is not your bag so an hour later you're ready to go and yes, surprisingly, you seem to feel better about the whole evening.
Upon arrival I am feeling more positive. Not happy, because to be honest I have spoken to someone who had seen The Play That Goes Wrong and did not have much good to say about it. Having accepted I would not really enjoy it I settled for a pleasant evening in the company of a good friend. I am renowned amongst family and friends for not being a lover of comedy.....they never seem to make me laugh. It's a tough ask as I seem to be missing a funny bone.
The audience were chatting away as people began to mill around on stage, someone called out from the balcony had any of us seen a dog called Winston, and we were asked about a lost Duran Duran CD collection. By then I was starting to get irritated and turning to my friend asked, 'has this play started, or what?' Eventually we were drawn into what was going on and realised it had indeed begun.
The scene was set for a murder mystery circa 1920s along the lines of an Agatha Christie novel, except it soon became farce, or in my mind farcical, (I feel there is a difference) and I sat stony faced as more characters were introduced alongside a dead body lying on a chaise longue.
I do not feel it is any reviewers job to give away a story line but in its defence there definitely was a story and quite soon I found myself concentrating on that and the silly wrongness that was going on all over the stage. And then, to my utter amazement, I realised I had laughed out loud along with the rest of the audience and my mind set did a 360 degree turn, I was enjoying it! From that moment on it had my full attention and I began to very much appreciate the work and effort that had gone into a play where a fictional, amateur drama group try desperately to live up to the old adage 'the play must go on' whilst everything and everyone around was falling apart. Timing was absolutely spot on. No mean feat when the lines between accident and reality were well and truly blurred.
Throughout this silly, funny, comical, farcical feast I warmed to every single character, but two stood out for me: The character of Max did some seriously good speeches using body parts along with words in two hilarious pieces. He obviously had many funny bones and each time he got applause his look of amazement turned to joyful appreciation to think the audience thought him funny, but of course that was all part of the joy of a pretend 'amateur' production.
Another 'joy to watch' character was Annie who reminded me somewhat of a young Brenda Blethyn. Having been playing a stage hand she was then dragged on stage to replace an unconscious Sandra, she played the dizzy, not knowing what she was doing, part so very well, even when pretending to read her lines from a hastily given script which later scattered over the floor and left her floundering and saying any old thing. Hilarious
.
Inspector Carter also put me in mind of another actor comedian, a young Hugh Laurie. But to be honest every cast member played their part exceptionally well and when the whole thing began to fall apart, the inevitable conclusion, I had very much found my funny bone. I never did find out what happened to Winston though, but the Duran Duran collection was found somewhere along the way and a bar or two was accidentally on purpose played out loud, much to everyone's amusement.
If you want to spend a couple of hours forgetting the current state of affairs going on around us, I recommend immersing yourself in this comedic catastrophe and I am pretty sure you will go home feeling uplifted.
.
---
ADD A COMMENT
Note: If comment section is not showing please log in to Facebook in another browser tab and refresh.
Related Items