Nina Jervis reviews David Walliams' Demon Dentist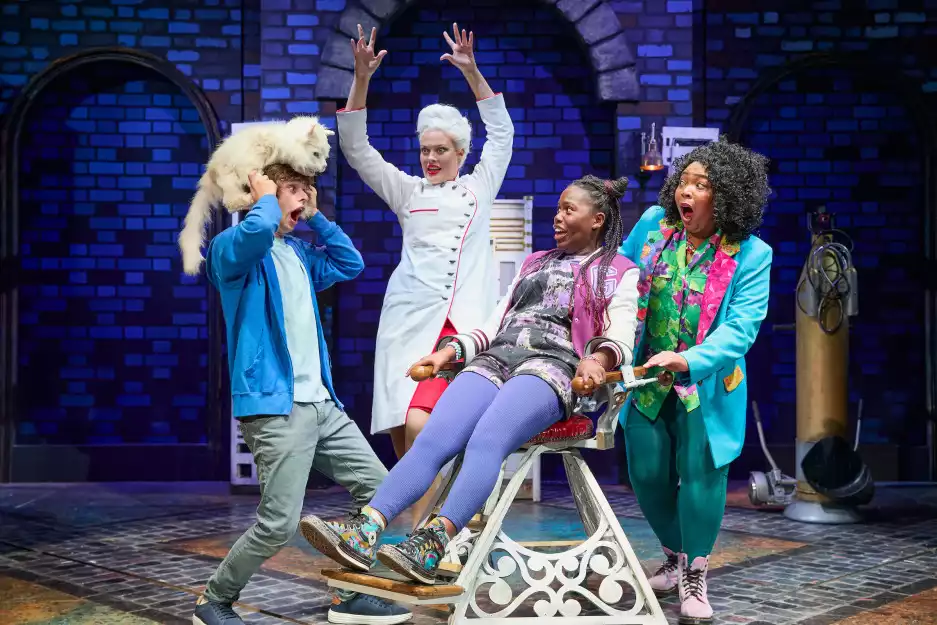 Thanks to Nina Jervis from www.ninathewriter.com for this review.

Photo by Mark Douet
Never having read a David Walliams book before, I wasn't sure quite what to expect from Demon Dentist, a stage show based on his ultra-popular children's tome.
Not being a parent either, I roped in my niece and nephew, Ruby (9) and Oscar (10) – both Walliams fans – to come along and offer their expert opinions.
Armed with a carton of popcorn each, Ruby and Oscar were giggling in their seats right from the start, as children leaving their milk-teeth for the tooth fairy started waking up to squashed toads and bat wings under their pillows instead.
We were then introduced to Alfie (marvellously played by Sam Varley), a quirky 12-year-old boy who's been caring for his severely disabled Dad ever since his Mum died.
Due to a bad experience, Alfie hasn't been to the dentist for six years, and the reminder letters have been piling up. Enter Winnie, a bubbly, chocolate-loving social worker who visits Alfie and his Dad. She finds the letters and insists Alfie make an appointment with the town's new dentist, Miss Root… who may not be all she appears.
Along with a few other helpers, Alfie and his best friend Gabz – she's definitely not his girlfriend, by the way – set out to save the town from Miss Root's tooth-pulling pliers… not to mention her terrifying and extremely lifelike white cat!
This is a fun and fast-paced story, with plenty of laugh-out-loud moments for children and adults alike. The characters are all wonderfully over-the-top, particularly the marvellous Miss Root, played by Emily Harrigan (whose singing voice is spectacular!) and Raj, the jolly, brightly-dressed local shopkeeper, played by Zain Abrahams.
The set-design is clever and vibrant, and the dialogue sharp and funny throughout. Both Ruby and Oscar couldn't stop giggling at a story told by policeman PC Plank about a shoplifter he'd caught, who'd stuffed several cartons of chocolate milk down her knickers!
(There's also a huge 'toilet-humour' joke involving Winnie later in the show, which actress Misha Malcolm plays extremely well… I thought Oscar was going to fall off his chair with laughter at one point.)
Gabz,, meanwhile, is played by Georgia Grant-Anderson, in a totally natural and engaging way that suggests she's a star of the future – you heard it here first. She and Alfie have fantastic on-stage chemistry, and there are more than a few poignant moments between Alfie and his Dad too, showing how hard their lives have been, and the closeness of their relationship.
Although the show is genuinely hilarious and moving in places, there are also some darker and more intense moments – along with a few loud bangs! – that might render it unsuitable for very young children.
Not having read the book before, one particularly sad and surprising development caused Ruby to downgrade her overall rating of the show from a 10 out of 10 to a 9 (though she messaged me later on to say she'd been thinking about it, and actually she did want to give a 10 after all!)
I would therefore recommend exercising a bit of caution with younger children, or those who are easily upset. But for those who have already read the book, or who just love a fun and terrifying tale, Demon Dentist takes the 'crown'!
---
ADD A COMMENT
Note: If comment section is not showing please log in to Facebook in another browser tab and refresh.
Related Items