Pig Bay Distillery launches with a Southend Gin and Essex Pink Gin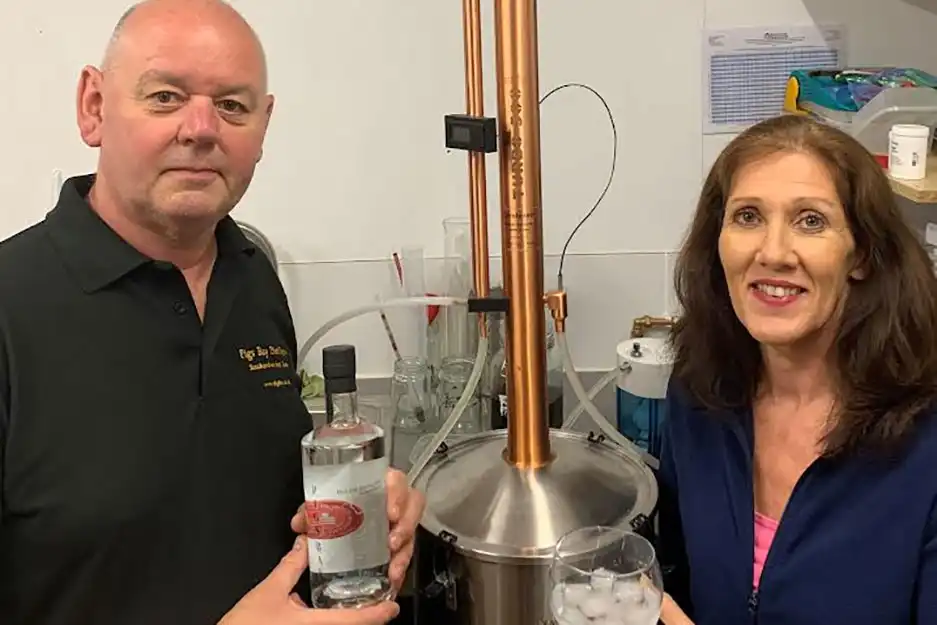 Pigs Bay Distillery, a distiller of premium Vodka, Gins and a specialist "made with Gin" set of Liqueurs, has launched. The distillery is the first of its kind in Southend and one of only a handful in Essex.
The distillery's target market is Essex, and their launch products include a Southend Gin and Essex Pink Gin.
The distillery is using state-of-the-art distilling equipment and a first of breed process established to create high concentrate liquid botanicals to produce the very highest consistency of quality.
The distillery has an ambitious business plan and although starting as a micro distillery, it has received council growth funding with a view to establishing itself over the next 5 years as a major tourist attraction with visitor tours, a shop and restaurant.
The distillery is the brainchild of husband-and-wife business entrepreneurs Dale and Sandra Smith along with their 22 year old son, Calum.
Dale said "The distillery is the result of 3 years research and development. We wanted to raise the bar on the quality of spirits yet be a local producer of drinks for Essex. We wanted to use Essex water and we have systems in place to produce medically pure water, which is a major ingredient and one major reason for the purity of taste in our products. We believe that we are the first distillery in the UK to filter all our drinks using charcoal and then also coconut to produce the smoothest spirits. We are proud to represent Essex and produce the highest quality of spirits which we refer to as the Spirit of Essex".
The distillery is not open to the public. Sandra has commented on this saying: "Unfortunately phase 1 of the plan was to start small due to the impact of covid, with the distillery as a wholly production environment. It is too small to safely host visitors. Also like many businesses in Southend, the area has some residential properties nearby and we agreed to restrictions being applied that protect residents from noise or disturbance by keeping the location secret."
If there is a strong initial buy-in from local bars and restaurants, they hopes that rapid growth in demand will allow Pigs Bay to facilitate phase two of its business plan to move quickly to a larger and more suitable location where limited tours and guests can be hosted. All details of their products, processes and plans are published on the website and their web-shop is open.
Pigs Bay Distillery is interested to hear from Bars, Restaurants in Essex who are interested to carry their brand.
Southend Gin, Essex Pink Gin along with their other Gins, are being stock already in Fleur De Leigh in Leigh-on-Sea and The Royal Hotel in Southend. The Grove restaurants in Leigh, along with The Roslin Hotel on Thorpe Bay seafront will soon be carrying the range also.
You can visit their website at www.pigsbay.co.uk
---
ADD A COMMENT
Note: If comment section is not showing please log in to Facebook in another browser tab and refresh.
Related Items