Rock of Ages Review by Nina Jervis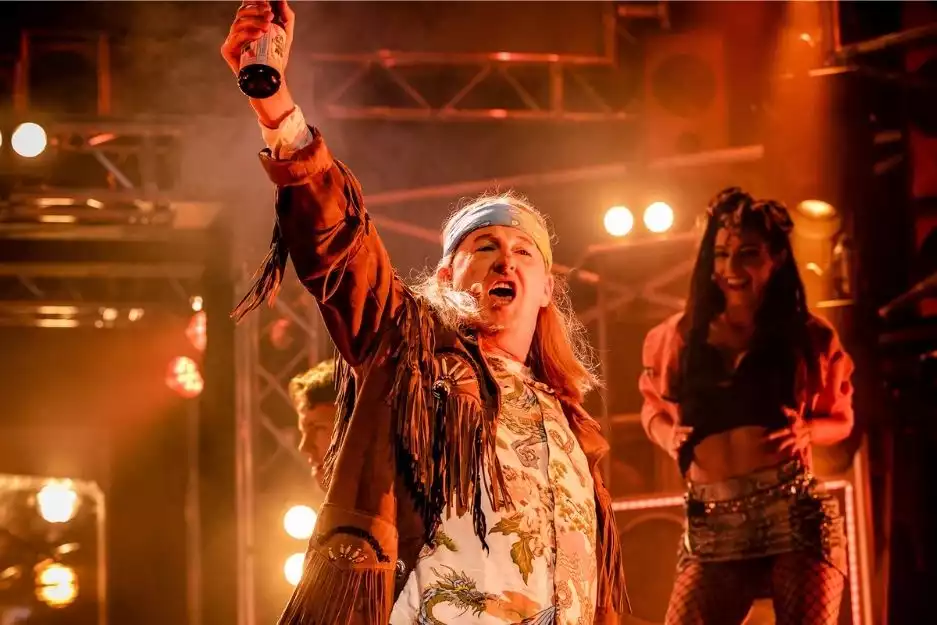 Thanks to Nina Jervis from www.ninathewriter.com for this review.

Rock of Ages is what might have happened if the Americans got hold of an abandoned Carry On film script, rolled it up and down in glitter, then set it to a classic rock soundtrack.
All the old tropes are there. Dialogue laden with sexual innuendo, creepy men, campy men, women in their undies, and embarrassing foreign stereotypes (German, in this case).
That isn't to say you won't enjoy yourself if you go. It'll just depend on what you look for from a good night out.
There can be lots of feelgood in the familiar – a mantra that could have been scrawled above writer Chris D'Arienzo's desk as he cobbled the story together, since this is a show with no surprises.
Not only have you heard most of the songs before, but the plot has been on the 'rinse-and-repeat' cycle for decades… a detail joked about in the show, as the characters repeatedly break the fourth wall.
In case you were wondering about that plot, it's set in the late 80s, in a Hollywood bar called the Bourbon Room that's owned by Dennis Dupree (played by Kevin Kennedy of 'Curly Watts in Corrie' fame). His assistant, Lonny, is also the show's narrator.
Drew works at the Bourbon Room, but he really wants to be a rock star. Enter Sherrie, an aspiring actress to whom Dennis offers a job after she bends over in tight jeans, and it's classic "boy meets girl".
Meanwhile, a pair of German developers breeze in, with the intention of cleaning up the Sunset Strip. Part of their plan involves demolishing the Bourbon Room, so Dennis calls his rock-star friend, Stacee Jaxx (played by 2016's X Factor winner Matt Terry), who's the lead singer in a band called Arsenal.
Arsenal has just broken up, but Dennis convinces them to come and perform their last gig at the Bourbon Room in an attempt to save it.
What follows is a story that takes too long to tell, with everything ending up just as you might expect.
Happily, the cast and the music are as brilliant as the story is terrible. Joe Gash stole the show as Lonny, with his joyfully OTT rock-persona and genuine comedic talent. His improvisations throughout were razor-sharp, and he did his best to make the audience feel part of the show (if you're sitting in the front row, be warned!) Sam Turrell and Gabriella Williams were fantastic as Drew and Sherrie, both of them blessed with incredible singing-voices. Williams in particular managed to bring humour and likeability to a character who is otherwise completely one-dimensional.
Matt Terry's voice is as good as you might expect, though I wasn't sure if it was really suited to rock classics, or for that matter, if Matt himself was really suited to playing a hardened rock god. He seemed far too smooth and affable. Kevin Kennedy was a revelation as Dennis Dupree, bringing gravitas and humour to the role – as well as a fine singing voice (I learned from the show's programme that he's also a musician, which made perfect sense!) There's also a hard-working and insanely talented ensemble cast, while the show's actual musicians, who played live throughout, were incredible.
And although I really didn't want to laugh at those awful, outdated German stereotypes, Andrew Carthy's Franz was genuinely hilarious in places. I suppose when you're playing characters like that, you've got to go all-in, and this he does with gusto.
Actually, that observation could be applied to the entire show. If you want to have a good time, then go all-in, sing along to Don't Stop Believin' like your life is depending on it, and just enjoy it for what it is.
---
ADD A COMMENT
Note: If comment section is not showing please log in to Facebook in another browser tab and refresh.
Related Items