Simple Fresh Fish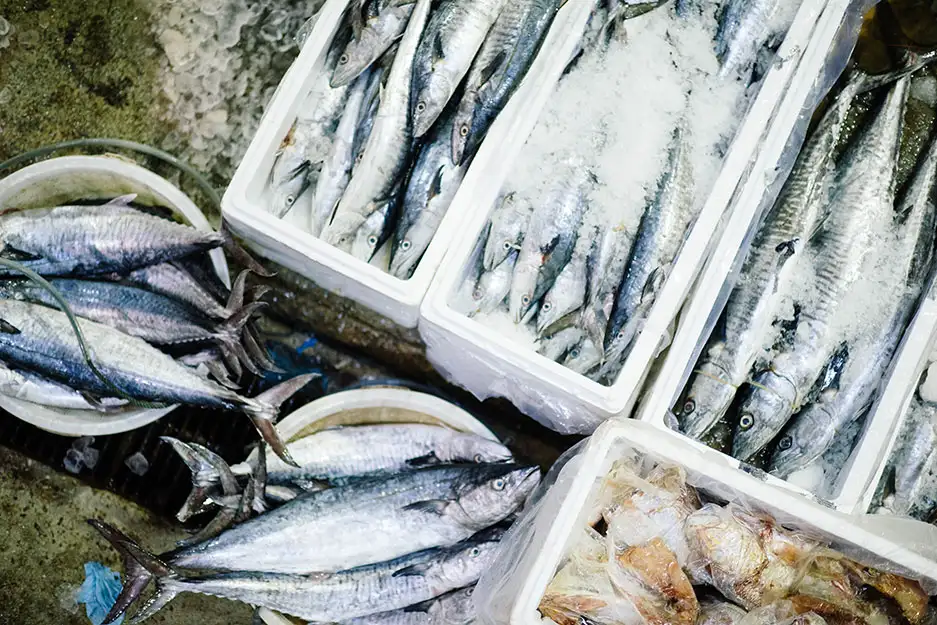 "Often, all I ever want is some perfectly grilled fish and buttered new potatoes". A quote from Rick Steins 'Seafood Odyssey'. That quote won't go down in history, and while not hugely inspiring, sums it up for me. A grilled fillet of local fish with buttered new potatoes is a rare find. If on a menu I saw 'Grilled Local Gurnard, New Potatoes and Samphire' I'd order it! I dunno, maybe it's just me? Maybe restaurateurs think a dish as simple as that is too plain? But its not. If you've got lovely fresh fish, why not keep it simple?
I love Old Leigh, its one of my favourite places on earth; yes, you heard me right ON EARTH. Whenever I return from exotic holidays I just have to head down to the old town and show my face in the Billet. After our trip to Australia last year, Lou and I were welcomed there with open arms. The bar staff clearly relieved we'd decided to return to our little old town. I'm guessing beer sales had dropped and profits significantly down! As much as I love Old Leigh there's one thing its missing. Now go back to the beginning of this blog, that rather uninteresting quote; that'll give you a clue. Yes, I love a pint of local beer and some cockles at Osbornes, life doesn't get much better; but sometimes I wish we had a simple fish restaurant. Just an old weather-beaten wooden shed, bare wooden floors and a few rows of benches. I don't want menu's. just hang a blackboard on the wall detailing todays catch. In spring I'd expect to see local skate with foraged samphire. In summer, well how about baked grey mullet with roasted local tomatoes and 'two tree island' fennel. Yep, you can forage wild fennel from two tree island. But in winter, it would have to be Cod, caught fresh from the estuary with some kind'a brown shrimp and cockle butter. Come January? Sprats of course! Give me a bowl of these glorious winter fish, simply tossed in seasoned flour and fried in butter. Squeeze over a little lemon and boy oh boy that's perfection. I'm not criticising Old Leigh, after all, I said it earlier, I bloody love the place, but give me a little local seafood shack and my life would be complete; what a glorious way to celebrate our fishing seasons. So, if any budding restaurateur is reading this, you can have that idea on me. Old Leigh needs this, the place would be packed out daily, mark my words.
As you'd probably guessed I'm a seafood lover. People who say they don't like fish are really missing something. Have they never eaten a mackerel fresh out of the sea and bbq'd, or even as Sashimi? it's a simple but wonderful experience. I actually have a friend who claims he doesn't like fish. But, has no problem tucking in to Cod from the chippie? Yeah, I know, it confuses me too? Maybe it's the smell which puts people off? Fish mongers can sometimes smell..well..a little fishy? Fresh fish should smell of the ocean, nothing else. If it does smell 'fishy' its gonna taste 'fishy' and that's not pleasant. We can eat some bloody good fish locally. And, some of our local chefs appreciate the complexities around cooking perfect fish. Marco Pierre White said '10 seconds longer in the pan is enough ruin a good piece of fish'. Never a truer word said, it's a difficult task to cook it perfectly. So, who's doing it right? I've compiled a little list of my favourite places to eat fish. This is by no means the 'Foodie Rich Fish Restaurant Guide' it's just a few little places locally I've eaten some good old simple fish:
Billy Hundreds
These guys know their seafood, after all the restaurant is named after their great grandfather Billy who worked at Billingsgate. His porters badge number was 100, so he was known as Billy Hundred. When in season you can binge on 'all you can eat' mussels, or nibble on wonderful Spanish inspired seafood tapas. With its unrivalled beach front location, eating fresh fish here doesn't get much better.
Oldham's
What can I say, this Westcliff institution has been here for donkeys' years, and they certainly serve up some of the best fish and chips around. Next time try something a little different. If you don't fancy eating in their restaurant, jolly nice as it is too, grab a takeaway cod and chips and head across the road to the West Road tap. Wil, the owner, and beer expert, of this craft ale nirvana, can you pour you a damn fine tipple to accompany your fish supper. Just remember though, bin your own rubbish afterwards!
Pipe of Port
I've been frequenting the Pipe for years, probably decades. Every time I walk down those steep stairs to the candle lit cellar restaurant, it's like I'm coming home. They've never served me up a bad bit of fish. Don't forget, challenge them to select a wine to match, they may surprise you with something a little different. Also keep an eye out for their now famous lobster and chips night. Only last week they hosted a bloody good-looking fish supper, gotta get me down there for the next one.
Aurum
If you wanna go a little more 'fine dining' head down to Aurum. Their set lunch menu is bloody good value and equally tasty. Three courses will only set you back £24 and chef Simon Webb certainly has a way with fish. You'll always find a couple of cracking fish dishes cooked perfectly and presented in such away the food wouldn't look out of place in a Michelin starred restaurant.
The Sand Bar
Forget sitting at a table, I like to grab a seat at the bar order a glass of something nice and get stuck in to some small plates. They've got cod croquettes, sardines on fresh garlic bread, softshell crab, octopus kebabs, the list goes on. But, if bar dining isn't your thing Bouillabaisse or a fish risotto would be a safe bet sitting at one of their more formal tables!
'Food' by John Lawson
This man speaks my language. Everything is local or foraged locally. Need I say more? Johns CV reads like a who's who in the gourmet world. He's even run his own restaurant on the culinary revered Southbank in Melbourne. You just know any fish dish here is gonna be as local as you can get and cooked to perfection. Oh, and if you didn't know, Raymond Blanc will be cooking with John in October. But, by the time you read this I'm damn certain reservations would've sold out; sorry!
Leigh Fisherman's Co-Op
Ok, technically not a restaurant; well not technically; it's not a restaurant at all. Located on Bell Wharf down in the old town, its somewhere I visit every week. whether just for a tub of jellied eels whilst enjoying a pint outside the Mayflower, or some fresh dabs or cod straight off the boats moored right outside, this place never fails me. here you'll often find live crabs, lobsters even whelks! Yeah, live whelks, where else can you get those locally?
Often, I sit gazing out to the Estuary, and notice our Leigh fisherman in their rather weathered and somewhat rickety boats returning from sea. Generations before them have made that same old trip up the estuary and out in to the cold, unforgiving, North Sea to catch fish; why would you? Why would you risk bad weather, and play Russian roulette with mother nature? Just one freak wave could finish it all. Why would you do that? Why would you put your life on the line just so I can grab a fresh piece of Cod at the Leigh Fisherman's Co-Op? I know why. They're continuing a tradition passed down from their father and their fathers' father. The sea runs through their veins, and their life wouldn't be complete without it. Day after day, week after week, these hardy souls risk their lives to bring us fresh fish, and for that I salute you. You bring us the raw ingredients we need to enjoy fish at its best. And something which needs no more cooking than just 'Grilled, with some buttered new potatoes'
---
ADD A COMMENT
Note: If comment section is not showing please log in to Facebook in another browser tab and refresh.
Related Items