So, The Foodie Bucket List Continues...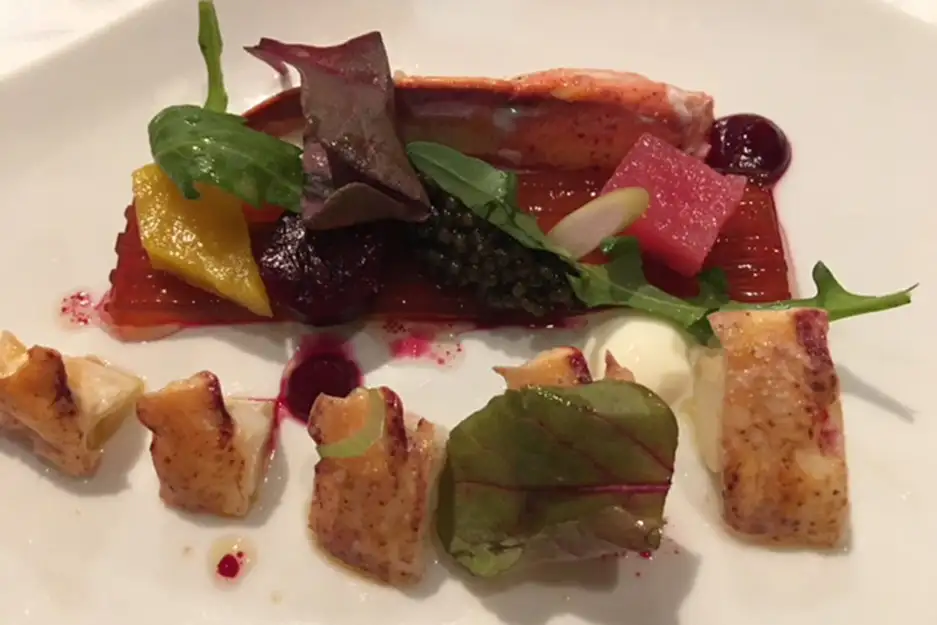 Have I just woken up? Have I been in some kind'a gastronomic dream? Did last week really happen? At one point I had to pinch myself to make sure I was awake. To say I have just experienced the best foodie week of my life would be an understatement. Two, yes two Michelin starred restaurants in less than 4 days. So where have I been to reach this foodie pinnacle? Well you've probably guessed not in Leigh, not even Essex, after all there's no Michelin starred restaurants around here. Whilst on that subject, I do have a little bone to pick with Michelin. Why is not a single Essex restaurant honoured with one of their coveted stars? We've got some amazing restaurant's and chefs, who I really think are worthy. We shall have to wait our turn I suppose. Last year I had the privilege of meeting Chris Galvin. A lovely chap, who originates from Essex, but has spent his entire chef career in London. Him and his brother Jeff lay claim to some of the finest eateries in the capital. Galvin at Windows and La Chapelle, to name just a couple have both attained stars. However, he explained to me, through his early career he'd been ribbed by his peers about coming from Essex. They'd describe it as a 'gastronomic waste ground'. Im sure we'd all agree its not, and I do get quite protective over our county when others mock us. But that as side, I know Michelin are looking at us. A few of our restaurants locally have made it in to the guide, but alas with no stars. We'll just have to wait until the winners and losers are announced on 2nd October. But anyway, back to business, where have I been this week?
To begin with, Lou and I got ourselves back to Palma for some more tapas heaven, I loved it. But we also managed to squeeze in a 1-star restaurant called Marc Fosh, run by, you've guessed it Marc Fosh. At this imaginatively named restaurant, we ate a delightful 7 course tasting menu with matching wines. Modern, smart, fresh and with super service, very nice it was too.
However, earlier in the week, the day before we flew out to Palma, we visited a restaurant I've dreamt about for years. I mentioned the other week about my foodie bucket list. This place sits firmly at the top of said list. Only 4 restaurants in the UK hold 3 stars; the highest accolade from Michelin, and this is one of them. Its owned and run by the most iconic gastronomic family in the world. This family have bred uber chef talent such as Gordon Ramsay, Marco Pierre White, Marcus Wareing, even Pierre Koffmann. So where have I been? It should need no introduction…..The Waterside Inn in Bray!
Bray is a funny old place. If you've never been, it's a quaint little village, typically English, but its home to two 3-star restaurants. As we drove in we passed Heston Blumenthal's 3-star restaurant The Fat Duck, once voted the top restaurant in the world. But not only that, Heston's gastro pub, the Hinds Head holds a single star. He's also landlord at The Crown. A more relaxed boozer, and only a stone's throw from the Waterside, perfect for pre-dinner drinkies, as Lou couldn't walk far; she had on her beloved Louboutin's on!
The service at the Waterside is like nothing I've ever seen on the planet. You know I'm a big believer in service. I've said it countless times; the food can be mediocre but if the service is spot on, it makes the whole experience superb. There seemed to be staff members everywhere, and although busy, they all knew their job inside out so it just flowed seamlessly. The dining room is decorated traditionally with pictures of the Waterside through the years. The tables were dressed with perfectly crisp table cloths and the cutlery placed within millimetre precision. Yes, straight away I could see how a 3-star restaurant is stand out. I was in awe!
Here they are kings of silver service and preparing food at your table. The couple behind us were having what appeared to be a Cote De Bouef. This wonderful piece of meat was being expertly carved by a dickie bowed waiter. The carving knife was a thing of beauty alone, so highly polished I could almost see my face in it. But one thing caught my eye. Something which I doubt you'll see outside of France. Sitting pride of place in the middle of the dining room was a duck press. This medieval looking torture instrument is used to create one of the finest duck dishes I've ever eaten; Canard A La Presse. I encourage you, take a quick peek on YouTube and search for 'The Waterside Inn Canard A la Presse'. All will be revealed. But, we couldn't have this dish as they require notice, but that's not an issue, we opted for the 'Menu Exceptionnel'. A 7 course tasting menu, which is served to the entire table. We were with two friends, so all four of us could experience 7 courses together. Normally at this point I will go through the dishes we ate with great enthusiasm and detail. But this will be impossible here, I'll be writing for ever. So below is a picture of the menu!
All I will say is, the fish was cooked to a tee. The venison in pastry? it was perfectly pink and rich. For me though, the stand out dishes of the evening had to be the Pheasant veloute soup with foie gras, it was creamy and decadent. Surprisingly, chef added sweetcorn kernel's in the bottom of the soup. I was a little dubious, after all we had a rich soup with foie gras, both luxurious, and silky smooth, with, erm…sweet corn? But it worked a treat. After thinking about it, a classic accompaniment with foie gras is Sauternes. The sweetness of the Sauternes wine works so well with the fatty, creamy and rich foie gras. So why not sweet corn? The Soufflé was an absolute triumph. Its was picture perfect and just so light. Sweet yes, but add in the tart golden plums, it went together to make an amazing dish. We'd had one of the most amazing culinary journeys ever, in one of the finest, if not the best restaurants in the UK. How could we ever top that? Easy!
Whilst swilling and slurping a little red wine I could hear a polite French man talking behind me. Being the curious (or nosey) chappie I am I peered round. F#CK! I couldn't believe it, straight away I looked at Lou, she thought I was having some kind of seizure. Through gritted teeth and pointing with my eyes, I said to Lou sternly 'Look over there'. OMFG she pronounced! None other than the god father of gastronomy, the icon himself Michel Roux Senior was making his way to our table. Act cool Richard, just act cool! Well, what a guy! He just wanted to have a chat. 'Bonjour, it's so nice to have you here this evening' he said in a rather soft French accent. Let's just get this in to perspective, this iconic world renowned chef who is responsible for some of the planets most respected chefs is pleased to have us in his restaurant? I suppose we were paying a lot of money, but even so, I was gob smacked. I really can't remember exactly what we chatted about? I think I remember he'd offered Lou a glass of Champagne on their rather nice jetty. I don't think that invite extended to me, as I was offered to work in the kitchen! So, let's get this straight, I'd be pot washing, and Lou would be sipping a glass of Champers with Michel! Quite the French charmer I thought! Well, Michel shook my hand and was off. Whoa, now that tops any foodie experience I've ever had!
The Waterside aint cheap. But I'm a firm believer in 'you get what you pay for'. And this was value for money. Impeccable, and I mean impeccable service, from the moment we walked through the door to the moment we left, I was lost for words. Food like I've never tasted, and a chat to the granddaddy of them all, Michel Roux Senior. And what price would you put on all that? Well, I paid £440 for Lou and I. On the face of it expensive, but where else can you have a gastronomic experience such as that? The real litmus test of a restaurant is, would we go back? Hell yeah, we are already planning our next trip, I need to get involved with some of that Canard a La Presse!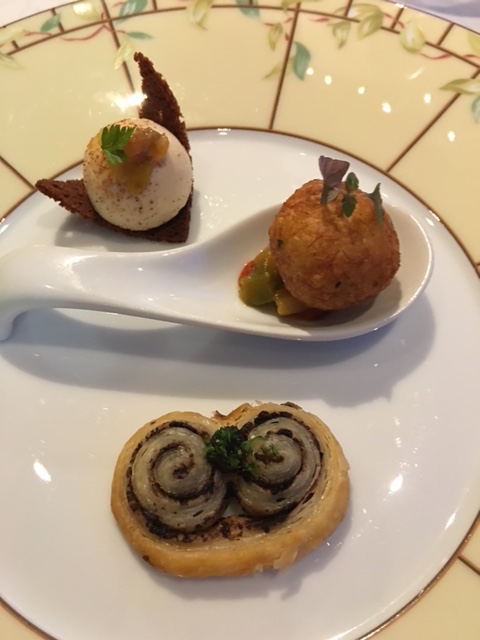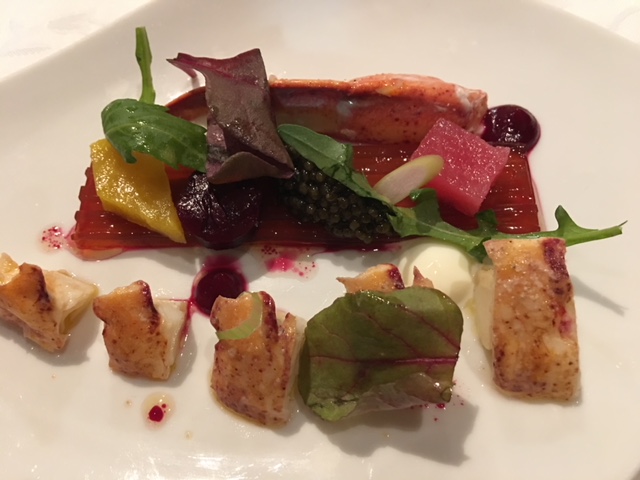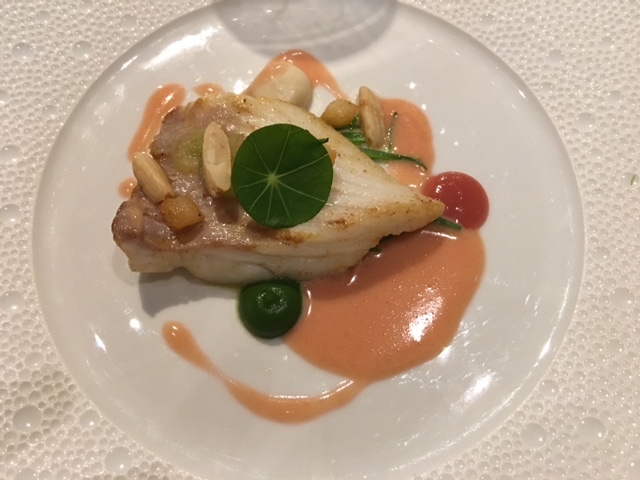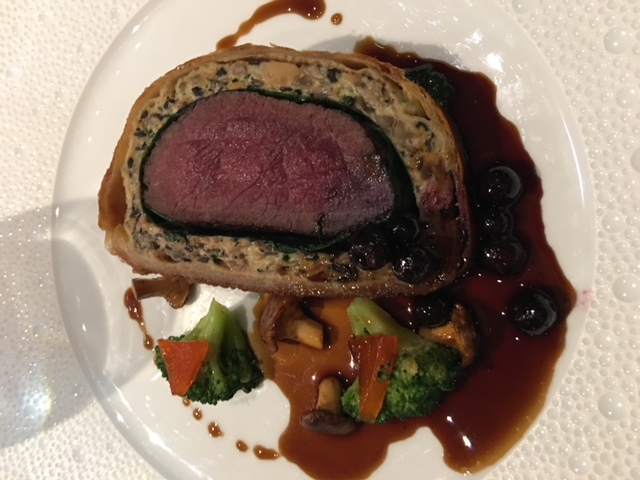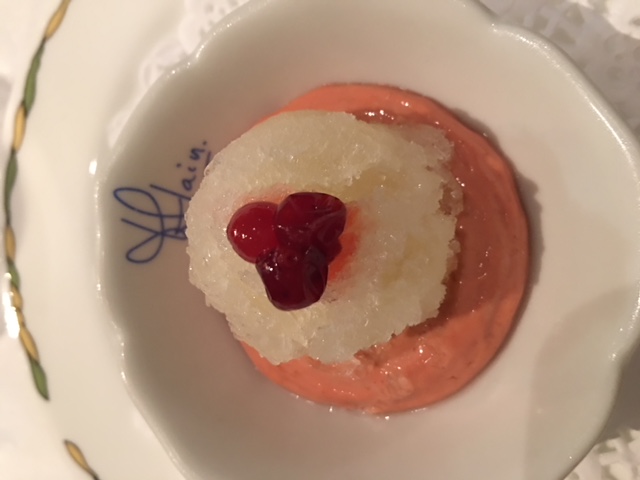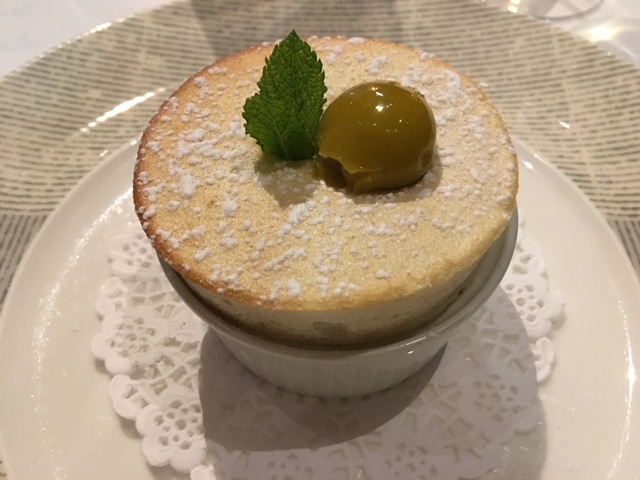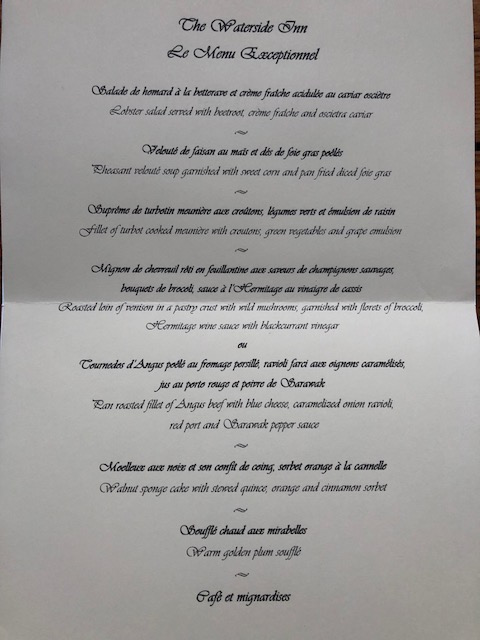 ---
ADD A COMMENT
Note: If comment section is not showing please log in to Facebook in another browser tab and refresh.
Related Items