'Switching apathy' Costing Borough's Energy Customers Millions
Around 44,000 households in the Borough could be overpaying for their energy due to 'switching apathy'.
A Competition Markets Authority investigation into the energy industry estimates that at least 60% of the general public has been with the same energy supplier for more than a year, meaning that they are likely to be paying uncompetitive rates for their gas and electricity.
Southend Energy – a local energy supply partnership between Southend-on-Sea Borough Council and OVO Energy - calculates that, if this trend is replicated across Southend, it would equate to 44,400 of the Borough's 74,000 households paying significantly more than they need to for their energy.
Launched in May 2015, Southend Energy offers bespoke tariffs for residents in the Borough and a price proposition that could benefit many local residents who do not switch their supplier regularly.
So far 5,300 residents have signed up, and since launch, customers in Southend have saved £1.4m between them.
Recently, new Southend Energy customers have seen average quoted savings of over £150 a year*. Typically, those on pre-payment meters – which make up around 10-12% of the energy market in Southend - are on the least competitive deals and many of them are unaware that they can switch supplier.
Alex Moczarski from OVO, who heads up the partnership, says: "Southend-on-Sea Borough Council should be proud of the impact Southend Energy has already had. The partnership offers a compelling energy deal to residents, which reflects a fair and honest approach to pricing.
"Some suppliers offer new customers great deals and don't offer the same deals to their existing customers. Southend Energy offers all customers the same tariffs. The pricing of the tariffs is based on the cost of providing energy at the time the customer switches. This approach is designed to be a fair way of offering residents energy.
"Our aim with Southend Energy has always been about engaging people who haven't been keen to switch before and helping them see how easy and beneficial it can be."
If you have not switched for over a year, you are likely to make an immediate saving simply by switching. Southend Energy, which is overseen by Southend-on-Sea Borough Council and has award-winning customer service provided by OVO Energy, will make every effort to help you get their best deal. For a quick quote visit www.southendenergy.co.uk
Other benefits of Southend Energy
? Interest paid on all credit balances – up to a balance of £1,000**
? Award winning customer service through the partnership with OVO
? Same deals to new and existing customers
If you are switching to a fixed priced deal, it's worth thinking ahead:
The graph below shows how much an average pay-monthly customer would have to pay for their energy with a Big Six energy supplier compared to Southend Energy between January 2017 and December 2018, if they had not renewed their contract at the end of the first year based on current tariffs available[1].
This customer would have saved just over £2 a month in their first year by choosing the Big Six supplier instead of Southend Energy. However, when they are moved onto the Standard Variable tariff in year two, their energy bill with the Big Six supplier rises by £13 a month – meaning they are paying £5 a month more than the customer who stayed with Southend Energy.
Both customers would have been likely to get a better deal if they had searched the market again before their first-year contract expired. However, only 10% of energy customers actually do this.
At Southend Energy we will do our best to provide you with the information needed when a fixed price contract comes to an end so you can make an easy and informed decision.
If you want to get a quick quote, visit: www.southendenergy.co.uk
Chart: Southend Energy's pricing over two years compared with a Big 6 supplier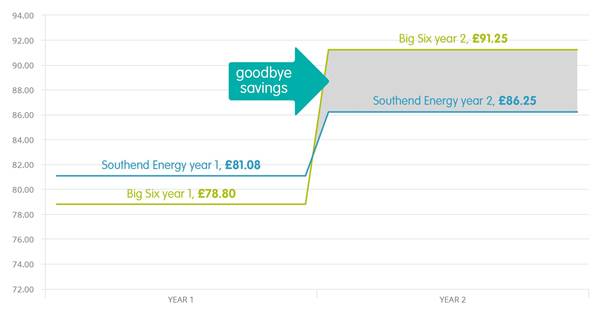 X-axis = time
Y-axis =monthly cost
---
ADD A COMMENT
Related Items
---