The Brisket Tin Takeover
So, the day was finally here. I've been anticipating this for weeks. Basically, I was in for an afternoon of BBQ and craft beer! Two things I love! Not a weekend passes me by without firing up my trusty Weber, and downing a few craft beers. However, this was going to be a little different. You may remember a few weeks ago I wrote a little piece about the West Road Tap. Probably the only place in the area serving up all manner of craft beers from around the globe, to drink in or takeaway. It's my kinda place! As you'd expect the Tap has now become one of my favourites! In the last few weeks all over social media, they'd been posting news about a forthcoming event. One that I just couldn't miss! The Brisket Tin were coming to town, and setting up a little pop up BBQ. They'd be dishing up 12 hour oak smoked beef brisket. Woah! Craft beer and brisket baps, now that's right up my alley. I was all over this for weeks, sharing and liking all the Facebook and Twitter posts! So, I gathered up all my craft beer comrades, and foodie friends and we headed down to the Tap, to score us some of this eagerly anticipated smoked bovine.
The place was rammed! It seemed every local hipster in the know had the same idea. They had answered the call of the Tap, everyone was there for low and slow smoked brisket. It was 12pm, the brisket was due to be served from 1pm. I couldn't wait! I got myself a can of craft and had to check they were on target for 1pm. They assured me they were! 1pm arrived and the queue grew and grew! I was fourth luckily! In a brioche bun they packed brisket, pickles and chillies. Next, your choice of sauce, all sorts of mild and spicy concoctions were on offer. What do I have?? I love spice, the hotter the better for me, so let's lather on a bit of Sriracha hot sauce. Being careful not to drip this down my shirt, I dived in. It was good, and that smoke flavour was strong. The brisket was tender and very tasty. This was perfect beer food! However, I was amongst my foodie friends. We often debate food long in to the night. And today was no different. Yes, we all loved the brisket. The pickles were good too and the hot sauce hit the spot. However, we had to debate something; the subject? Brioche Buns!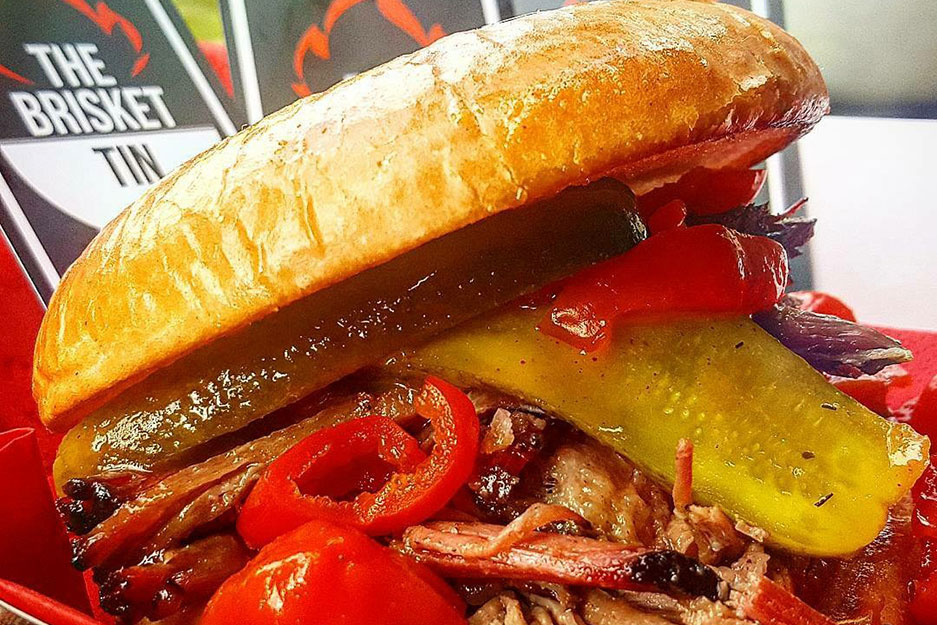 Is a Brioche bun the perfect burger bun, or brisket bun for that matter? Oh boy, one of my friends got quite animated and passionate about this. He wasn't team Brioche by any means. 'Who first had the idea this sweet and buttery bun was the ultimate burger bun' he ranted. Should we just reserve sweet French Brioche for puddings and other French inspired sweet treats? We weren't sure? Yeah, I'm gonna upset a few people here, but what's wrong with classic bread rolls to sandwich your meat? Why do we have to mess with this and start using French buns? I'm not against Brioche buns. After all, they look good, and they do taste good. But I had to question this for the sake of our foodie debate! We all had to agree to dis-agree. The jury is still out. Is there actually a perfect roll? I bet some Cambridge professor can come up with a mathematical formula to settle this argument. But come on, life's too short for all that. To Brioche or not to Brioche? I don't care!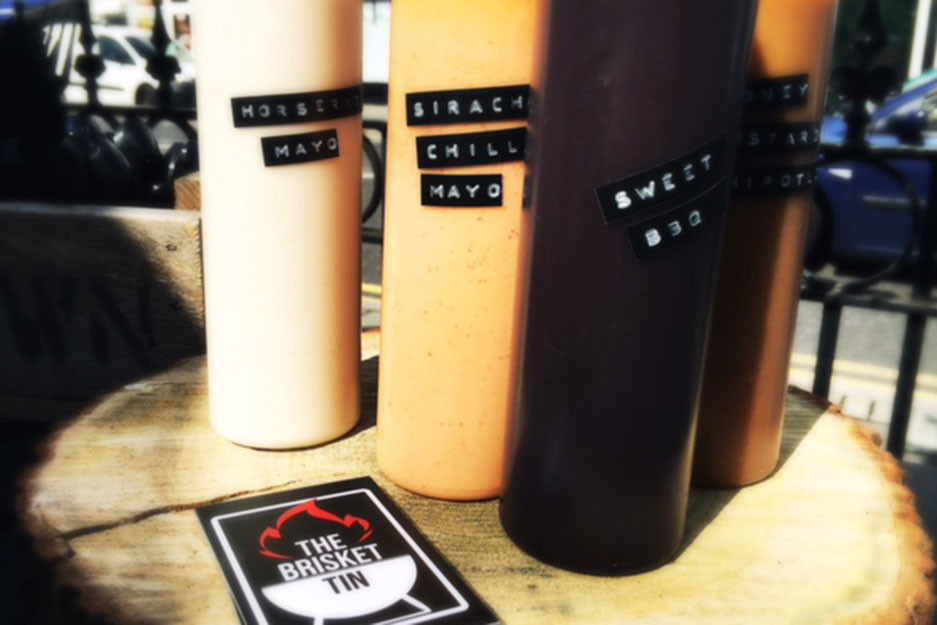 Let's stop all this chat about buns, I'm talking Brisket, and it was good. This event was so popular they'd sold out in 1 hour 40 mins! Glad I got there early! But this proves a point, we need more events like this! Clearly, I am not in a minority here, hundreds of others share my passion for good beer, and good no nonsense food to match. Take the bank holiday weekend for example. How many of you popped down to Henry Burgers for his little block party? Well I say little, I got there at 1.30pm and the place was heaving. The combination seemed perfect. Hot sunshine, a superb line up of craft beer, and simple burgers. Nothing flash just food, booze and a party atmosphere. And that's what we had at the West Road Tap, but on a smaller scale of course. These events attract a more discerning crowd. A crowd in the know. A crowd who demand quality, and won't settle for anything less. We don't want a pint of cold tasteless lager and uninteresting food, we want beer with character and food with flavour.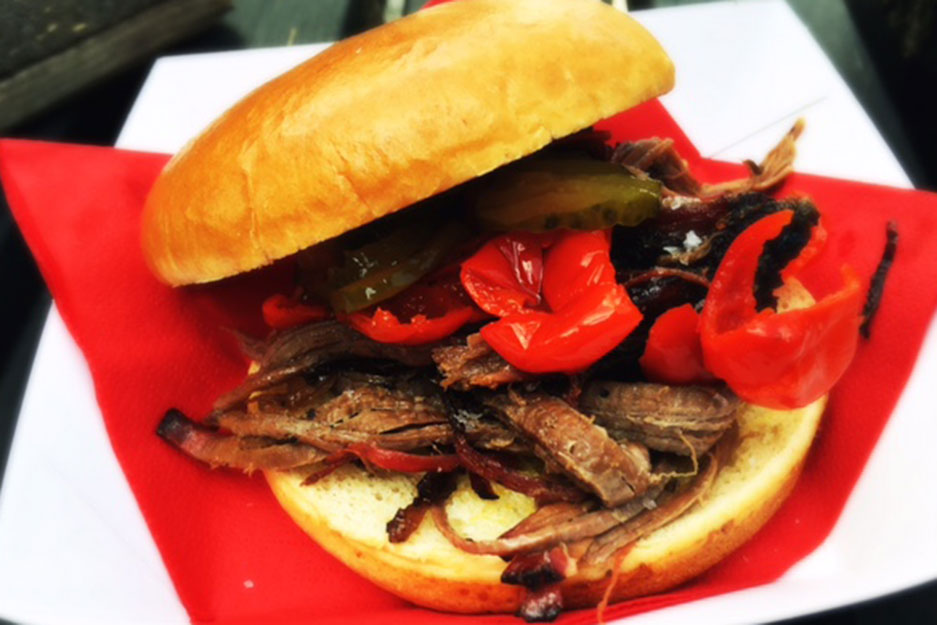 With the likes of the West Road Tap and Henrys doing amazing things, our local pub scene has got to up its game. I reckon the Brisket Tin could've sold 2, 3 or even 4 times more food. The demand for craft beer and good food couldn't be higher. These are exciting times we live in, and who knows where this craft beer and 'dude food' revolution is gonna take us?
Just before I sign off this week, I had to share this. Leigh on Sea now has its very own brewery! Yeah, I couldn't contain my excitement either! Called quite simply 'Leigh on Sea Brewery' I was lucky enough to sample one of their brews on Friday, at the Tap of course. It was lovely! A rather quaffable 3.8% pale ale called 'Legra'. I was also lucky enough to have a quick chat with the very man who brews it. This beer proved hugely popular as it sold out in no time. All I'd say is folks, keep an eye out for it, as it's a good drop of gear!

You can visit The West Road Tap at 2 West Road, call them on 01702 330647 or visit them on-line at www.westroadtap.com


---
ADD A COMMENT
Note: If comment section is not showing please log in to Facebook in another browser tab and refresh.
Related Items