The West Road Tap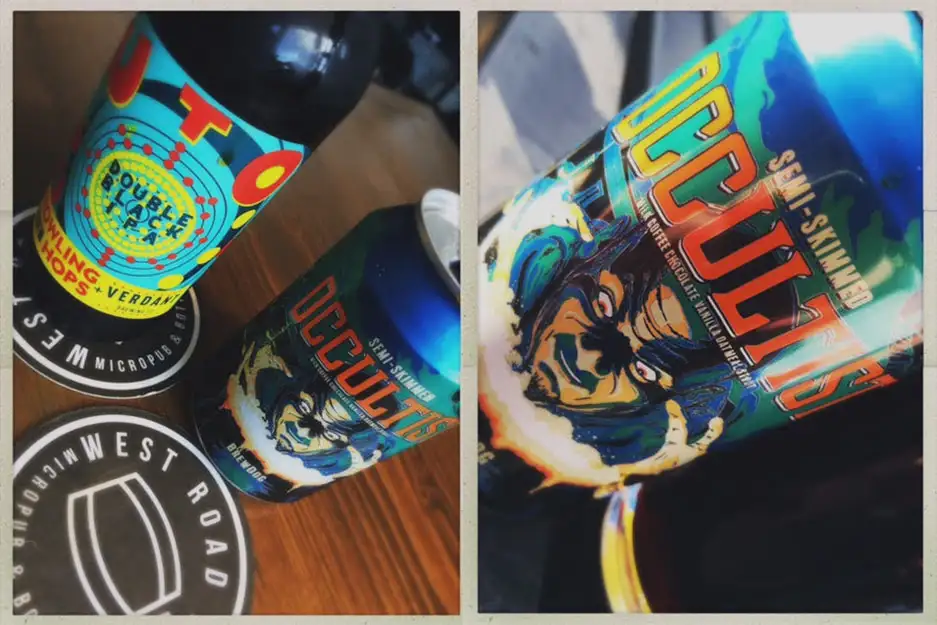 I've had to put battle of the burgers on the back burner for a couple of weeks. Not only do I need to take a break from eating hugely calorific food, I'm off gallivanting elsewhere over the next few weeks. Amongst other places Lou and I will be heading off to Mersea Island. I've got to get my fix of freshly shucked Colchester oysters at the 'Shed'. Now I love the 'Shed'. If you've got no idea what I'm talking about fear not. A full review will follow! However, the true foodie highlight will be our forthcoming city break to Palma. My wonderful wife, is jetting me off to Palma for my birthday, can't wait for that! it's gonna be 5 days of serious tapas, sherry and wine. Oh, and of course not forgetting the flight from our very own Southend airport, I just love that! Again, I will write up a little blog about my travels, a kind of 'Foodie Rich Rough Guide to Palma'. Wouldn't that be a great series to do, the Foodie Rich Rough Guides! Anyway, back to this week. If I haven't been hunting out the next best burger joint what have I been doing? Well I just had to share this one with you.
A couple of weeks ago, a good friend of mine gave me the heads up on a new opening. Any mention of a new opening immediately gets my attention. The word on the street was, a new bar is opening; interesting I thought, tell me more. A savvy young entrepreneur, has had a vision to create a craft beer bar; Hallelujah I thought. At long last, somebody is opening a bar serving up nothing but good craft beer, I've been waiting an age for this to happen. Anyone who reads my ramblings each week, will know of my passion for craft beer, I love it! Forget Fosters, Carling or any other cold, fizzy tasteless mass produced piss water, craft beer, is beer with flavour. There are a few places around our local area where craft beer can be had. Henry Burgers have been at the forefront of the craft beer movement; Vino Vero stock some very good craft beer too. Ten Green Bottles don't serve up a bad selection, even Wetherspoons pubs are on the craft beer train. But, we don't have a bar specialising in this bang on trend drinks revolution. In London there's loads, but not locally. That's all about to change with the opening of the 'West Road Tap'!
Opening only a week ago, The West Road Tap is located along West Road in Westcliff, not far from the Palace Theatre. To put it simply, it's my kinda bar. Well I say bar; its proper title is 'micro pub'. I welcomed this new addition to the area with open arms; it was needed. Where else in the close proximity is there to drink? The Plough maybe? Jeez, call me a pub snob, but I've been in to the Plough before; I don't think I'll rush back. How about the Trading Rooms? Yeah we're getting better. The Hamlet Court? Now I like the Hamlet Court, they don't serve a bad pint of ale, and often throw on a band. The exact same can be said for the Cricketers, but you can't get stuck in to serious craft beer at any of these pubs. That's where the West Road Tap have cornered the market.
I popped in on opening day, and straight away I got excited. Barrels of beer tapped and ready to pour behind the counter, together with other taps serving up different craft beer. There's a fridge packed full of unusual and interesting cans and bottles, the sort I haven't seen locally anywhere! Yep, I was excited, just like a kid in a sweet shop, I wanted to try it all! I had a good chat with Wil who owns this craft beer oasis, he's more of a beer fanatic than I am! He enthused over the different styles of beer they are planning to stock, and welcomed my suggestions too. So where did I start? Brewdog's, Semi Skimmed Occultist! Yeah, that's quite a name for a beer, but it WAS quite a beer! Out of a can, the artwork alone was superb, but the beer inside was awesome. At 8% treat this with respect, but it was delicious and rich, almost like a chocolate milkshake with coffee and vanilla! Not a session beer, but I could've downed a few of these. To sup our fine beers, we sat in the garden to the front, the perfect vantage point to watch the comings and goings along West Road! Alright, maybe not the best outlook, but the people watching was a little interesting to say the least! We were joined by friends, but also a whole load of likeminded beer fanatics, who clearly like me have been waiting for this momentous occasion. It was an atmosphere of celebration with a buzz of conversation and the clanking of glasses; Judging by the number of young beards, waxed moustaches, man buns, together with the odd skate board mode of transport, it was like every hipster in the surrounding area had come along for the opening day! The West Road Tap had been well and truly christened!
Well, I'm a happy boy! A cool little micro pub has now opened in the area. The West Road Tap is somewhere to savour quality beer; this is the sort of beer that creates conversation, and debate; it's like wine tasting! If you're after a pint of lager, carry on walking. But if you want to taste beer made with passion, love and care, you need to get down to the West Road Tap and have a chat with Wil. He'll find you a beer for all occasions to drink in, or takeaway. That's right, if you just want a couple of bottles to take home you can! Oh, and it's not just beer, he's serving up good cider, and local wine; yep wine from Essex. We gave a glass of the red ago, it wasn't too bad, but to be honest the white is better!
---
ADD A COMMENT
Note: If comment section is not showing please log in to Facebook in another browser tab and refresh.
Related Items