50percentmum: Bikes, beaming smiles (?) and brew!!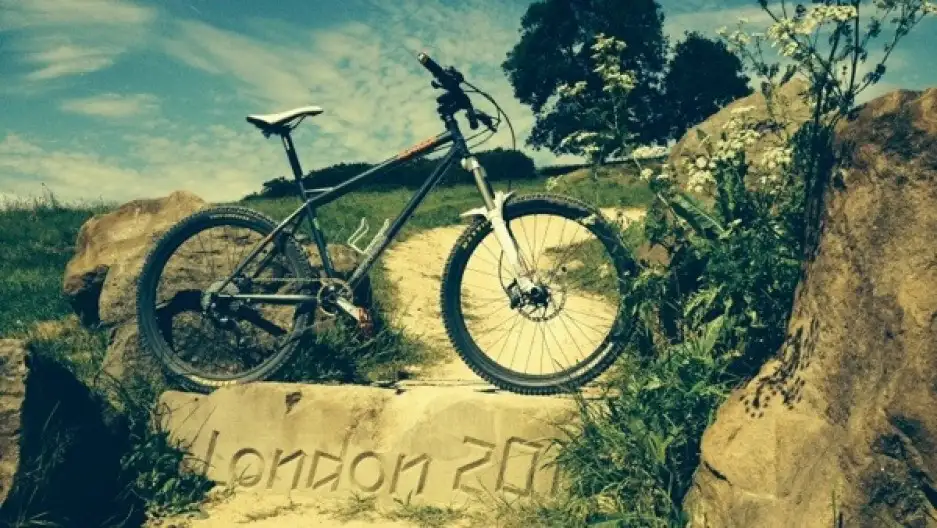 Hadleigh Park Mountain Bike Course
"I know, let's go for a bike ride". "It will be fun", I said. I pictured us all peddling along in the sunshine, the wind in our hair, invigorated by our day of fresh air and exercise. When will I learn…
I had heard a lot about the home of 2012 Olympic mountain bike track and the small café and visitor centre at the heart of the course. A great day out and the kids can brush up their bike skills whilst exploring the idyllic countryside. It ticked all the boxes. Now all I had to do was prise the iPads out of the boy's sticky hands and convince them that they were going to have fun!
My first mistake was to let the Husband plan the route. We are in Leigh and despite repeatedly suggesting that we took the London Road and cut down to the park, he decided that we should be taking the 'scenic route' down Castle Drive, by the station, and through the countryside. He knew exactly where he was going and we couldn't possibly get lost…
As we lugged the bikes out the garage, dusted off our helmets, packed the snacks, water, attached Boy 2's bike to mine, trapped my fingers in the spokes, yelled at the children to behave and actually sat on the bikes, we were already hot and exhausted.
The Husband confidently peddled off and we all dutifully followed in a snake formation, routinely knocking pedestrians off the pavements. To be fair, the grassy path is a very picturesque route. The uneven ground makes it a little more challenging but nothing we couldn't handle. As Boy 2 bobbed along attached to me by the tail gator, the moaning started. Considering he didn't have to do a blinking thing, no peddling, no steering or expending of any energy, he literally moaned the entire way that he had 'motion sickness'. I smiled (through gritted teeth) and told him we would be there soon.
We did hit an awful lot of gates and sties which could be easily negotiated if you aren't juggling 4 bikes, rucksacks and 2 frazzled kids. I felt like I was on an impromptu boot camp with the amount of weight lifting, squats and lunges I had to endure.
The Husband was beginning to look at little sweaty and mystified, which is never a good sign. "You do know where you are going, right?", I asked. "Erm…yes, of course, it's…erm…just around the next corner" as he aimlessly flapped his arms in the general direction. My heart sank. He didn't have a bloody clue!
As super fit cyclists in lycra whizzed past us, I felt slightly out of my depth. Maybe the summer dress and handbag was a miscalculation. All I really wanted at this point was a cup of tea and massive slice of cake.
We ended up at the bottom of a very steep hill. So steep that my thighs went on strike and we are all forced to push our bikes up the never ending path. People pointed us in the right (read: wrong) direction and we found ourselves staggering along the Black course (helpfully described as 'severe'). I wanted to cry. The boys were crying. The Husband desperately tried to get google maps to work.
2 hours later, (yes, 2 hours!) we reached our destination. Alleluia! The Husband and I weren't actually talking and the kids looked a dishevelled mess, but we have made it.
I have to say, it is a great place. There is a lovely pump track, where kids of all ages and abilities negotiate the twist, turns and bumps on their bmx, scooters and balance bikes. A little playground to the side offers a great alternative if they have had enough cycling. There is a bright, clean café called The Hub that serves up all sorts of hot and cold food and is reasonably priced. There is also plenty of places to enjoy a picnic or drink.
The bikes had been slightly battered by our off road adventure but there was a good selection of tools available for all manner of jiggery-pokery. The on-site bike shop offered up all your cycling paraphernalia as well as the opportunity to hire bikes if you don't have your own.
We headed home via the sensible route, along the London Road and down past Lidl (I told you so!). It only took about 40 minutes and there were no tears from me or the kids. It is definitely worth a visit and the kids loved it, despite the 6-mile escapade.
To read our lifesaving @50percentmum's previous blog's, please click the link https://www.leigh-on-sea.com/blog/tag/parenting.html



---
ADD A COMMENT
Note: If comment section is not showing please log in to Facebook in another browser tab and refresh.
Related Items