Beer Of The Week: Brooklyn Black Chocolate Stout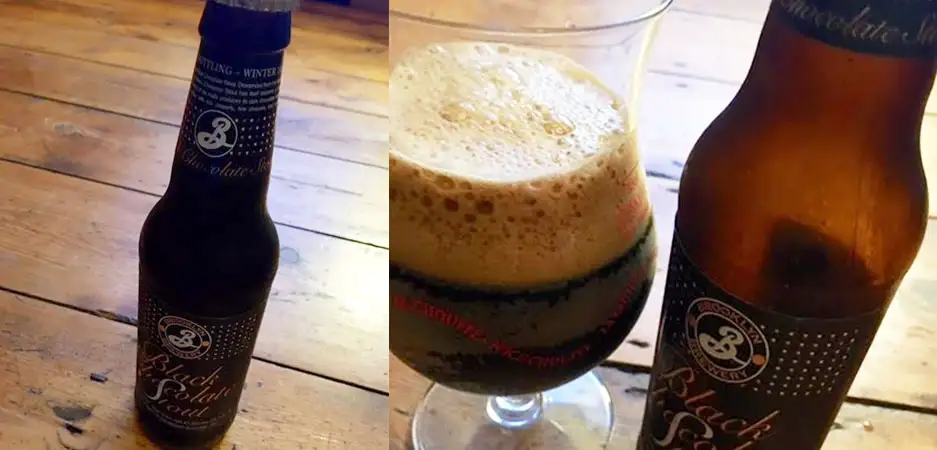 Brooklyn Black Chocolate Stout
Ok, so we're only a few weeks in to my new 'Beer of the Week' articles and already I'm conscious of following a theme. Hoppy, fresh, citrusy, grapefruit, have all been used to describe the beers so far. But, although these beers are bloody wonderful, beer is diverse. It's not all about these clean and crisp ales. There is so much more enjoyment to be had with completely different styles. What about the porters and stouts? These black beauties are wonderful. But as with wine, only in the right environment. I mean, in the garden on a sunny Sunday afternoon with some bbq'd fish, you ain't gonna want a full on Aussie Shiraz. Exactly the same applies to beer. As with the Shiraz, an 11% Russian Imperial Porter would be a Schoolboy error. A nice light pale ale on the other hand, chilled to perfection, would be spot on.
I have a local dealer. I spend far too much time every week in his company, spending an obscene amount of money, sampling all the class A stock he has to offer. I'm talking about beer by the way! I'm not going to beat around the bush; this chap is by no means cheap. But, he stocks beer I haven't seen in other off licence's anywhere. So where is this little hidden gem? Gosh, I'm giving away my secrets here! But hey, that's what this is all about right? I've got to do my bit for the beer community. Well, I'm talking about Kings off licence at the bottom of Hamlet Court Road in Westcliff. As I said earlier, don't go in there expecting to pick up some fine and unusual craft beers for a £1 a bottle, it ain't gonna happen. We all know, you get what you pay for.
On a recent perusal of the shelves I got excited, as only a beer enthusiast could; there it was, one of my favourite stouts. A stout I first tasted in the Rake, a superb craft beer bar next to Borough Market in London. A stout that I only thought could be found locally in Henry Burgers. I'm talking about a real heavy weight. A stout which when tasted will slap you round the chops without a care in the world; Ladies and Gentleman I give you, 'Brooklyn Black Chocolate Stout'.
The Brooklyn Brewery is based; yep you've guessed it, in Brooklyn New York. I'm guessing most of us would have seen Brooklyn lager? It's cropping up everywhere. If you're gonna drink lager, this is a very nice drop. But, Brooklyn brew all sorts of different beers, and a lot of them seasonal; summer ales, pumpkin ales, winter ales and so on. Im not being very seasonal here, as apparently Black Chocolate Stout is a winter brew, and I'm writing about it in summer! Hey ho, I'm sure you'll forgive me, as it's quite a special beer
So, last weekend I took a tasting trip across to the dark side. As soon as the beer is poured you appreciate how rich this is. It is dark; very dark. But with a rather nice, almost off white, beige head. Think strong espresso with a perfect creama head, and your on the right lines. After swilling this around the glass the aroma of chocolate, liquorice, coffee and raisins hits you. It's almost smoky. The taste matches that of the aroma with strong liquorice, coffee and spice. A little sweet too. Now, I haven't mentioned this, the ABV; it's 10%! Strong eh? That's not a problem, as you wouldn't drink this in the same manner as a 4% beer. This is 'real' specialty beer. It's crying out to be drunk with food. Imagine a glass of this to accompany your chocolate brownie, chocolate fondant, fruitcake or even just a simple slab of chocolate. Or, how about with your cheese board? It would be perfect.
This beer sits at the real heavyweight, bruiser end of the spectrum. Completely different to those IPA's I've been writing about. But, every beer has its place. So next time your hosting a dinner party, surprise your guests with a little glass of this velvety smooth stout with your pudding. Or serve it instead of coffee to accompany your post dinner truffles. Your guests may think you're mad, but believe me, they will be astounded!
---
ADD A COMMENT
Note: If comment section is not showing please log in to Facebook in another browser tab and refresh.
Related Items