Cucina Italian Review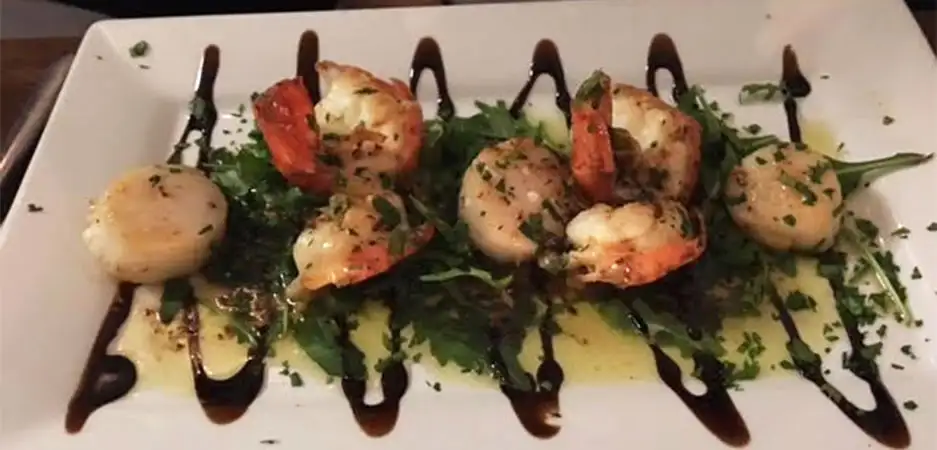 Cucina Italian Review
Trip advisor, a useful tool? Ok, I won't waffle on too much about this. If you've read any of my previous reviews, you're probably familiar with my thoughts on everyone's favourite review website; so lets not go over old ground. But, just to recap the point briefly; how can somewhere like Nando's be higher up the rankings than a fine dining establishment. Don't get me wrong, I love a bit of Nando's, it has its place. I mean you just cant beat a bit of chicken, smothered in hot sauce, with a side of chips and coleslaw; it's bloody good eating! But not what I would like to eat on 'date night' with Lou. Just picture the scene, Friday evening is finally upon us, it's been noses to the grindstone all week, we've both been clean eating for the past 5 days, it's time to let our hair down and celebrate the arrival of the long awaited weekend. I walk through the front door, and say 'come on Lou get your glad rags on were going out to dinner' excitingly Lou answers 'where?' ' Nando's!' Boom, that's it, I've killed the moment! I'm sure Lou would view this as grounds for divorce. But, as I said I'm not going to bang on about this too much, but I do believe the format needs a bit of a shake up. Some kind of categorisation maybe? Saying all that, I couldn't help ignore who had been up there as the number 1 restaurant in Leigh. 278 excellent reviews, superb looking food, and only a few years old. Surely these guys know what their doing? Where I am I talking about, well I guess the title of this review gives it away a little, Cucina!!
Last Thursday evening we were dining with a couple of the Leigh-on-sea.com team for a well overdue catch up. Clearly, me being the foodie amongst the team they look to me as the oracle of all good eating. To be honest, quite the opposite, I'd never been to Cucina before, but I had it on good authority (remember 278 excellent reviews) this was a pretty good place. So, it was suggested as a perfect Thursday dinner venue for us all. 'Why not' I said 'let's give em a go.'
The restaurant is a pretty smart looking Italian eatery, located just along Leigh Broadway West. A warm welcome greeted us at the door; it was really busy with a great buzz about the place. Surely there's nothing worse than walking in to a restaurant with no atmosphere? No danger here, the whole restaurant was filled with conversation, laughter, clanking of cutlery, popping corks, and the aroma of wonderful Italian food. I just new this was going to be a good night! Remember folks; this was a Thursday evening, not a Friday, Thursday. Well, as I always say, Thursday is the new Friday! Swiftly shown to our table for four, our coats taken, and our drinks ordered. Spot on chaps, too many restaurants get this wrong. It had been a long day walking the streets of London, I was in need of a little livener, so Peroni's all round. The menu? Well classically Italian, as you'd expect, and it all sounded good, specials n'all. To be honest, we all had so much to catch up on, we didn't stop nattering! I barely had a chance to look at the menu at all!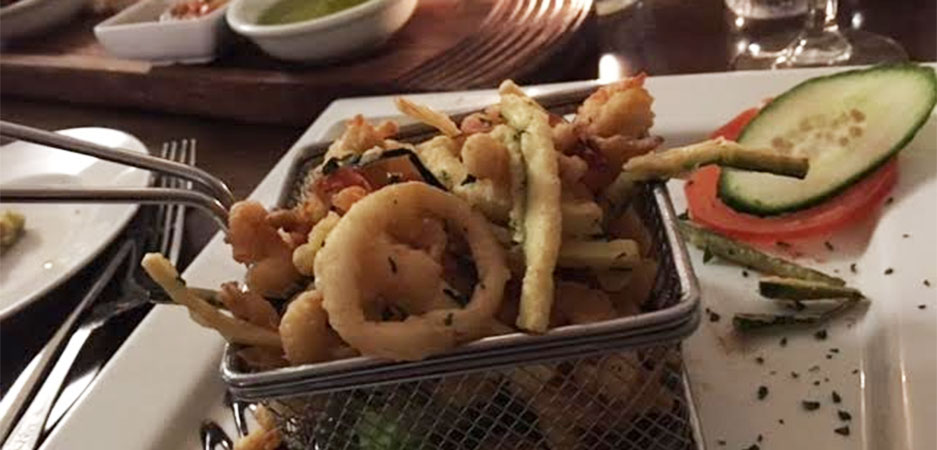 Our starters arrived promptly, and they all looked good. From the Torre Caprese, (simply mozzarella, tomato and basil with olive oil; fresh and delicious), all the way to Lou's prawns and scallops. Generous would be an understatement here, plump prawns, and equally plump scallops cooked perfectly with a herby, garlicky olive oil dressing, very impressive. I decided on the Frittura Mista. A plate full of deep fried seafood and vegetables. Sounds heavy? It certainly wasn't. Light, crispy batter around calamari, prawns and courgettes it made for a very tasty start to the meal.
For mains? Well, going round the table (in a clockwise direction if you wanted to know!!) Wild Salmon Piccante for two of us. This was served in a rich tomato sauce with tangy capers. The lobster ravioli looked divine! Large 'ravs' packed full of lobster, and finally a Chicken Milanese. Basically a kind of Parmesan bread crumbed chicken breast, served with spaghetti and a Bolognese sauce. That sounds like a hefty dish, and it was!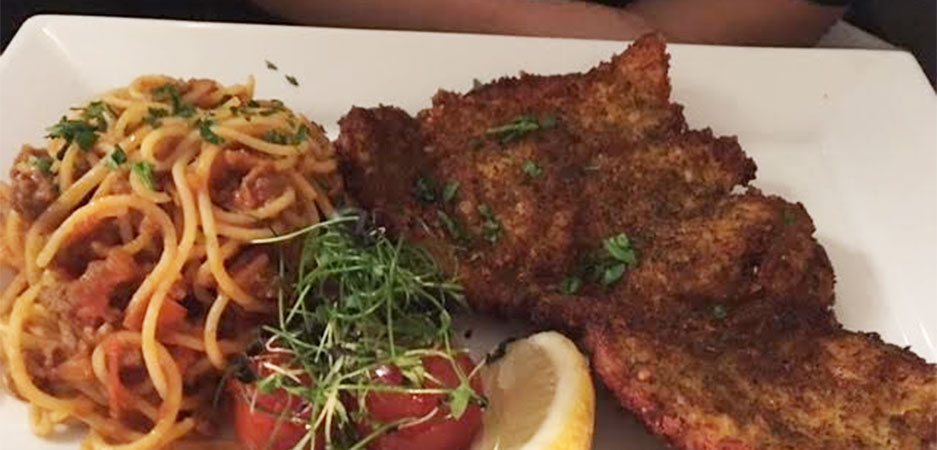 Mine was the Wild Salmon, and bloody good it was too. A large fillet, cooked well, it just flaked apart wonderfully, with the rich tomato sauce and capers, no issues here, it barely touched the sides! Now, It would've been rude of me to stab my fork in to all the other dishes in an attempt to try everything. I shall just have to gauge their quality based on my fellow diners facial expressions. They all looked content. So no complaints, everybody certainly enjoyed the mains. To drink? We were a little extravagant here, a lovely bottle of LPR (Laurent Perrier Rose Champagne) after which, we managed to polish off a couple of bottles of Pinot Noir. Jeez, had I forgotten it was a school night? What about pudding? We were all pretty full, but just couldn't pass on the Amaretto crème brûlée! So, we ordered a couple for the table to share. This actually caused some debate around the table. Was the crunchy topping too thin? Was the consistency right? Was it too eggy? Oh come on you lot, just dive in! All I new was it tasted pretty good, with a subtle almond amaretto flavour, nice! So how much? Starters here are around the £5 to £7 mark, Pasta and pizzas both between £8 and £9. Other main dishes such as steaks and fish around £15 to £20. So not over priced at all I thought.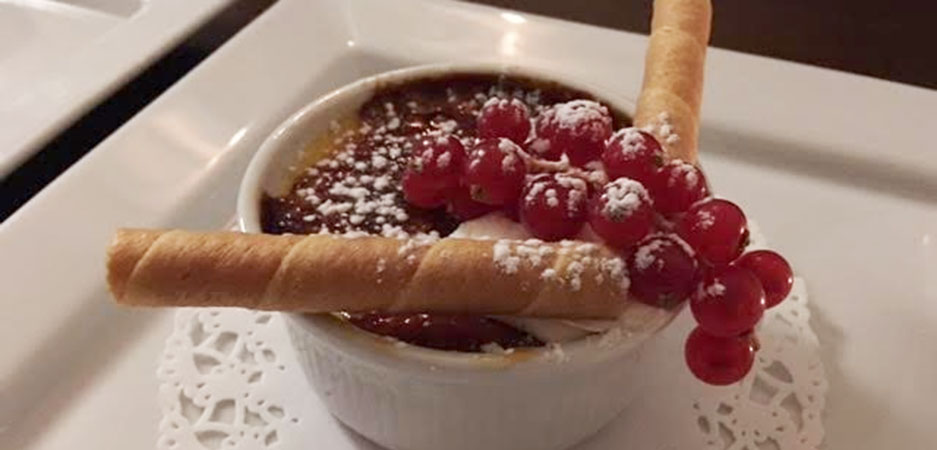 After all that wine, the thought of getting up for work the next day had somehow conveniently slipped my mind; we all had our party heads on! So off we all wandered and made our way to Ten Green Bottles. Now, I'm gonna save that review for another time, but just to say, it was packed, and live music too! Oh and the beer, not a bad selection of craft ale on offer. But as I said, we shall go in to more detail some other time. Apparently, Thursday night in Ten Green Bottles consists of pulled pork and live music! Sounds good eh, two of my favourites!
Well there you go, Cucina opened it doors back in December 2013. All I can say is WOW. These guys have certainly raised the bar high. Another great addition the ever growing Leigh dining scene. Weather it's a light lunch or a romantic Saturday night, Cucina, I am sure would do well on both counts. Almost perfect service, tasty food and generous portions to match; that ticks all the boxes in my view. Certainly worthy of that number 1 position on Tripadvisor, and of course, way above Nando's in the rankings!

To read all of @foodierich's previous review please click this link https://www.leigh-on-sea.com/tag/listing/blog/restaurant-review


---
ADD A COMMENT
Related Items