Enjoy your Christmas with a Squeeze!
Enjoy your Christmas with a Squeeze!
Gold Healthy Eating Award and Southend Business Award Winners 2014 The Squeeze Café is delivering Christmas 2014 to you, and they have the best food, live music and speciality drinks topping the menu.
Dining Out
A lovely intimate Restaurant, their special Christmas Meal creations are available throughout December and we recommend that if you love dining out then you should book early.Take a look at their Christmas menu and view this year's culinary delights.
Party Venue
An ideal party venue, the Squeeze offers you a dedicated area for you to enjoy the festivities, and you can be assured that you'll have a great evening with some lovely food and drinks.During December and January you can also take advantage of a great Christmas Party Offer, which is excellent value for money and not to be missed.
Live Music
Weekends at the Squeeze offer live music and events for you to enjoy your nights out, so visit their website, facebook or twitter page and keep up to date with everything that is upcoming.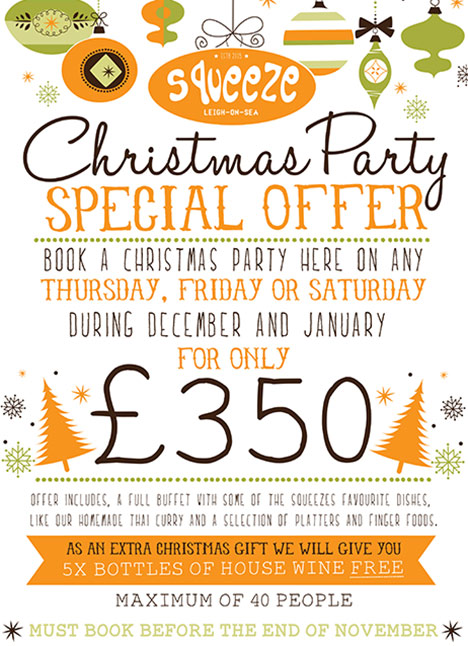 You can Contact the Squeeze on 01702 472455 or email contact@thesqueezecafe.co.uk and their friendly team will be happy to help with your enquiry.

www.thesqueezecafe.co.uk
www.facebook.com/thesqueezecafe
www.twitter.com/TheSqueezeCafe
---
ADD A COMMENT
Note: If comment section is not showing please log in to Facebook in another browser tab and refresh.
Related Items