Foodie Rich: Manolys – Bento Box Lunch!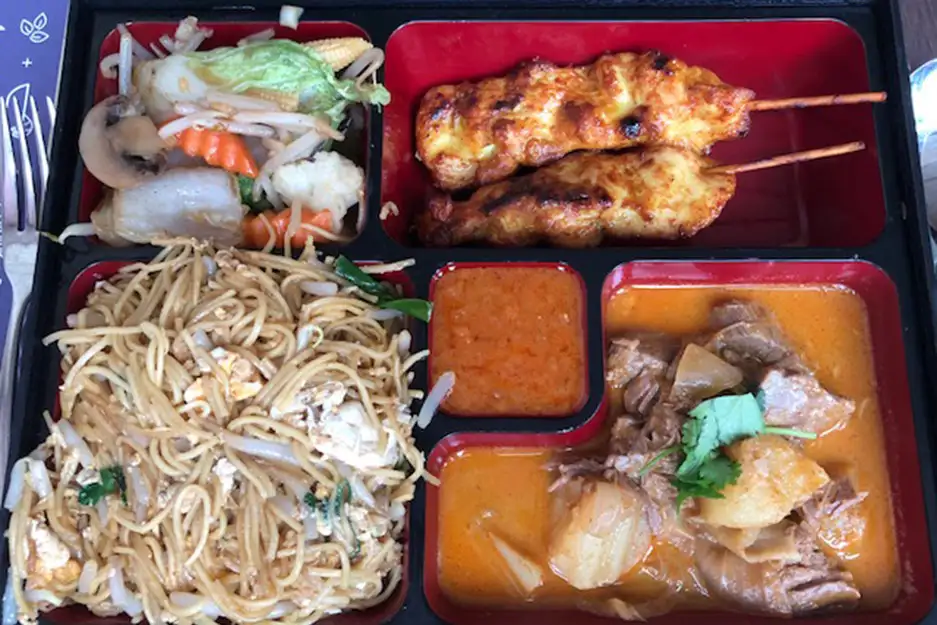 It goes without saying, I like food. Correction, I love it! Who doesn't I suppose? Travel too, Lou and I love to travel. We've been fortunate enough to visit some pretty amazing places, and eaten some equally amazing food. Everywhere from France to Australia, we've eaten in Michelin starred eateries, all the way to serious street food. But what's my favourite? Now that's a tough call. Yes, that Singapore chilli crab whilst perched on a plastic stool in the middle of a market in Singapore was awesome. I have fond memories of eating the 'Plat Du Jour' in rural France, sat next to local white van men in a 'Les Routiers'. Oh, and how can I not mention that roast goose in 'Kams Roast Goose' in Hong Kong, surely the least informal Michelin starred restaurant I've ever frequented.
Yep, I loved em all. But can I pick a favourite? Not really, but one experience is right up there. One that Lou and I often talk about, and it never fails to bring a smile to our faces. A few years ago, we spent a few days in Thailand. We were on a layover back from Australia. Those three nights in Bangkok were an eye opener to say the least! The food, the noise, the smells, the lady boys! It had it all. Yep, Bangkok was a full-on assault on the senses. The food we ate there was some of the best I've ever eaten, and has left me with life long memories. We didn't eat in fancy restaurants, oh no, to get a real taste of a city the streets are where it's at. And one meal sticks in our minds. It was lunch time, I ordered a pretty standard Thai Curry. And it was made just as the locals eat; bloody hot! Yep, they didn't hold back on the chillies! Lou had a tom yum soup. Again, a Thai staple, this fragrant soup is traditionally hot, and It was! Lou's face was red, she was sweating, it looked like her eyeballs were melting! This was without doubt the hottest food we've ever eaten. Yep, those memories of Bangkok never fail to make us smile. Despite those happy memories, and my love for Thai food, we haven't eaten Thai for ages. Why? I don't know really? I love all Asian food and we always eat Indian, maybe the odd Chinese but not Thai. This needed to change.
Last Saturday whilst wandering along the Broadway, like a vision, Manolys were advertising their new 'Bento' box lunch. A Thai bento box? I'd heard of a Japanese Bento box, but not Thai? A box partitioned in to sections, this is traditionally served at lunch. It contains starters, mains and sides, a kind of Asian lunch box. Yes, this is more associated with Japanese food, but why not Thai? I needed no more persuasion, let's give it a go! This is lunchtime, so we wanna keep things a little simple, right? Well you can't go wrong here; the menu reads as a set of easy to follow instructions! First order a drink, then, do you want rice or noodles? Next up, how about a starter? On to stage 4 and you choose a papaya salad or stir-fried veg. Then finally stage 5 your main. That's it. There's no faffing around here, it's quick and straight to the point. Your order then heads to the kitchen, where in hot flaming woks your chosen dishes are prepared, then speedily bought to your table in that classic Bento style box.
So, what did we eat? I had satay chicken which was lovely. Two skewers of tender chicken with a side of sauce. I'm not usually a fan of satay. Too often it's served with a sweet sickly peanut sauce, almost like they've smothered the meat in crunchy Sunpat. But not here, the satay sauce was savoury, with a nice bit of spice. Noodles, accompanied my lamb Massaman curry. Yes! That lamb was spot on, it just fell apart in the rich spicy curry. Crunchy stir-fried veg completed my Bento box. Lou's box was made up of freshly steamed prawn and pork dumplings. These were superb! We are both dim sum fans, and have eaten fantastic dumplings all over Asia, but I can honestly say, these were as good as I've tasted anywhere in the Orient. A classic chicken red curry with rice for main. Tender chicken in a fragrant curry sauce, A Thai classic! Instead of stir fried veg, Lou went for the papaya salad; another Thai favourite of ours. We've eaten this in Bangkok and what we love is its freshness. It's what Thai food is all about, the four essentials, hot, sour, sweet and salty. If I had to be a little critical, the salad we had fell a little short on heat, but I guess that's our fault. We should've said something when we ordered, but we didn't! I'm sure it wouldn't have been an issue for chef to throw in a few extra chillies. But that aside, all the other flavours were spot on. Next time I'll tell them to pep up the heat a little and it will be perfect. Each of our Bento boxes were accompanied with a classic Singha beer, and £30 for two, there were no complaints from me!
I think Manolys have hit the mark with this. From Tuesday to Saturday they serve lunch in this style. When I'm lunching in the week, or having a quick bite Saturday lunchtime, you just want something easy and informal. But also, tasty, and the Manolys bento box ticks all the boxes. I'll be totally honest, I thought a Thai Restaurant, Saturday lunch time, it's gonna be quiet with no atmosphere, but no, it wasn't! As Lou and I sat there more and more people turned up. Couples, families and kids, they're appealing to a wide audience. And what's even better are the toilets! Well ok, the toilets weren't better than the food of course, but these have got to be some of the cleanest and decorative I've seen in a long time. One other big plus point, they've got Molton Brown soap and hand cream on tap! There you go, the good people at Manolys have a clear eye for detail. From the tasty food all the way down to the soap in the toilets. Good work Manolys, I'm definitely coming back, you've put a smile on this foodie's face!!

In line with Foodie Rich's review, Manoly's are offering you lucky lot the chance to sample their lovely Bento Lunch Box at a very lovely price! Click here
---
ADD A COMMENT
Note: If comment section is not showing please log in to Facebook in another browser tab and refresh.
Related Items