Tamarind & Ginger Margarita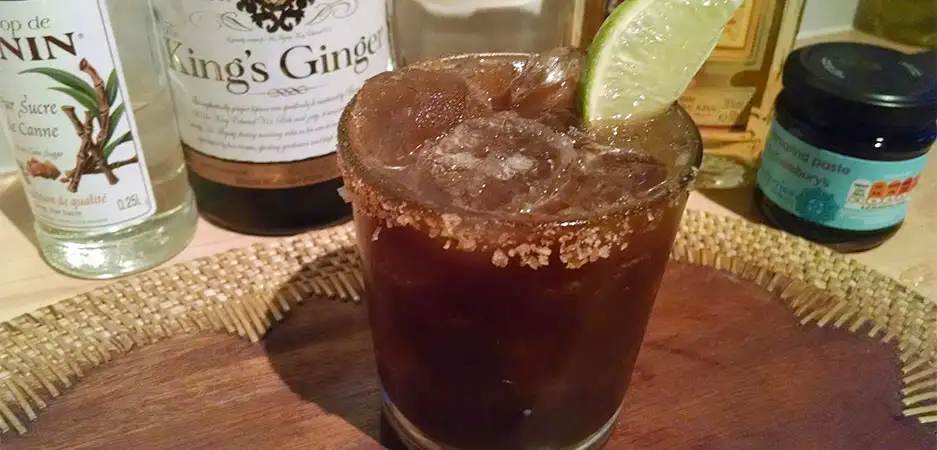 Cocktail of the week - TAMARIND & GINGER MARGARITA
Whoever said that only prosecco and champagne should be quaffed on New Years Eve is talking jibberish - Tequila is the way forward! So try this twist on a Margarita, the sweet & sour notes of the Tamarind fruit lend perfectly to this classic cocktail - I used Tamarind paste, which can be found in most large supermarkets.
I'd just like to wish everyone a Happy New Year, I hope everyone has a great night tomorrow & all the best for 2016!
You'll need:
30ml Tequila
20ml The Kings Ginger Liqueur
15ml Triple Sec
2 Lemon Wedges
2 Lime Wedges
1 teaspoon Tamarind paste (or 2/3 of a teaspoon if you don't want too intense a flavour)
A splash of sugar syrup
Optional - Grapefruit Bitters (Quite specialist and hard to get hold of, it's not essential but it rounds off the bitterness of the drink nicely)
Rim - A mixture of salt and cayenne pepper
The Method:
In your shaker, stir the tamarind paste with the sugar syrup to create thinner paste.
Squeeze in the citrus and throw in the spirits & bitters.
Fill with ice & shake hard.
Run a lemon wedge around the rim of your glass and dip into the salt/cayenne pepper mixture, then fill the glass with ice.
Double strain into your glass & enjoy!
---
ADD A COMMENT
Related Items