The Mews Southend Review
The Mews Southend Review
Don't you just love the seasons? When winter turns to spring, the first cut of the grass, dusting down the bbq after its long hibernation, and it's not dark by 5pm! But not just going from winter to summer no no, summer to autumn has its own unique charm. Bright sunny days with a little nip in the air, a bracing walk along the seafront wearing your hat and scarf for the first time since March, isn't it marvellous!
But it's not all about the weather, food changes too. We live in a fishing town, and take the Leigh fisherman's co-op for example. In the height of summer you will find wild local sea bass and mackerel. But in the winter months it's just packed full of codling, herrings and sprats caught from our own estuary. Ohh I just love sprats! Dusted in seasoned flour and pan-fried, simplicity at its best! Our own tastes change with the seasons too. On a cold winters evening you wouldn't want a simple light ceaser salad sitting in front of a roaring fire would you? Likewise, you don't want steak and kidney pudding on a barmy summers evening, it just doesn't fit. It's the same with our good old British classic 'the Sunday Roast'. On a Sunday afternoon in the summer I would much prefer a bbq with fresh fish, rather than a full on roast beef and yorkie on slaught. Take our Aussie cousins for example; what do they eat when it is 30 degrees in the shade on Christmas Day, not turkey and all the trimmings I can assure you. They 'throw another shrimp on the barbie' don't they! Well guys, the weather has certainly changed, it's bonfire night this weekend, so my foodie thoughts turn to hearty stews, rich dark ale, red wine and yep, a slap up Sunday roast.
Pea Soup! Nope I'm not talking about the starters, last Sunday was a cold and foggy day on the Thames Riviera, not nice at all, but perfect weather for a good old roast dinner. So Lou and I racked our brains, we wanted a good Sunday roast. Where do we go? We hadn't been to the Mews for ages, I'd heard some good things about them recently, so problem solved. The Mews is part of the Clarence Group Empire. Well, I say empire, The Market Place, Clarence Yard and the Mews, three bar/restaurants owned by the same company. All serving food, but the Mews is the Jewell in the Clarence group restaurant crown! You will fine them in Nelson Mews, hidden away from the hustle and bustle of Southend high street. Split between two levels, with the bar downstairs and the formal restaurant upstairs. We arrived for lunch and decided to have quick pre lunch drink downstairs. Not a bad beer selection here, and local, from the Nethergate brewery in Colchester, top marks! Lou opted for a Moscow Mule, yep a cocktail before Sunday lunch!! Its never too early for a cocktail, and damn tasty it was too!!
So the menu! Its not just a roasts on a Sunday, there's all sorts on the menu; confit duck, fillet steak or sea bass maybe? They sounded scrummy, but we were here for Sunday lunch, so a roast it just had to be. On offer today was Lamb, beef, pork or chicken. Gosh, decisions decisions!! It didn't take long, I went for the beef, Lou chose the lamb
A great selection of starters too! Creamy wild mushrooms on toasted brioche caught my eye. Lou decided on the scallops with black pudding and pea puree. Just to add here, 'Sunday 1st November' was printed at the top of the menu. Small details such as these always impress me; it just proves their attention to detail. To drink! The wine list here is pretty good. One stand out for me though, the Grant Burge Australian Shiraz. I guess I am a little biased as Lou and I visited this winery in the Barossa Valley a few years ago and loved it! So a bottle of Grants finest it just had to be. As I suspected, it was deep, rich and wonderful!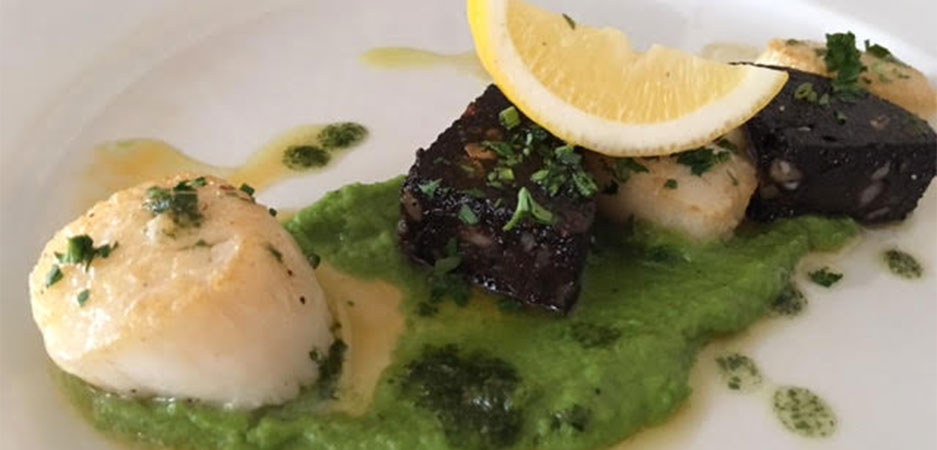 The starters arrived promptly, and piping hot! The creamy mushrooms were great, packed full of mushroomy creamy goodness, it hit the spot. Lou's scallops were damn fine! Cooked perfectly, just opaque, with a nice bit of black pudding, and the minty pea puree, it all went together wonderfully. Well, what a great start to lunch, I had high expectations for the mains! Both the lamb and beef were served with a Yorkshire pudding. This was clearly homemade, no Aunt Bessie's mass produced garbage here! Just a great looking classic yorkie! These guys aren't stingy on the meat either! Three large slices of beef for me, and three equally large slices of lamb for Lou. It's hard to be critical here as the food was great, but just one little thing, maybe the beef could have been served a little rarer. All right, maybe I'm picking holes in an otherwise great roast dinner. It's just my own personal taste, and I know, not everyone likes their beef still mooing on the plate, so feel free to ignore me!
Both dishes came with veg, and a pile of duck fat roast potatoes. Also a bowl of cauliflower cheese for us to share. I have got to be careful here. Lou does make a mean cauliflower cheese. I made a very big mistake whilst tucking in to this cauliflower cheese; I commented on how lovely it was. With the reaction of a striking cobra Lou responded 'not as good as mine though?' Always looking for the quiet life, and not wishing to create a scene, I had no choice but to say 'of course not dear, yours is far better!' A volatile situation immediately defused! This could have been serious guys, to dis-respect Lou's legendary cauliflower cheese would be grounds for divorce. However, The Mews cauliflower cheese was pretty good, almost as good as Lou's. I hope she doesn't read this!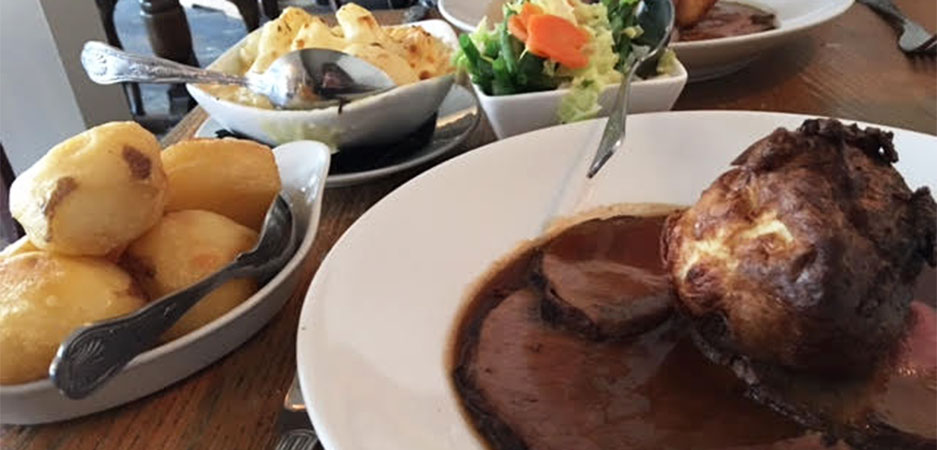 Pudding? Yep we had pudding, and even a bottle of pudding wine. Gosh, we're really pushing the boat out this week folks! We shared a blackberry sponge with custard. Just a good old classic English pud, almost reminiscent of school dinners! Well, this certainly didn't look like any blackberry sponge I had at school. It was presented very well, my only complaint, I didn't see the need to add a rogue strawberry on the side of the plate? Obviously just garnish, but hey let s not get too upset by that! The star was the sponge and custard, which Lou and I polished off without complaint, it was lovely.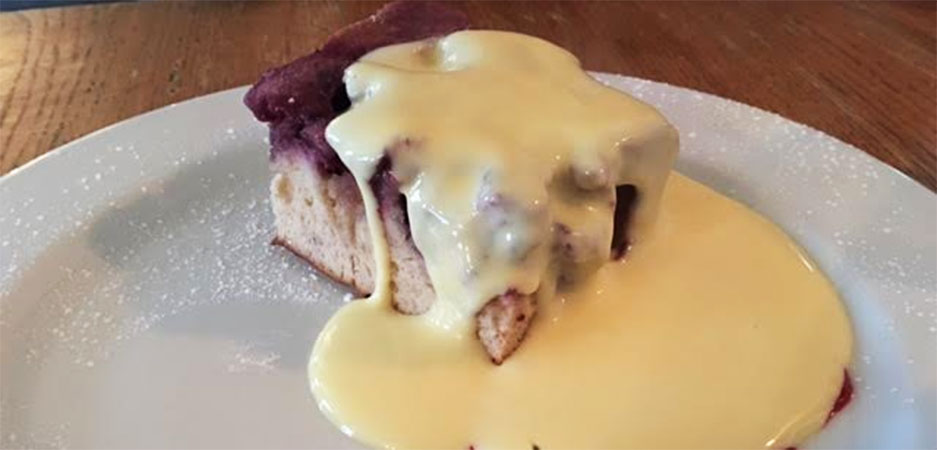 As I am sure you can imagine, after all that we were stuffed, a walk home along the seafront was well in order! Now this is the best bit, the bill. Bear in mind we had a pre lunch drink, three courses, a lovely bottle of red, and a bottle of pudding wine, how much? We got change out of £100, £98.55 to be precise, not bad eh?
Even though I say it myself, I cook a good roast dinner, and quite often I am disappointed by some restaurants offerings, I reckon I could do better. But, the Mews did a sterling effort, I was impressed. The surroundings are great too, wooden floors, exposed bricks, candles and quirky furniture it just all fitted together well and made for a wonderful afternoon. I wanna go back next Sunday!!

In line with @FoodieRich's review, see our Recipe of the week and how to make the ultimate Roast Beef!
http://www.leigh-on-sea.com/blog/the-ultimate-roast-beef-recipe-of-the-week.html

Seee all of @FoodieRich's previous restaurant reviews here... http://www.leigh-on-sea.com/tag/listing/blog/restaurant-review


---
ADD A COMMENT
Related Items