Billy Hundreds Restaurant Review
Billy Hundreds Restaurant Review
Since my visit to Rio a few weeks ago, I had been doing a lot of thinking. Whoa I hear you cry! Thinking? You don't wanna do too much of that Richard, it could be dangerous! Don't panic all, they've all been foodie thoughts, as you'd expect I guess, it's what I do best and really doesn't take too much effort. To be more precise, I've been giving tapas a great deal of thought! As I said in my Rio tapas review, it's just such a wonderful and social way of eating! Sharing small plates with friends, or just the two of you as Lou and I did, perfect!
Quite ironically, during one of my epic Sunday afternoon 'Good Food Channel' viewing marathons, Rick Stein was in San Sebastian. The bars around this part of Spain serve up some of the best Tapas found anywhere in the country, if not the world. Apparently, it's not uncommon for entire family's to meet in one bar, have a few small plates, maybe a glass of sherry, then move on to the next tapas bar for more food. Quite often visiting 4 or 5 bars in just one evening. Sounds great doesn't it! But, Why oh why can't we have something similar here?? Just imagine, an evening along Leigh Broadway wandering from bar to bar eating! Ok, the Sand Bar serves up tapas, which is great, but we need more!! Needles to say, San Sebastian is now firmly on the foodie bucket list.
Well, after all that, I needed to find some more local tapas action. I predicted a struggle, but then I remembered, a few years back Lou and I visited Billy Hundreds along the seafront, and we ate tapas. It was pretty good back then. I had a little read on their website, and they still have a strong tapas theme. Hallelujah, maybe I have found what I'm looking for! But before I go on, it's time for a quick bit of history. I always thought Billy Hundreds was rather an odd name for a restaurant? They're Located virtually next door to Ocean Beach. I get that name; after all they are slap bang on the beach, maybe not on the ocean but the estuary, just a small detail, but even so it fits the location. But, Billy Hundreds? I didn't get it; all was explained when I read further on the website. The great grandfather of the current owner worked as a porter at Billingsgate Fish Market. His name was William, his porter badge number 100, so naturally he became known as 'Billy Hundred'. Since then (some 140 years ago) the family have been involved in the fish industry, as fishmongers, running fish and chip shops and now successful restaurateurs. So the name of the restaurant makes perfect sense now, Billy Hundreds! What a great way to keep the name in the family. Well that's the history lesson over, but a great story eh! I doubt many other local restaurants can boast such an important and historic name.
Billy Hundreds has an awesome location, right on the beach along Eastern Esplanade. The tables are situated on an undercover decking area; surely eating fish in view of the sea doesn't get much better. We received a very warm welcome and were sat on a lovely table for two, gazing out on to the beach. Our drinks order was taken almost immediately, a big thumbs up there! What's even better, they serve beer from The Georges Brewery, brewed literally a stones throw away, keeping it very local, good work guys! So, a cockle Boats bitter it just had to be! The main theme of the menu is fish and tapas. Lou and I were in a real tapas mood, but decisions decisions! With dishes such as crispy squid, clams in garlic and parsley oil or smoked haddock croquetas, it all sounded so good. What did we order? We decided on 5 dishes. If you are sitting comfortably I shall begin! A crab taco, yep a Mexican style taco shell, packed full of tasty white and brown crab meat and topped with cheese, simple but delicious. Next up 'Mums' fishcakes. I suspect a closely guarded family recipe; these fishcakes were golden and crispy on the outside, with large flakes of salmon and hake on the inside. When dipped in the lemon mayo, they tasted an absolute treat! Chorizo bites next. Well if you read my reviews regularly you will be more than familiar with my love affair with this spicy Spanish sausage (gosh that sounds a bit weird, a love affair with a sausage!!). Put chorizo with anything and it will taste great. These bites were slices of chorizo wrapped around a sundried tomato, basil leaf and manchego cheese, then seared on the grill; I could have eaten bucket loads of these. I just had to try their meatballs too, four meaty, herby homemade meatballs in a rich tomato sauce, accompanied with crusty bread to mop up the sauce, very tasty. Last of all, padron peppers. These look like green chilli's, and they are, but without the heat. Fried in olive oil and sprinkled with course sea salt these were very good. Last time I ate these peppers was at a tapas bar in London called 'Jose's'. The TV chef Jose Pizarro owns this place, and I thoroughly enjoyed his Padron Pepper offering, However, I can honestly say Billy Hundreds were far better, top marks chaps!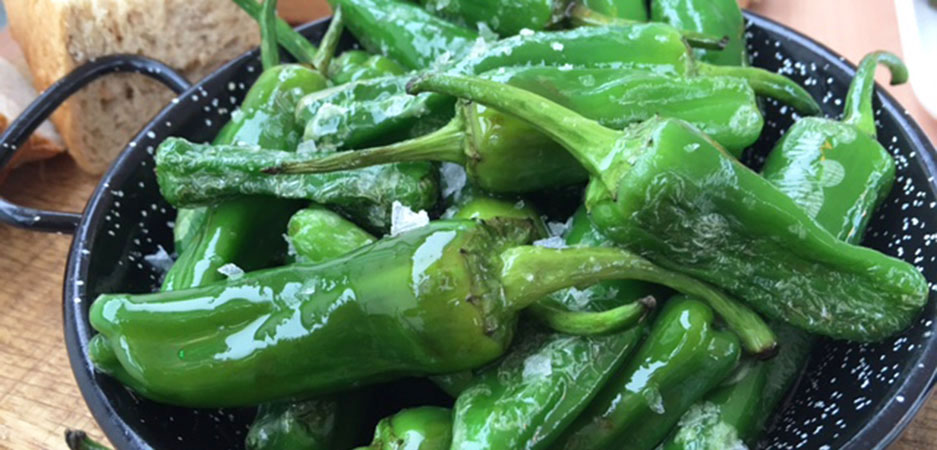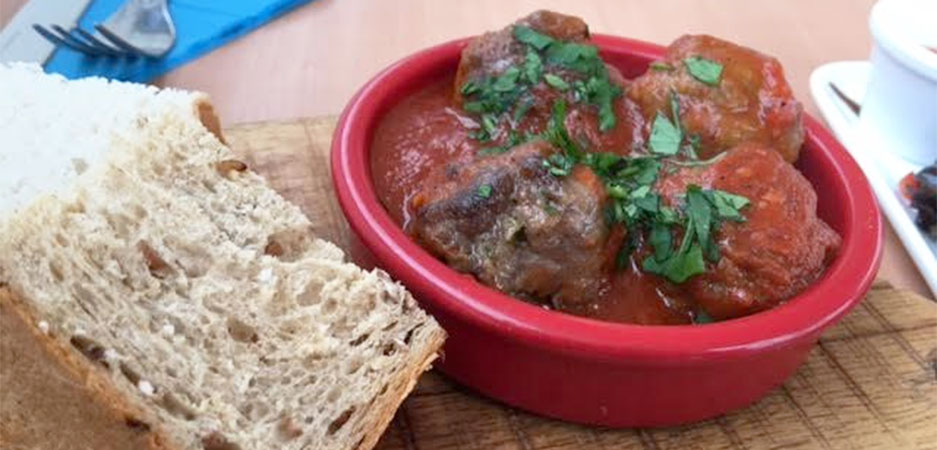 Well, all that tapas hardly touched the sides; it was all just so damn tasty. How about pudding? We did eye up on the counter various good looking homemade cakes and puddings. But, both Lou and I spotted one of our favourites the moment we walked through the door, and when we see these we just have to get one. Custard Tarts! These looked as good as any tart (pastel de nata to give them their proper name) I have eaten in any Portuguese cafe or restaurant. Served hot and sprinkled with a little cinnamon a great way to finish this tapas extravaganza. But hang on, it doesn't end there. We asked for the bill, and whilst we waited, our waiter offered us a complimentary Sambuca! They had all sorts of different flavours too! Lou being a Sambuca purist opted for the original, but when they mentioned chilli Sambuca, my ears pricked up, I love chilli, one of those for me! I don't think I have ever done Sambuca shots on a Saturday lunch time before, but hey, why not it would be rude not to!! How much? For all that wonderful tapas and couple of beers we got change out of £50. I must also mention, the service in this small restaurant is second to none. Attentive and very friendly, they nailed it
Well there you go, I've found another great tapas restaurant, and this one really is a little hidden gem. Location, food, and service it's got it all. They're dog friendly too, and why not, they're part of the family aren't they? During our visit a French bulldog dressed in a rather fetching jumper popped with his parents in for some tapas. The dog was given the same warm welcome as the owners! Remember though, Billy hundreds is not only about tapas, they have some great sounding main courses too, and not forgetting some of the special events they host. Mussel night sounds great, all you can eat mussels for £10, now that sounds like a challenge to me, need to get down there for some of that!
---
ADD A COMMENT
Related Items